Sandra Bullock's Sweet Georgia Home
Oscar winner Sandra Bullock keeps life diversified when it comes to the roles she plays. Audiences love her from Miss Congeniality's awkward FBI agent to the powerhouse mom in The Blind Side and everything in between. (Image credit: Tybee Vacation Rentals)
Her highly successful film career has also given her the wealth to own almost any home she chooses. And, unlike other celebrities, she isn't interest in owning the latest and greatest Hollywood pad. In fact,  she has quietly been building a diversified real estate empire. Sandra Bullock owns, rents out, sells and lives in homes from coast to coast and north to south.
But many would say the best of her real estate collection is a secluded beach estate on Tybee Island, Georgia. Indeed, this celebrity real estate is a dream come true! In addition to the stunning view, it is only 20 minutes to Savannah's gourmet restaurants and unique shops. Although she's owned it for 18 years, her busy schedule prevents Sandra and her family from spending time there. As a result, she has decided to put it on the market, priced at $6.5 million.
A Plantation-Style Georgia Home
This quintessential vacation property has an architecturally stunning main house and guest house. Spread over nearly three acres, it has private access to one of the prettiest white-sand beaches in the country. The estate has the capacity to sleep 12 family and friends in luxury. And fun won't be a problem with the large pool, game room, gym, a basketball court and private beach entrance.
Contact Maddison Estates To Buy, Sell, Or Build Your Dream Home!
Structures include the 3,360 square foot plantation-style main house with multiple screened verandas, double-height living room ceiling, as well as the 2,848 square foot guest house with living room fireplace, a crow's nest and an outdoor grill.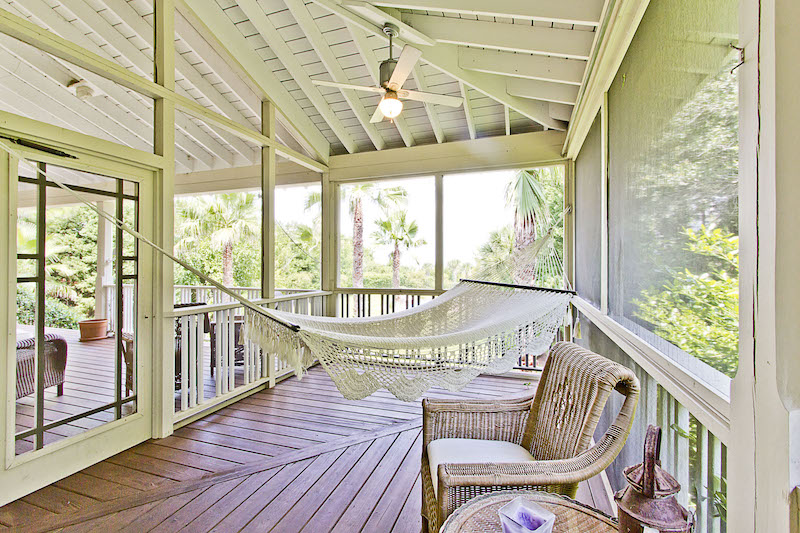 Overall, there are seven bedrooms and six baths between the two buildings. The decor emphasizes white linen and wicker with a contemporary airy, beach vibe. All furnishings, except for a few personal items, are part of the sale. Always the astute business woman, the star also lists the estate as a vacation rental at $1,400 a night with a minimum of a three night stay.
Having just starred in the Netflix original, Bird Box, there are rumors she will again star in another of the streaming service's original films, Reborn. Approaching life with the energy of an action hero, she is still making films while administrating her investment rentals and buying and selling other properties. At present, it looks like she is keeping her numerous homes in Austin, her vacation house in Jason Hole, her Beverly Hills mansion and her Manhattan townhouse.
Sandra Bullock is selling her Georgia home on charming Tybee Island, priced at $6.5 million. Co-listing agents are Ruthie Lynah Whitlow and Rachel Umreit of Celia Dunn Sotheby's West Charlton Street Office, Savannah.
(Courtesy of TopTenRealEstateDeals.com)