Do you remember the Katy Perry song, Firework? Well, you are sure to feel much more like a firework than a plastic bag when you're wearing this golden dress style outfit. Each piece of this ensemble comes together wonderfully to create the perfect look for any party or dramatic celebration. So, what are you waiting for? Get ready to sparkle and shine!
Sunburst Mini Dress
The heart and soul of this outfit is this sunburst bead-embellished mini golden dress style by Saint Laurent. The main fabrics used in this dress are silk and polyester. The sun burst detailing makes the dress look like a night skill filled with fireworks. What could be more exciting than that?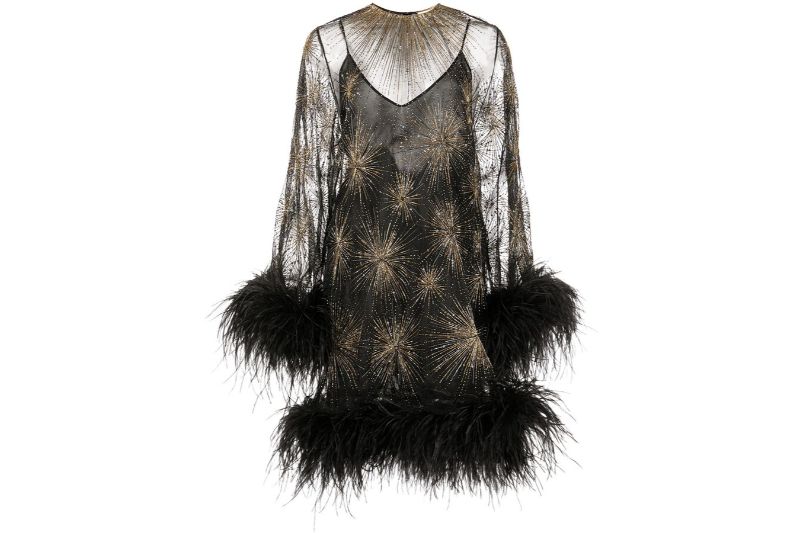 Another great feature of this dress is the use of decorative feathers. These features are all from real birds, so you can be sure you are not wearing false plastic feathers. Instead, the feathers come from both turkeys and ostriches. Because the feathers are real, no two dresses can be exactly alike. However, you can be sure that all dresses in this style are exactly fabulous enough to get noticed, even in a crowd.
Zizi Feather Heel
What goes better with a feathered dress than a pair of feathered shoes to match. These zizi feather heeled leather boots, also by Saint Laurent, look like they were made to accompany the sunburst dress. Just like with the dress, you can be sure that you are getting high-quality materials; even the body of the shoe is made with real calfskin leather!
The heels themselves are about four inches tall, giving you a nice lift. Since the boots are made of leather, they are still comfortable to wear, even with the added height. The pointed toe helps to keep the shoes looking sharp, in more ways than one. Like other Saint Laurent clothing items, the boots were made in Italy.
Round Golden Clutch
Adding a metallic-colored accessory can help the beads on the golden dress shine even more. This gold leaf clutch by Jeffrey Levinson does just that! The gold leaf design looks smoother on the edges, but you can see more of its distinct patterning near the middle of the clutch. This is due to the clutch being decorated with a real gold leaf coating. As the light changes, so will the look of the clutch, making it dazzling from every angle.
If you get tired of carrying the clutch, you can also attach an 18K gold chain, which allows you to carry it like a purse. The inside of the clutch is made of a white leather lining. All of the latches and hardware are also made of 18K gold.
Yellow Sapphire Cross Earrings
If you love the golden color, but don't necessarily want to wear gold jewelry, then these golden yellow sapphire earrings by Dolce & Gabbana are perfect for you. All of the gemstones that make up the cross are made of real sapphire. The black roses are made of beautifully carved jade. An 18K golden frame holds it all together. Wear the sign of your religion to show off your spirituality and style at once.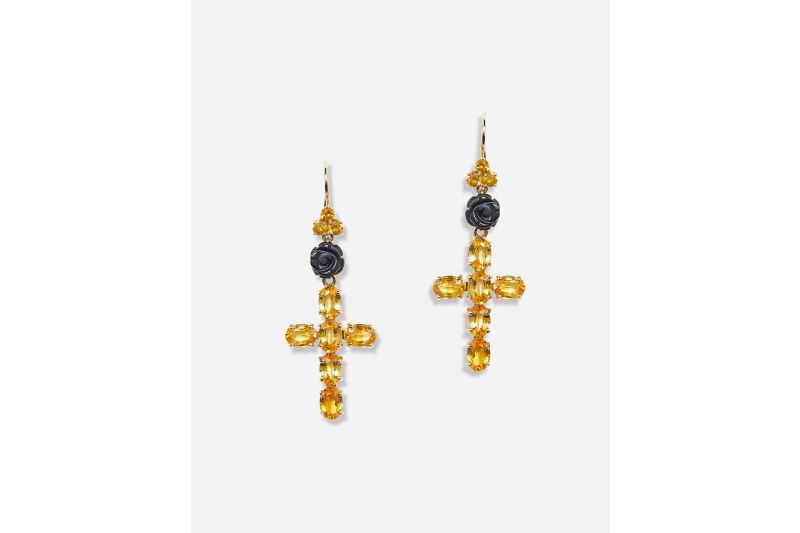 If you are ready to be the most dazzling version of yourself, then it's time to get all dressed up in gold, gems, and glorious beads. Heads are sure to turn in your direction as you sparkle and shine anywhere you go, just like a firework in the night sky.
SHOP MORE FASHION AND STYLE NOW!!!