Are you looking for a business jet that can fly for extensive ranges? One that guarantees you a good jet life? Well, the Dassault Falcon 7X is the perfect jet for you. It boasts a large cabin divided into three zones, a revolutionary digital flight control system, and can fly nearly 6,000 nm.
As of today, this business jet remains the company's fastest-selling aircraft with over 270 orders. The Falcon 7X fleet has accumulated over 500,000 flight hours and operated in over 40 countries. This is according to information from Dassault Falcon Jet officials.
Cabins Specification of Falcon 7X
The cabin's height and width allow an executive suite design comprising three spacious lounge areas. It also features 28 large windows and acoustic technology for limiting noise for a restful and productive travel experience. Besides, the Falcon 7X gives you different floor plans in all three lounges. Its seating capacity accommodates 12 passengers. This allows you to tailor the cabin according to your exact needs.
Beyond being quiet, having ample natural light, and spectacular views, the cabin of 7X's offers a great environment for relaxing. When flying at an altitude of 41,000 ft, passengers enjoy a comfortable cabin pressure of 3,950 ft. It features some climate control to help maintain a constant temperature. Overall, the design enhances the well-being of passengers traveling long flights. It gives them a comfortable jet life in readiness to face challenges upon arrival.
Other notable inclusions inside the ultra-modern cabin are adjustable seats, a full-size galley, a full-length wardrobe, a stand-up lavatory, and an advanced pressurization system. Besides that, the manufacturer Dassault Aviation added an aft baggage compartment larger than those in older Falcon.
Performance Ability of Falcon 7X 
The Falcon 7X uses three Pratt & Whitney Canada 307A engines, with each delivering 6,400 lb thrust. It also comes with a new wing that increases the lift to drag ratio. The aircraft has o.90 Mach Maximum operating speed (MMO), which allows the jet to claim quicker climbs, descents, and low-level dashes on short distances. Its average speed is about 450 mph, while the maximum is 562 mph.
It's one of the renowned private jets capable of flying faster and farther. In particular, Falcon 7X reaches a maximum range of 5,950 nm. Because of this prowess, the jet can fly linking city pairs such as Shanghai to Seattle, New York to Jeddah, Johannesburg to London, and Paris to Tokyo, with eight passengers and three crew on board. In fact, Falcon 7X is the only jet in its class that can fly non-stop from New York to London airport. On the same note, the business jet can cover shorter distances faster as well.
Another attribute that adds to Falcon 7X's uniqueness is that it can land and stop within 2070 feet (630). As a result, the jet can land safely in most airports, including those in hot and high climatic conditions. Also, it can land in airports with steep approaches and stringent noise restrictions.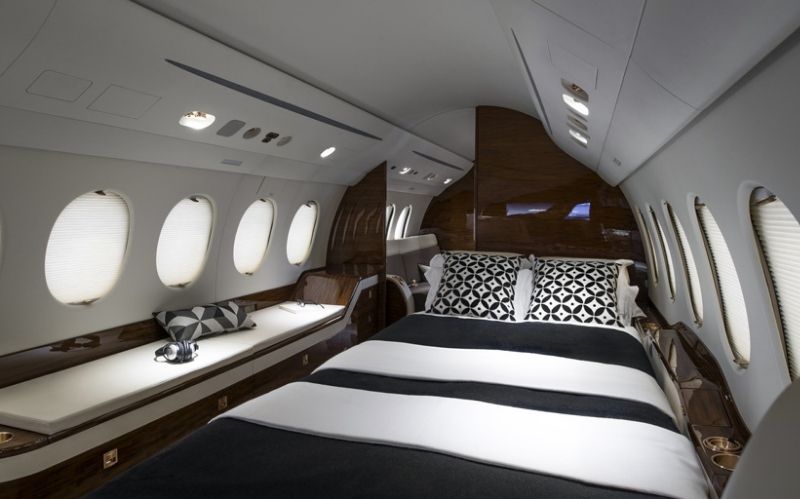 Market Price of this Long-Range Jet
During the launching period, in 2001. The pre-production order was approximately $35m, which was $10m less than close competitors like Gulfstream G550 and Bombardier Global Express. Fast forward, the current market price for one unit is around $54m. The price for old models built between 2008 to 2010 ranges from $19m to $25m. Those with three to four years cost about $27m to $34m. However, the price for second-hand units varies depending on maintenance, level of use, upkeep, among other facts.
Final Thoughts
The Falcon 7X is a one-of-a-kind, long-range large-cabin business jet that offers spectacular views and unmatched comfort to passengers. This aircraft is ideal for fast travel. Whether you are doing short or long distance, the jet will take you there with much ease. More importantly, it's the first private jet to draw inspiration from fighter jet technology. This is no surprise since the manufacturer, Dassault, has over 30 years of military experience, having been involved in Rafale and Mirage 2000 programs.
This aircraft combines elegance, efficiency, and performance into one exceptional private jet. Something that makes it stand out as the most advanced business jet and a benchmark in its class.