When talking about perfect holiday destinations, no place beats France. The country is endowed with beautiful beaches, sceneries and of course, Paris, 'the city of love.' If you're thinking of taking a romantic getaway, or the ultimate family vacation, this is your destination. But it's never complete without a stay at the amazing Le Domaine d'Ablon luxury resort. (Images Credit: Le Domaine d'Ablon)
Perfect Location
Le Domaine d'Ablon is a 5-star hotel located in the charming region of Normandy near Honfleur, at the heart of Pays d'Auge.  It lies just 90 minutes away from the busy city of Paris in a countryside surrounded by the best sceneries nature has to offer.

From the resort, visitors get to enjoy colorful blends of the green country setting with that of the blue seas. There are also numerous dazzling landscapes all around it, adding to the unmatched Normand heritage.
Pays d'Auge is also full of historic sites and a perfect terroir giving it the complete authentic charm of a vacation destination. You just can't get enough of the atmosphere in this region.
Rooms and Accommodations
Le Domaine d'Ablon does things the French way, which is known to be classy. It prides itself as a place of traditions and charm that respects the memory of the Pays d'Auge and Normandy.
Visitors can choose to stay at their suites, the little cottages, or their little mansion. Each of these rooms comes in a traditional architecture consisting of Norman half-timbered houses from the 15th Century.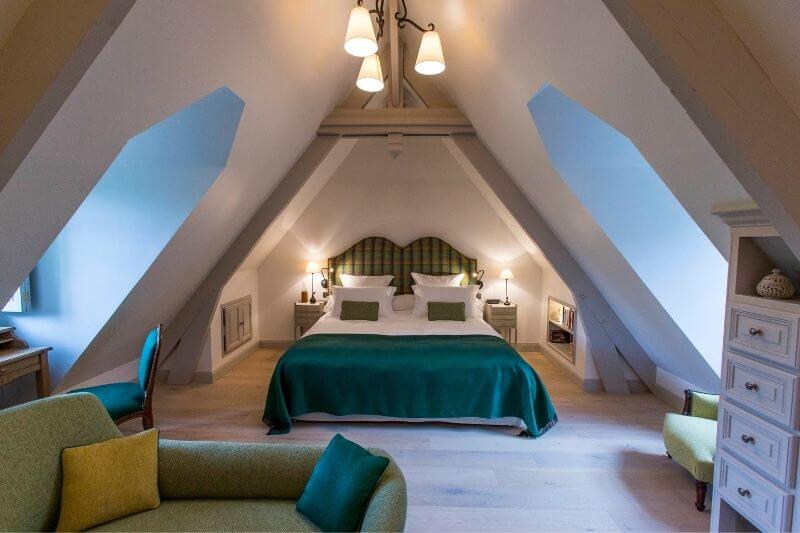 Inside, the guest rooms highlight the unique decorations orchestrated by Laureen de Rouvre, comprised of antique furniture and objects, works of art, and precious hangings. The finishing for each room includes terracotta or oak floors, cast iron bathtubs, and state of art fittings.
The living rooms are well-furnished and conditioned, with a spectacular yard outside for the ultimate privacy and relaxing ambiance.

The bedrooms cover large double beds positioned under a 6m-framework cathedral roof, which is a real architecture feat. Guests here have access to high-end bedding, hypoallergenic down pillows, hair-driers, Bulgari hospitality products, a safe, an espresso machine among other necessities. There are also wireless Bluetooth speakers for music lovers.

The bathrooms feature a separate toilet, an old-fashioned cast-iron bathtub, and marble or granite tiled showers.
Activities and Services
What distinguishes Le Domaine d'Ablon from other 5-star hotels is their hospitality services and their all-season fun activities.

On your arrival, the resort provides concierge services tailor-made just for you. The dawn of your adventures starts with horseback riding to the beaches of Honfleur, the old traditional cider press, and the cliffs of Étretat.
You can also go mushroom picking at the Saint-Gatien forest, or enjoy some golfing action with friends during the day. There are several green golf courses in Deauville, Étretat, and Saint-Gatien. These are just a tip of what the Normandy area has to offer.
Whether you want to go on hikes, excursions, or guided tours, the resort can organize it.

If, however, you don't wish to leave the resort premises, no problem! There are tons of activities and services to enjoy, from mountain biking to gardening lessons, cooking lessons, and photo workshops.
These activities are all divided by seasons and so, each season you'll enjoy a different activity during your stay.
The Horseback Riding Experience
Whether you enjoy horseback riding or not, you can't leave the Le Domain d'Ablon without trying their riding services.  Normandy has some of the best horse breeding farms and locations for a romantic and thrilling horse adventure.
With the help of a professional driver, you'll get to live the Sulky experience at the beautiful Deauville beach.

Get to take the reins and drive the horse as you cruise past the thrashing ocean waves, and enjoy the rush as the warm air blasts across your face. It's the perfect activity for you to let go and forget all your troubles for a while.
Sign Up For The Free GOD Foundation Travel Portal for 60% Off Travel Deals Today & A Portion Goes To Charity!!!
Delicious Cuisines
Normandy is known for its quality cuisines. The area is both a rural and seaside area with a rich history in the production of excellent cheese, apple cider, and seafood, such as sea-scallop.
At Le Domaine d'Ablon visitors get to enjoy the best of gastronomy. The resort incorporates the Norman culture in their dishes ensuring the guests get a taste of all the Norman flavors. To top it all, world-renown chef, Jérôme Billochon is usually present on-site, taking you through the unique culinary experience.

If you're looking into vegetables, the resort has you covered as well. Le Domaine d'Ablon provides visitors with the true taste of fresh, crunchy vegetables thanks to their auspicious French vegetable garden that grows over 80 organic vegetables.
The resort also boasts of an orchard growing more than 16 varieties of apples and pears, 16 cherry varieties, and 3 varieties of organically-grown plums. A visit to this orchard allows visitors to choose their own fresh fruit salads each morning for breakfast!

And lastly, when you need to reawaken your senses, the herb garden provides you with the unique aromas you need. With numerous varieties of aromatic and medicinal plants growing in the garden, you can be sure that the meals you enjoy at the resort will be like none you'll find anywhere else.
There's no way you can resist such a culinary experience!
Conclusion
If you're looking for a romantic vacation, weekend getaway, or some personal space where you'll get value for your money, then Le Domaine d'Ablon is the place to be. The resort has it all, luxury, adventure, privacy, and best of all, fun!
Book your stay at this grand resort today!