When planning a vacation to Italy, most travelers think of the region of Tuscany and the cities of Rome, Naples and Venice. Many overlook the region of Piemonte, a hidden gem in the northwest. It's here that we find this quaint boutique hotel: Villa La Madonna.
Italy's Piemonte Region
Contrasting the busier and more popular Italian vacation destinations, Piemonte is a quiet, picturesque region. Also known as Piedmont, the area is best known for its wine production. Some of the biggest names in wine, like Barolo, Barbaresco and Spumante, are produced there. 
Aside from wine, Piemonte is home to a number of other culinary delicacies. White truffles abound in the countryside, so much so that one of the region's towns has the distinction of the world's truffle capital. Gorgonzola, Taleggio, Grana Padano and a host of other delectable cheeses are made in the region. In fact, in a country known for its cheese, Piemonte reigns supreme! And even Nutella is a product of Piemonte!
With such yummy ingredients, it's no surprise Piemonte created the concept of "slow food." Slow food focuses on quality, choosing not only local ingredients but using traditional and local methods to create each dish. While the results won't be speedy, the amount of care that goes into each dish is well worth the wait. 
Charming Boutique Hotel
Owned by a pair of sisters, Villa La Madonna promises to be an authentic Italian experience. This luxury hotel is truly an exclusive getaway. In fact, there are only 18 guestrooms. Nestled in the countryside of Piemonte with views of the rolling hills of vineyards, each room has a terrace or balcony to privately enjoy the sights.  
Villa La Madonna also offers guests the perfect opportunity to unplug from the stresses of everyday life. Indeed, there are no televisions or telephones in any of the guest rooms! However, for those in need of connection, WiFi is available throughout the hotel.
Vacation Adventures
Villa La Madonna's location lends itself to a variety of unique adventures sure to be the highlight of any Italian vacation. As such, this boutique hotel has designed packages to make the most of any stay. The Vineyard Package offers a three night stay complete with breakfast and three-4 course dinners. Oenophiles will enjoy an expertly-led wine tasting. And a vacation so close to a vineyard would be incomplete without a picnic lunch within the vines. 
The Harvest Festival package includes a two night stay with breakfast and two-4 course dinners. A cheese tasting and a separate wine tasting in the hotel's wine cellar gives guests a chance to experience some local favorites in addition to the "slow food" lunch amongst the vines in the vineyard. Guests also have the opportunity to participate in the grape harvest. 
Sign Up For The Free GOD Foundation Travel Portal for 60% Off Travel Deals Today & A Portion Goes To Charity!!!
But for a truly unique package, Truffle Weekend is a must. Available during October and November, this amazing experience includes the chance to join hunters and dogs as they traipse through the countryside on the hunt for white truffles! And don't forget the mid-hunt meal of local delicacies and La Villa Madonna wines.   
Sumptuous Food & Wine
The vineyard at Villa La Madonna grows Barbera and Cabernet Sauvignon grapes and produces 6,000 bottles a year. Furthermore, the spacious wine cellar stocks a variety of other wines including Gaja Aldo Conterno, Bruno Giacos and Giacomo Conterno. And whether you're an expert yourself or a wine novice, this luxury hotel's experienced sommelier, Josh Eisenhauer, is prepared to advise and educate on each and every bottle!
Located within the region that developed slow food, it is not surprising Villa La Madonna excels at the concept. This exclusive getaway's restaurant creates delectable dishes that highlight the produce of the region. In addition, the chefs and sommelier work closely together to design unparalleled seasonal food and wine experiences.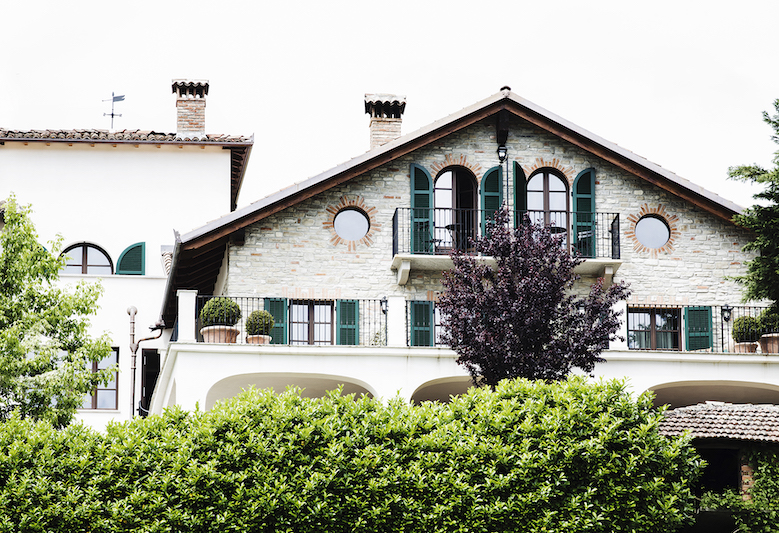 Body Wellness
Instead of pampering, this charming boutique hotel focuses on guest's health. Of course they offer an assortment of massages and facials, however even their product line focuses on wellness. Lakshmi is an Italian organic skin care line based on ancient techniques and Ayurvedic principles. They also have an osteopath available upon guest request. 
In addition to the spa, Villa La Madonna has a yoga studio and offers trekking adventures through the vineyard, guided and unguided.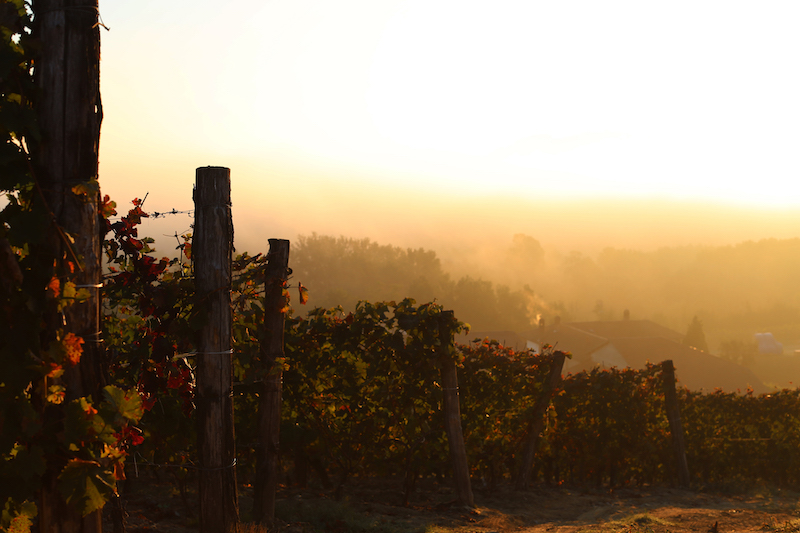 Romantic Weddings
With a backdrop of rural Italy, it's not surprising Villa La Madonna makes for a romantic luxury destination wedding venue. In fact, this boutique hotel offers a beautiful three day wedding experience. Day One, the happy couple can entertain their guests with an Italian buffet followed by an open bar with music and dancing. Day Two starts with a special breakfast before the ceremony in the vineyard among the vines. Then guests can toast the newlyweds at a celebratory dinner on the terrace. And Day Three caps off the festivities with a departure brunch. Surely, this would be a wedding friends and family would not soon forget!
When planning your next vacation to Italy, experience the wonders of wine country with Villa La Madonna in beautiful Piemonte.