Justin Bieber has been a music sensation for close to a decade now, producing hit songs and breaking charts globally. But when he's not on stage or in the studios, the Baby and Yummy Yummy hitmaker is famous for his spending spree on vacation homes and rental houses.
His most notable home, however, has to be the spectacular Water Falling Estate in Hawaii. Located at the edge of a waterfall, overlooking the sea, this rental vacation home goes for $10,000 a night.
That's right! It's a rental for people with a ton of money to burn.

A stay at this fan-favorite magnificent rental comes with a heap luxury package. From concierge services to a sightseeing helicopter tour, plus other special pampering services.
Waterfalling Estate, resting atop a spectacular cliff on the Hamakua Coast in Hawaii's 'Big Island,' offers the ultimate luxury. It comes with an Olympic-size pool, rooftop helipad, basketball court, private 9-tee golf course, as well as a tennis course.
This rental apartment also houses the world's largest residential pneumatic elevator, which, get this, is covered in Louis Vuitton leather. If that's not enough, there's a natural waterfall cascading from the property down to the ocean. It's the perfect scenery.
Inside this palatial home are five luxury suites, each with panoramic views of the waterfalls and the Pacific Ocean. This includes the two master suites with lanai.

It also comes with ten en-suite baths, and rooftop access from all levels of the house.  The living area includes a chef's kitchen and dining, while the aquatic level has a game room, sauna, outdoor kitchen, two whirlpools, a media area, and two guest suites.
This oceanfront private gated property sits on 8.08 acres and features one of the best luxuries' money can buy. It's now on sale, valued at $26.5 million.
Contact Maddison Estates To Buy, Sell, Or Build Your Dream Home!

Justin and his wife, Hailey, are also known to have rented a honeymoon house for $100,000 a month at Toluca Lake, Los Angeles. The home was soon after listed on sale for $8.5 million. Bieber also made headlines when he rented an oceanfront home in Barbados for his father and family. He's rumored to have spent nearly $250,000 a week for this and an extra $375,000 to reserve a 3-week beach home in the Hamptons.
With an estimated net worth of $285 million, Justin Bieber makes it clear that money is but a mere object. The Canadian rose to fame as a YouTube star for teenage girls in 2007, after a talent scout accidentally found his channel and loved his voice.
Soon afterward, he signed him to RBMG records. And since then, the 26-year-old hasn't looked back. He has collected his fair share of awards, including a Grammy, MTV Europe Music Awards, Billboard awards, and America Music Awards.
With his career at its peak, and newly married to model Hailey Baldwin, Justin's wild adventure doesn't seem to be slowing down anytime soon.
We'll be on the lookout for his next vacation rental property!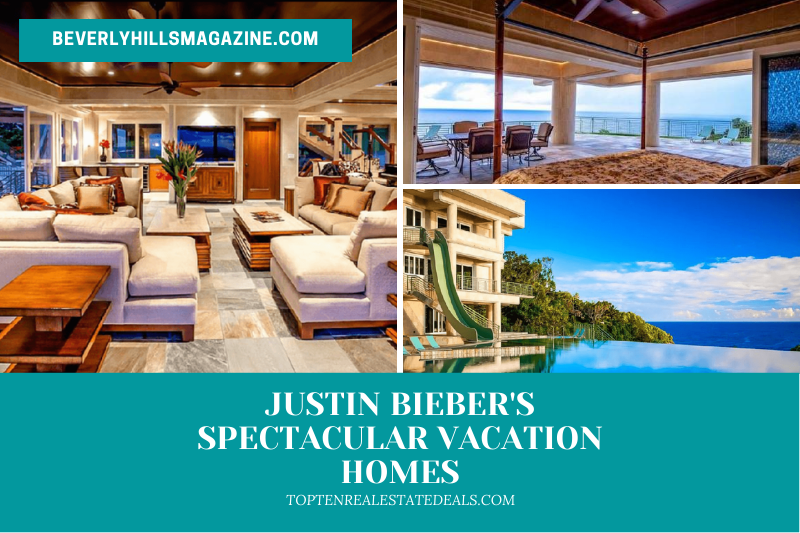 Credits: TopTenRealEstateDeals.com