We all want to have the most beautiful, glowing skin. The most important fact is, the earlier you start to take care of your skin, the sooner your skin will thank you. Here are the top tips to achieve glowing, beautiful and youthful skin.
As a licensed, celebrity esthetician and former international trainer for Anastasia of Beverly Hills, I have seen so many wacky things that women do in search of the perfect skin, yet neglect the basic steps that will get them glowing. The best thing you can do for your skin are monthly facials, invest in the products your esthetician recommends, and never fall for products that promise quick miracles. There's no such thing as hope in a jar, unless it's a jar filled with broad spectrum SPF!
Vegan face oil is the hottest selling skin care item, and for good reason. A mix of nutritious oils loaded with antioxidants, omega oils and botanicals can help prevent lines, breakouts and dryness for ultimate anti-aging and age management. Beauty Buster Skin Care, carries a face oil called, Secret Weapon Serum, filled with one of Dr. Oz's favorite anti-aging ingredients, meadowfoam oil. Use it during the day if you're very dry and at night for super soft skin when you wake up.
Diet, supplements and water are the foundation for great skin. Try the best beauty products by Dope Naturally pictured above. These

beauty supplements

are all natural plant-based powders that will enhance your natural beauty, increase your energy levels, and improve your overall health.  Get your own DOPE products at Riley Rose and Erewhon stores this week! Water is also imperative to push the impurities out of the skin, and is needed for every single cellular action. Supplements like sea buckthorn and omega oils will regulate the water and oil availability in our cells. DMK International has cornered the market on the best available sea buckthorn and omega oils with their EFA+ supplements due to their insider knowledge on what the skin needs to function correctly.  This supplement is a favorite of paramedical estheticians around the world.  If your skin becomes inflamed with deep cystic pimples and breakouts, try cutting gluten and dairy. Most people think they're getting acne, but it is really a reaction to America's gluten and dairy.  Remove these two items from your diet and your skin will most likely clear up within a few weeks, and reveal a whole new beautiful you.
Clean makeup brushes from the buildup of dead skin, oil and old makeup. Does a basic brush cleanse, after each use and a deep cleaning with soap and water, weekly.  Thoroughly wash your face every night and use a satin pillowcase to help prevent wrinkles.
Invest in daily SPF application, and try to stay out of the sun is the secret to anti-aging and lasting beautiful skin. Almost all signs of aging are due to the sun. When outside, reapply SPF every hour and immediately after swimming.  Even if you're not burning, it doesn't mean you're not getting UVA damage which cause wrinkles and skin cancer.  Apply SPF liberally to prevent lines and hyperpigmentation.
Invest in the best beauty products for your skin. We all have different skin types, and it's important to know what works best for you. Also, keep in mind diet greatly affects your skin, so stay away from processed sugars, alcohol, and caffeine if you want to maintain a natural, youthful glow. All natural beauty products are big plus. We also highly recommend Biopelle skin products; a new innovation in skincare.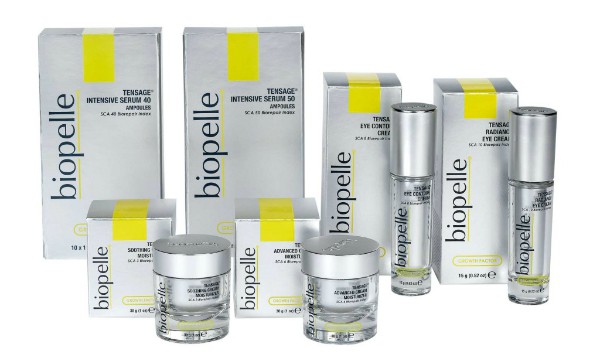 Biopelle introduces new TENSAGE® Intensive Repair and Rejuvenation kit, a 10 day boosted treatment and daily regimen for dramatic results in helping to reduce the appearance of fine lines and wrinkles, increase elasticity and firmness and enhance skin's texture, tone and luminosity. This complete system helps repair photo-damage, improve the visible signs of aging in as little as 10 days and maintain results over time while protecting skin from future damage.
If you can manage these basic steps, you'll never need a selfie filter again!
About The Author:
Lora Condon is an internationally renowned celebrity esthetician, New York Times best-selling author, owner of Jersey Boutique Spa and founder of the Beauty Buster skincare. Click here to learn more about how to achieve beautifully hydrated skin that glows.