The city of Florence, Italy is often one of the top places to visit on traveler's bucket lists. With its beautiful art, stunning Renaissance architecture, and intriguing history, it is quite easy to understand why. Florence was long considered the epicenter of Italian culture. With its wealth and standing from the Middle Ages through the Renaissance, Florence developed by leaps and bounds, creating many of the must-see landmarks in this luxury destination. Ponte Vecchio, a stone arched bridge over the Arno River, is one such sight. Lined with jewelry shops and art galleries, this bridge is a lively way to spend the afternoon.
However, just a few blocks from Ponte Vecchio is the most famous landmark in Florence: the Florence Cathedral. Also called the Cathedral of Saint Mary of the Flower, this Roman Catholic church is one of the most recognizable the world over, primarily for its beautifully crafted dome. Designed by Filippo Brunelleschi and completed on 1436, the dome, or duomo, was a feat of engineering. At the time, the dome was larger than any other dome in the world. Though it can be seen from nearly everywhere in Florence, a tour of the cathedral is a must on a Florence vacation.  
Sign Up For The Free GOD Foundation Travel Portal for 60% Off Travel Deals Today & A Portion Goes To Charity!!!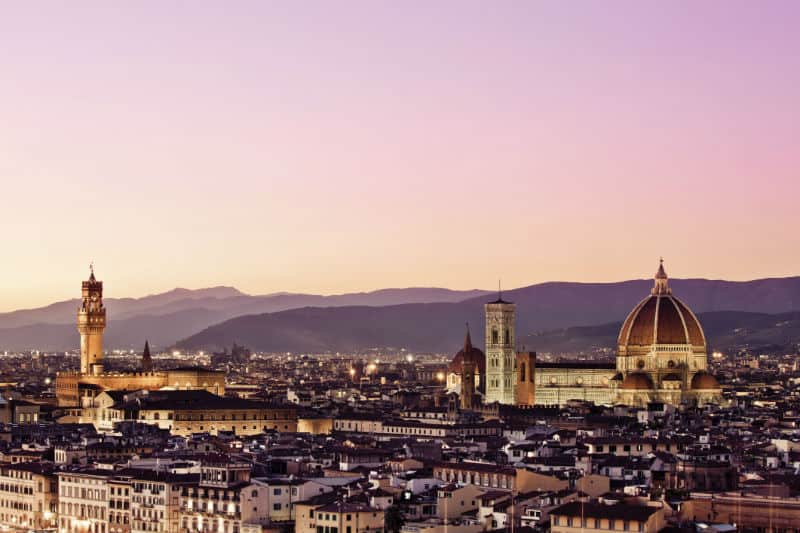 Just around the corner from the cathedral, boasting an impressive view of the dome, is Hotel Savoy. Located directly on Piazza della Repubblica, the hotel is Florence's most luxurious five star hotel. At the time it was built in 1893, Hotel Savoy was considered the height of luxury. With its central heat, elevator, and electric lights, it certainly was a technological marvel. Earned over a century ago, its reputation as one of the best hotels in Florence continues today. Decorated with a collection of Luca Pignatelli paintings and busts, the dramatic beauty of the building's façade continues throughout its interior. 
The suites in Hotel Savoy are a wonder to behold. The 2-story Panoramic Suite offers a stunning 180 degree view of Florence and many of its Renaissance landmarks. With a lower level living quarters, this suite's upper level is fabulous for entertaining. The Grandview Suite, decorated with Florentine artifacts and a statue, lives up to its name with its gorgeous view of Piazza della Repubblica. But the Duomo Presidential Suite is certainly the most opulent of Hotel Savoy's guest quarters. Occupying its own wing, this two bedroom suite is filled with locally made bronze tables, gold leaf mirrors, and handmade blankets. The pièce de résistance of this suite is its unparalleled view of Brunelleschi's Duomo. 
As in all Rocco Forte Hotels, suite guests receive some extra amenities such as personalized concierge service, welcome champagne and fruits, unpacking and packing services, and an in-suite full breakfast buffet. Young guests in the hotel are also gifted with a stuffed whale named Beatrice. Additionally, the story of Pinocchio is held close to the hearts of Florence locals as it was written by their own Carlo Collodi. As such, the hotel has designed Pinocchio-themed activities to keep children entertained during their stay.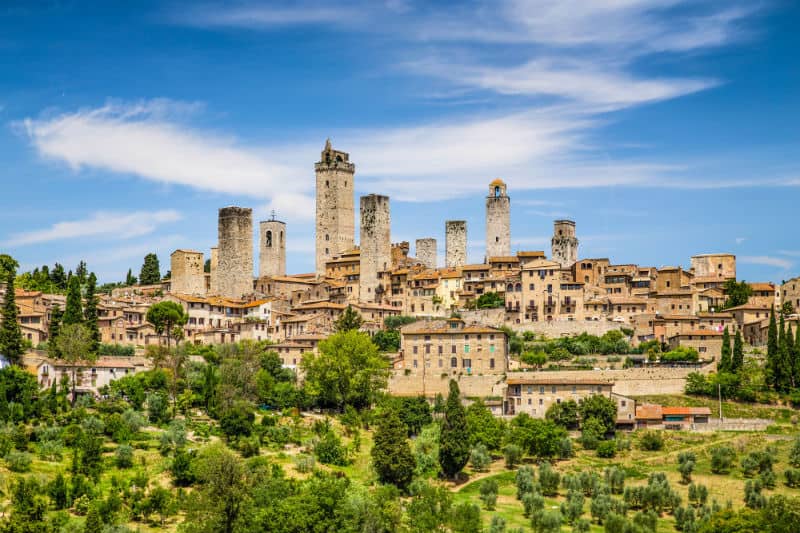 Rocco Forte Hotels has also created special tours to help their guests further enjoy the wonders of Florence. For those interested in the local architecture, the Duomo Tour is a 1.5 hour private tour of Florence Cathedral and the Brunelleschi Duomo. Novice wine tasters and experienced oenophiles alike would enjoy the Tuscan Wine Tasting, led by the hotel's sommelier. Those looking for some relaxing adventure can travel through the Tuscan countryside on horseback with the Tuscan Horseback Riding Tour. 
A vacation to Florence would be nearly pointless without indulging in the local cuisine.  In Italy, the heart of the home is in the kitchen and often "Nonna" is at the helm. At Irene, named for Sir Rocco Forte's mother, diners will delight in meals that pay homage to the important women in our lives with a whimsical and feminine spin on classic Italian fare. With an sumptuous Tuscan bistro menu designed by Fulvio Pierangelini and executed by head chef Giovanni Cosmai, each dish features the best seasonal, local produce Florence has to offer. The restaurant sits right on Piazza della Repubblica making each meal an enjoyable experience for all of the senses.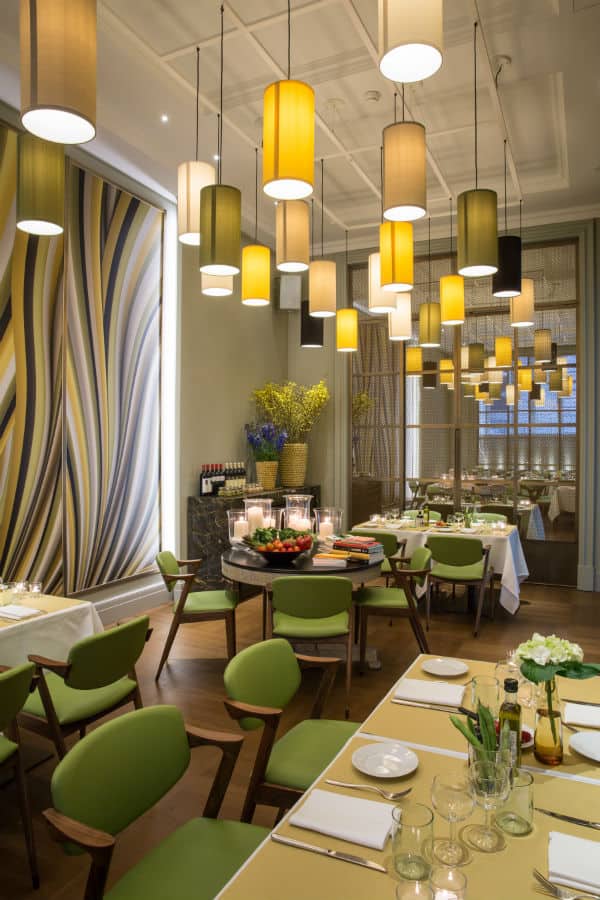 Hotel Savoy's central location to Florence's most visited landmarks makes it an exceptional choice for meetings and events. The hotel offers a few meeting salons and is capable of hosting up to 60 people. With rooms divinely decorated by Rocco Forte Hotel's own Olga Polizzi and an event menu crafted by Fulvio Pierangelini, the five star Hotel Savoy proves business can double as pleasure in the luxury destination of Florence.