Those on the constant search for rare jewelry to add to their collection have made their own discovery of the new jewelry brand Holy Gems. Launched by the venerable mining company, Shefa In Israel Ltd., Holy Gems features designs inspired by the bible and rare precious gemstones found only in the Holy Land including sapphire, garnet, spiel, and Carmel Sapphire.
International royal families have displayed their wealth in opulent jewelry. Visit any museum in New York, Paris, or London, and you'll find a dazzling parade of royal crown jewels that kings and queens wore and passed down from generation to generation.  It is the rarity of the stones and the symbolism of their final design that have been time tested to withstand the notion of extreme luxury.
That is why Holy Gems is buzzing among those in the know. A collection of 101 one-of-a-kind pieces, the rarity of precious stones found only in Israel is evident in the small number of carats that have been unearthed.  Fewer than 200 of spinel, 200 of garnet, 100 carats of sapphire, and 300 of Carmel Sapphire have been unearthed.
Even more unique is the story of the journey to their discovery. In the late 1980s, the leader of the Chabad-Lubavitch movement, Menachem Mendel Schneerson, told the then-mayor of Haifa, Israel that there were precious stones in northern Israel yet to be discovered.  Coming from a family of Israel's diamond pioneers, Abraham (Avi) Taub, who started his own career at his father's diamond polishing company, learned about Schneerson's proclamation and decided to act on it.  In 1998 he established Shefa in Israel Ltd. to begin exploration and mining.  Taub died in 2019 and since then his daughter, Tali Shalem, has taken the reigns as CEO and has spearheaded the launch of the new Holy Gems collection.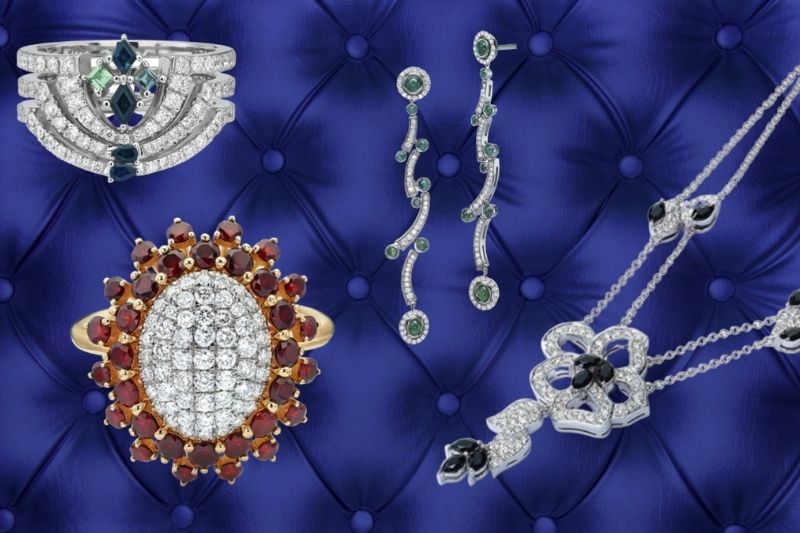 Experts agree that nothing holds value quite like precious jewels with rare gemstones. Collecting these fine pieces can be a sound investment if you know what to look for and enjoy the process. Unlike buying stocks or even cryptocurrency, investors in fine jewelry can wear their assets for all to see. That's why it is important to buy pieces that a person loves and has a deep meaning. Holy Gems has tapped into this level of rarity and emotion for those that have a spiritual connection to the Holy Land.
Collectors that are acquiring contemporary jewelry with an eye on investment, rarity is crucial. Today many jewelry brands produce styles in large quantities. Over time the pieces prove to be less valuable than one-of-a-kind designs and that is why Holy Gems has put in tremendous effort to ensure that each piece is accompanied by recent certificates of authenticity.
In addition, the company ensures that each piece is ethically sourced and is transparent in the process. Each Holy Gems design is certified by a member of the National Association of Jewelry Appraisals and authorized by the EGL to issue international precious gems and jewelry grading. Holy Gems provides provenance information for every gem mined from the Holy Land. According the brand's website, all exploration and mining in the Holy Land is carried out under comprehensive state regulation and in accordance with international standards.  Each piece is sold with a Jewelry Identification & Grading Report which includes all the natural properties of the gems inlaid.
The one-of-a-kind pieces in the collection are priced starting at $20,000 with several pieces over the $100,000 luxury price tag. They are sold online at holy-gems.com or at the company's showroom in Akko, Israel.