ABOUT SOFIA THE LABEL
Sofia the label is an Australian brand whose designs are chic, elegant, flirty and sexy all at the same time. Sofia Lenzo, who is from Perth, Western Australia founded the brand in 2016. Additionally, she comes from a family of dressmakers. She only has 3 key elements to creating her pieces and they are  – material, shape and color. Dresses, tops, bottoms and playsuits are a captivating blend of cute and sophisticated. Similarly, the 3 ingredients for a good design is what makes Sophia the label's followers love and resonate with them. As Sophia Lenzo says: "There is something amazing about the power of the right outfit to transform your mood, the image you project and even your state of mind". Let us now take a look at 5 handpicked dresses from Sofia the label.
DOLCE DRESS IN PINK ROSE FLORAL (Pictured Above)
The first dress pictured above is the amazing Dolce dress in pink rose floral. It is made of 92% cotton and 8% spandex. It features pannels and pleats to support and highlight the curves. Furthermore, it finishes with soft feminine frills throughout. The cross over skirt design and mid thigh length create a stunning silhouette. Additional features of this dress are invisible zipper, puff sleeves with elasticated shoulders, a linedshopstyle.it/l/bGTXr bodice and gold buttons on the cuff. Moreover, this dress has such an '80s vibe to it, you may wear it at such a themed party. It is also best paired with pointed jeweled pumps of stilettos, together with dangling jewelry for a formal event such as a cocktail dinner or a ball. This dress speaks glam and class.
CAPRI LONG SLEEVE MINI DRESS IN YELLOW FLORAL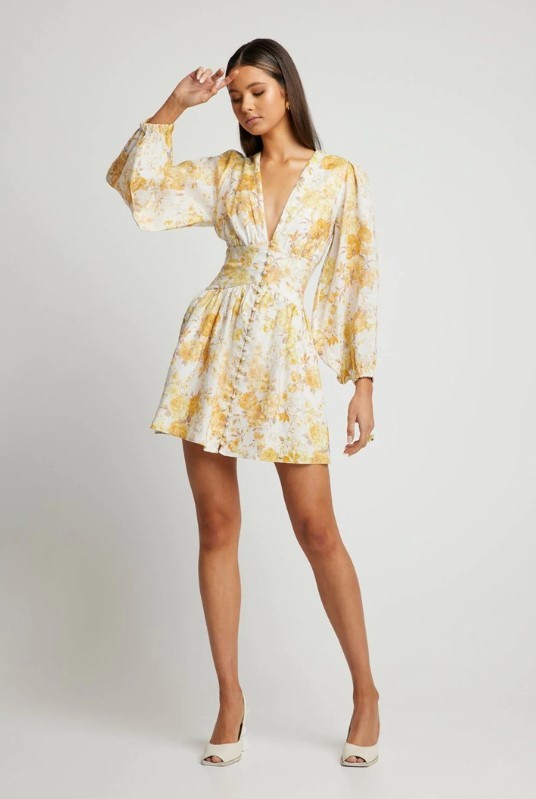 The second dress we have is this very flattering Capri long sleeve mini dress in yellow floral. It is 100% ranic and has 100%  cotton lining. Furthermore it features elasticated cuffs, functional front center buttons and it is fully lined. The tailored torso of this dress slims the stomach area. Not to mention, the dress is so comfortable and versatile. I can imagine wearing this dress at a Spring Party paired with white pumps or heels. It can also be casually paired with flats and a spacious bag for shopping at the mall. This piece gives you a sunshine-y and lovely vibe, you cannot look bad wearing it.
BOTANICAL MIMI CUT OUT MIDI DRESS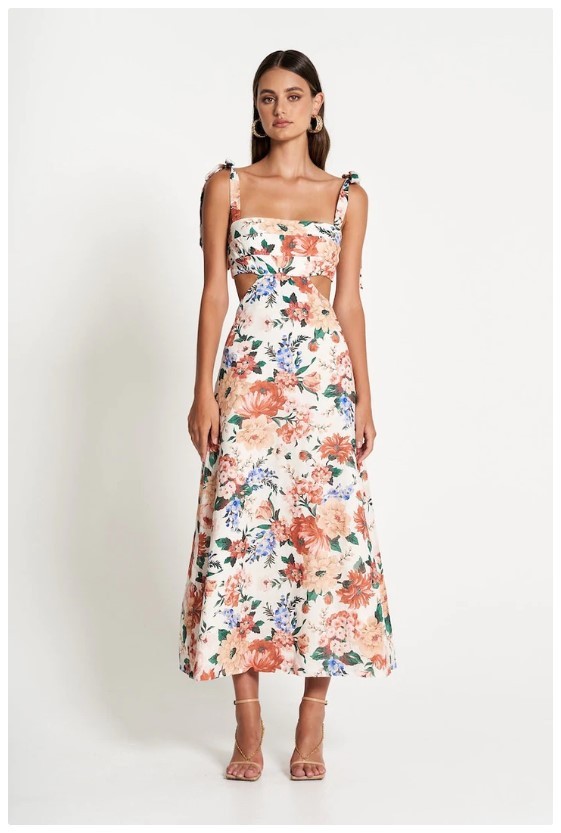 The third dress we have here is this gorgeous botanical Mimi cut out dress. Similarly, this dress is 1oo% ranic and 100% cotton lined. It features a sculpted, panelled bodice, and a fully lined skirt. Additionally, it has an elasticated back detail, a hook and eye closure at the top, an invisible zip at the skirt area, and adjustable ties straps. The cuts at the side of this very feminine dress give it such an edge. I can imagine wearing this dress with ballerina flats and a white cardigan for the first meeting of your boyfriend's family. Stilettos also make a good pair of this dress and you are good to go on that romantic lunch date at a fancy restaurant.
ISABELLE SLIP DRESS IN VIOLET BLUE FLORAL

The next dress we present to you is the Isabelle slip dress in violet blue floral. It features adjustable straps for your waist which you can also tie from behind. Furthermore, it is fully lined and has a low back. Lastly, it is 100% viscose. Never has a dress been sexy but still maintain a sophisticated streak. I can imagine this dress paired with high heels or stilettos at any engagements such as parties, summer weddings and birthday celebrations. It is that versatile!
ELSA LONG SLEEVE LINEN DRESS IN CREAM

The fifth and final dress we have here is this ultra cute Elsa long sleeve linen dress in cream. This dress is made from 100% linen. This dress is made from high quality middle weight linen. It features a high neckline and exaggerated billowy sleeves. Additionally, it has a pleated detail over the bodice and the skirt cascades frills on the hemline to highlight a cinched waist and longer legs. It also has an invisible zip and satin lines the dress. This piece is so durable you can come to the office wearing it until after work hours to a fancy bar to meet a date. It is nice to pair this with dark heels or stilettos for a good contrast. Never has class been so embodied in a dress!
There you have it! 5 eye catching and jaw dropping dresses from Sofia the Label. Floral is such a cute and feminine theme for dresses and I cannot recommend it enough. To own your beautiful piece of Sofia the Label dress, visit their website now. Check out more floral styles from our own website as well here.