ABOUT HOUSE OF CB
House of CB is a London based brand specializing in bodycon dresses, knit dresses, swim wear, active wear and more. Founded by Conna Walker, whose inspiration is to make real, iconic women feel empowered by owning their femininity. Conna Walker was only 17 when she founded House of CB in 2010. Today, she is 29 and has an amazing following of 3 million on Instagram. House of CB has graced the faces and bodies of your favorite celebrities in magazines. Furthermore, the brand has evolved from signature bodycon dresses to alluring statement pieces that are unmistakably House of CB. If you considered yourself a strong and empowered woman, find the perfect dress that enhances that vibe here in House of CB. Let us now look at some handpicked dresses for you, most especially.
SOFIA FAIRY PINK MESH MAXI DRESS (Pictured Above)
The first dress we have for you is the Sofia Fairy Pink Mesh Maxi Dress. It is made of mesh outside and power mesh for the inner lining, resulting in that bodycon fit to flatter your figure. Moreover, it features a strapless cut with internal underwired cups for a full support and the ultimate uplift, resulting in fuller breasts. It also has a side slip to reveal the leg and a back zip for an easy fit. I can imagine this gorgeous fairy pink dress as a prom dress or at a pink themed wedding. Pair this piece with gloves, jewelry, a clutch and heels to complete the look.
SASHA MULTICOLORED STRAPLESS RUCHED MIDI DRESS

The second dress we have here is the Sasha Multicolored Strapless Ruched Midi Dress. Just like the first featured dress, its inner lining is power mesh material. In addition to that, it has an inner underwire for total uplift. Similarly, it acts like a shapewear giving you that smooth and seamless silhouette.  The difference is this dress is made of organza mesh meaning it is 80 percent polyamide and 20 percent elastane. It is strapless, has a back zipper for an easy fit and features vibrant hues of pink, orange and black, giving you a tropical look. I can imagine wearing this dress at a cocktail party or an elegant dinner with the hubby.
LORETTA IVORY SATIN OFF SHOULDER DRESS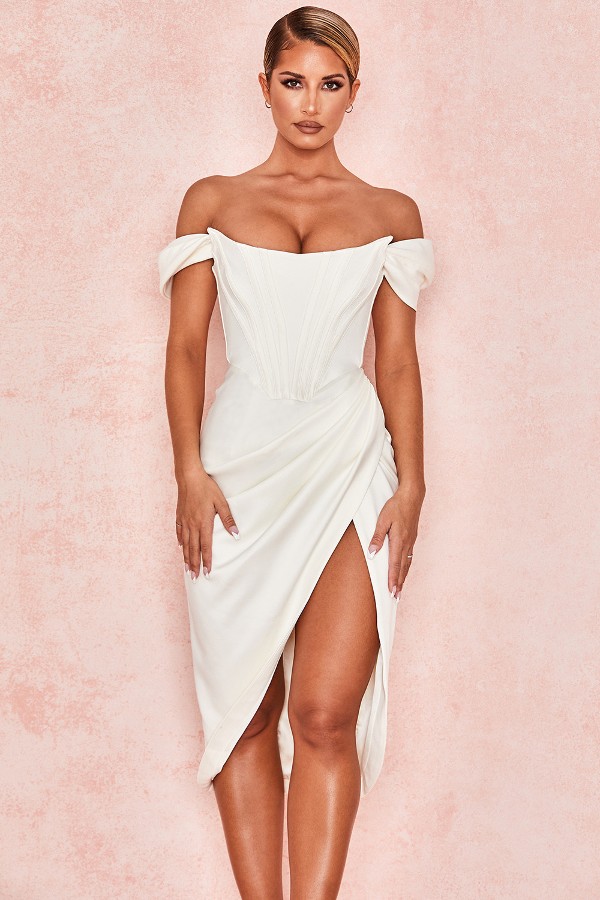 The third and most luxurious piece we have here is the Loretta Ivory Satin off Shoulder dress. Made from stretch double duchess satin, this dress is sure to give you an hourglass sexy shape. Furthermore, it It has a balconette cut to the bodice for great uplift and pert, round boobs that sit up high. Additionally, the bodice has our extra special corsetry boning to the front, side and back to ensure ideal support and uplift. If that enhancing feature is not enough, the bodice also has extra special 'side boob' boning for ultra cleavage. The skirt gathers to the hip, flattering for the tummy area and the hips. The way the sleeves drape sexily off the upper arm and the skirt split, lovingly flashes just the right amount of flesh. If you want that dramatic goddess Aphrodite look go for this dress!
KATALINA OLIVE SWEETHEART NECKLINE BANDAGE DRESS
The forth and last dress is the Katalina Olive Sweetheart Neckline Bandage Dress. It is cut from House of CB's infamous stretch bandage fabric, made of 90 percent rayon, 9 percent nylon and 1 percent elastane. You can be sure that this beautiful olive colored green dress will sculpt your body and shape your curves. It t features a flattering sweetheart neckline and slim fitting long sleeves that are perfect for the colder weather, balancing the classy midi hem beautifully. I can imagine this versatile dress for a casual lunch date with your girlfriend at a fancy restaurant. It can also be paired with a trench coat and boots for an evening stroll at the park after a dinner date with the hubby.
To summarize everything, we showed you four House of CB's elegant and gorgeous dresses. Wear them for a formal or casual event, you can never go wrong with House of CB's styles. If you collect dresses, you definitely need to browse through their website today!