When hearing the phrase "fashion on fire," a red-hot outfit visualizes in the mind's eye. However, this look smolders down from red but keeps the heat with dazzling shades of orange. This is the perfect look for a sexy date night with your husband. The combination of these pieces gives off a modern look that is undeniably hot—but hopefully not too hot to handle.
When creating a look like this, the key is to start with a stylish Alexandre Vauthier orange dress. A nice mid-tone orange, much like the color of the citrus fruit itself, suits this fashion best. Bolder shades of orange, leading up to scarlet, would also work well. A draped viscose dress, like this one, will also be smooth to the touch, adding a positive sensation to match your sensational appearance.
Next up is a pair of hot orange high heels to take your outfit to the next level. The right shoes can either make or break an outfit. These strappy leather pumps definitely complete this style. These heels, which actually come in several colors, have 3.3-inch heels. Without a doubt, these bold shoes can give you the height you're looking for. If you're feeling spirited, try a pair of shoes with even higher heels. The buckles also add a metallic glint to the shoes.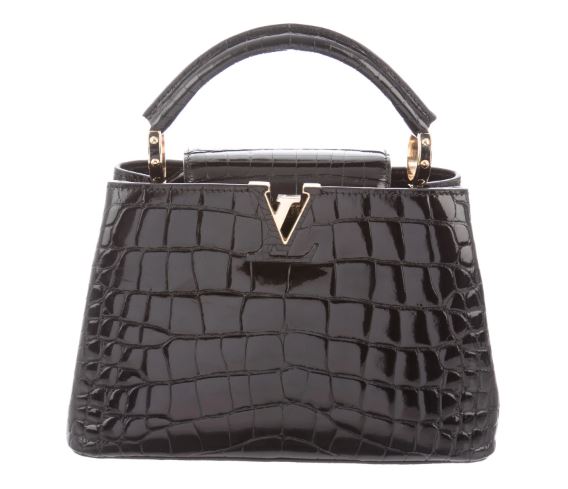 Now, you need a fabulous Louis Vuitton handbag to keep your small belongings in check. This unique purse is made of crocodile skin. If the dress and shoes haven't caught anyone's eyes, the purse is sure to do it. The black of the purse contrasts the bright orange of the rest of the outfit. That doesn't mean it dulls outfit. Instead, it adds to it.
Additionally, add jewelry to accent the outfit. After all, no outfit is complete without diamond accessories. Keeping with the orange theme, adding a bright Martin Katz Garnet ring like this one will add the final touch to this great outfit. The orange gem used in this ring is spessartite. Diamonds provide white coloring. If spessartite is outside of your budget, some other orange gems you could try include citrine, clinohumite,  or carnelian.
Now that you've taken a look at these flamin' hot items, you can create your own fashion on fire outfit. Look fiery hot on your next date night with hubby. A look like this is sure to earn you style points with the love of your life and compliments during your next night out.
SHOP MORE FASHION AND STYLE!!!