So instead, with just $150 and no formal training, Tommy Hilfiger started a fashion company that is now worth billions. On the eve of receiving an outstanding achievement award, the 70‑year‑old explains why he's not stopping yet.
'I would really like the company to be remembered as generous, caring, loving, and kind," says Tommy Hilfiger, smiling down a Zoom screen from under a navy baseball cap. Not adjectives one would necessarily expect from a fashion designer who is also a household name, but he isn't your average millionaire.
A father of seven (more on that later), philanthropist and pillar of American fashion, Hilfiger, 70, has more than 16,000 employees, 2,000-plus stores worldwide, and a net worth of $450 million. He started using A-list ambassadors before the idea was snapped up by marketing departments, embraced music subcultures, and has designed unisex collections.
It all makes him a worthy recipient of the British Fashion Council's outstanding achievement award, which he will receive at tomorrow evening's glitzy Fashion awards at the Royal Albert Hall.
Hilfiger's rags-to-riches story exemplifies the American dream. A plucky, can-do kid who decided to start a fashion company with $150 earned from a part-time job at a petrol station, he went on to build an empire out of urban sportswear look a million miles from his working-class Irish Catholic background.
Born and raised in Elmira, New York State, Hilfiger was one of nine children; his father was a jeweler and his mother a nurse. Instead of going to a prestigious fashion school, he started his career flogging second-hand denim he had picked up in New York City. Like many self-respecting Americans, the first items of clothing he bought were a pair of Levi's and Converse sneakers.
"I was 13 and they didn't make boys' sizes. So I bought the smallest men's size in Converse and put tissue in the toes so they would fit," he says. "I had to sneak out of the house because my parents didn't want me wearing really, really tight jeans. They thought that was for, you know, the bad boys. I wanted to be a rock'n'roll star, but I was tone deaf."
So dressing like one was the next best thing, and it was in fact the British rock scene that inspired him to travel to London in his twenties. "All of the styles was coming from London with the Beatles, the Stones, and Led Zeppelin. I would absorb all of what was going on. And it was really so inspirational because the look and feel was revolutionary," he says. "It was a musical, political, and fashion revolution. It was coming from Carnaby Street. It was coming from the Kings Road."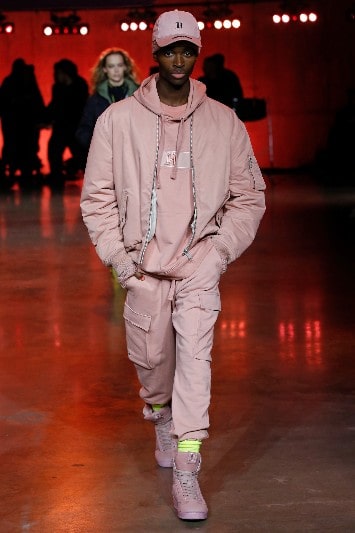 He frequented the iconic Mayfair nightspot Tramp, alongside the likes of Rod Stewart and Robert Plant. "On any given night you would see all the most famous rock stars in the world — in one place. And you can only imagine the outfits."
In 1969 Hilfiger opened People's Place in his hometown with two school friends, selling flared trousers and fringed vests; it was also a café and hair salon, and a place to smoke joints and for bands who were passing through to rehearse — Hilfiger nailed the "concept" store idea long before they would exist in modern retail.
He expanded from one store to a chain and later went bankrupt, before moving to Manhattan and launching his eponymous label in 1985. In 1992 his company went public — and Tommy jeans, underwear, trainers, hoodies, and T-shirts went global.
Famously BFFs with Andy Warhol, Hilfiger made celebrity hobnobbing a serial profession in the Nineties, first by dressing hip-hop stars such as TLC and Aaliyah (in 1994 Snoop Dogg wore Tommy Hilfiger on Saturday Night Live and sales reportedly rose by $90 million that year) and later Hollywood stars. "We really were the first brand to do streetwear.
When the hip-hop kids started wearing my preppy clothes, they would buy them four or five sizes too big," he says. "I created big logos, which had never really been seen before. Logos were such a no-no back in the Eighties — people were repulsed by them. But I decided to make mine enormous. And the styles were influenced by sporting teams. The hip-hop kids started wearing hockey jerseys with big, baggy jeans and they would drop them down around their hips, so you could see the logo on the waistband, with baseball hats backwards and boom boxes on their shoulders."
Fans of the label included Beyoncé, then an unknown 16-year-old. "We were doing a fashion show and our DJ canceled. So my brother Andy introduced me to this girl group who offered to do the music for us. Afterward, I said, 'Who was the girl in the middle? Her voice is incredible.' He said her name is Beyoncé," Hilfiger recalls. "Later on she became the face of our True Star fragrance. And we became family friends."
After more than 50 years in the game, it's more a case of who Hilfiger doesn't know. He was one of the first designers to sponsor music tours (Britney Spears and Lenny Kravitz, among others) and invite celebrities to co-design collections: first was model Gigi Hadid ("She was not really well known — her mom was the reality star and Gigi was sort of in and out of the picture occasionally, but had a really great personal style"), then Zendaya and Lewis Hamilton. "Lewis is a fashionista. He loves fashion. He knows exactly what he wants, what he likes, what colors, what fabrics, how it fits, and he has spent endless hours with the team developing the Lewis Tommy collection. I love Grand Prix racing and we've been sponsoring F1 for over 20 years."
Indeed, he prides himself on still having the ability to spot the next big thing, admitting he's a "student of culture"; he recently dressed the in-demand young playwright Jeremy O Harris for the Met Gala. The use of celebrities to market his label has unashamedly been part of Hilfiger's brand strategy since the start. "You need a conduit for the consumer. And you have to speak the language of the consumer. The consumers today are very much in touch with the celebrity world."
Rather than sell a wealthy Hamptons fantasy, Hilfiger has always sold authenticity. "We've been doing [inclusivity and diversity] since I started People's Place. That's 50 years ago. I carried that into my Tommy Hilfiger business for the past 35 years, and it's just a normal way of life for us," he says. "But other companies are just waking up to it. We just think differently. And we're always thinking about how we can affect the public in a positive way."
This includes overseeing a purposeful company. Last year, in the wake of the Black Lives Matter protests, he founded the People's Place Program, "set up to mentor young people of color, unlock the door for them within our industry. Giving back is somewhat self-satisfying because you see you're making a difference in people's lives. But also I think if a company is going to make a profit from people, it should give something back."
One of his passion projects is adaptive clothing, which means tweaking clothing for people with disabilities. Of his seven children (four from his marriage to his first wife, Susie Hilfiger, and three — including two stepkids — with his second wife, Dee Ocleppo Hilfiger, who he married in 2008), three have been diagnosed with autism.
"I have seen how they live their lives first hand. When someone came to us to suggest that we do adaptive clothing, I looked around and could not believe there was nobody doing it. No other designer had even done it. So we thought what a great project. Let's do it and let's do it really well. They find it very difficult to button buttons on a blouse or on a shirt, or zip up a zipper, or tie their shoelaces. Or get their limbs into a sleeve or a pant leg. So we created ways to redesign the clothes so that they were adaptable." This includes customizable sleeve lengths (important when wearing a prosthesis), adding magnetic buttons, and easy-open necklines. "People have embraced it tremendously. We are very proud to be able to help people with special needs."
While the company made $6.9 billion in global retail sales last year — "We sold well into the millions of track pants," Hilfiger laughs, "and when they buy track pants, they also buy a hoodie, a T-shirt, and a jacket to match" — you never get a sense of a charmed life; Hilfiger is clearly a working man. When he does allow himself some downtime, it's spent watching Nicole Kidman in Nine Perfect Strangers and listening to Drake.
"But I'm a classic rock sort of aficionado. I just went to a Stones concert — a friend of mine had a private party and had the Stones play before they took off on their American tour," he says. "They're an enigma. I mean, for Mick to be bouncing around the stage the way he does at 78 and to play 18 songs without stopping. And I miss Charlie Watts — I became friendly with him in the Eighties. He will be missed terribly. I think the secret to their success is passion." An enduring success story fuelled by passion? Takes one to know one, Mr. Hilfiger.