Ziad Nakad is a Lebanese fashion designer. He has been working in the fashion world since 1997, but his interest in couture designs began long before that. Since the beginning of his fashion career, he has been known for his dynamic fashion ensembles. He uses many famous models in his runway shows, including Karen Mudler and Jennifer Driver.
Femininity and Extravagance
Nakad's designs stand out with their timeless and fantastical features. The large sleeves on his dresses and angular styles bring Nakad the bulk of his fame. His current fashion line keeps to his traditional designs. Let's take a close look at some of the best features of these dresses.
Large Sleeves
Nakad is famous for his large sleeves. In his newest collection, he uses this feature in a variety of ways. A couple of his dresses feature off-the-shoulder sleeves that widen near the wrists. This shows off Nakad's classic angular designs.
"Ziad is the world's top designer of couture gowns. His work is unrivalled in brilliance, beauty, and boldness. He presents the feminine form with sheer perfection, and He designs every piece with every detail in mind. Every dress he creates is an immaculate masterpiece."
~ Editor-in-Chief, Jacqueline Maddison
WATCH THE RUNWAY SHOW NOW:

While all of the sleeves in this collection are angular, they also have unique characteristics. On a beautiful blue dress, the sleeves are made of a see-through blue fabric. It is carefully embroidered with tessella patterns. Silver sparkles line the sleeves of another dress. A royal red dress has off-the-shoulder sleeves, mixing modern with medieval fashion.
Skirt Slits
Several of Nakad's dresses in this collection feature a slit skirt, giving the dresses an asymmetric look. These dresses are all slit in different ways. A blue dress has a slit beginning on the upper thigh. This shows off the whole of one leg. A black and silver dress begins at the same height but does not show off as much of the body. The most modest slit dress in this collection, a light pink dress, has a slightly lower starting point. The ruffles give the dress an elegant finish.
Wide Color and Fabric Range
While some fashion lines tend to stay in one specific color scheme, Nakad's features a large range of colors, including pastels, metallics, and bold colors. There is certainly a dress for every extravagant occasion. The pastel dresses have the most feminine demeanor; the metallic dresses scream luxury;  the bold red dress is fit for a queen.
Nakad also uses a variety of fabrics in these dresses. Some of these fabrics include soft chiffon, lacey sleeves covered with embroidery or false gems, tulles, and even velvet.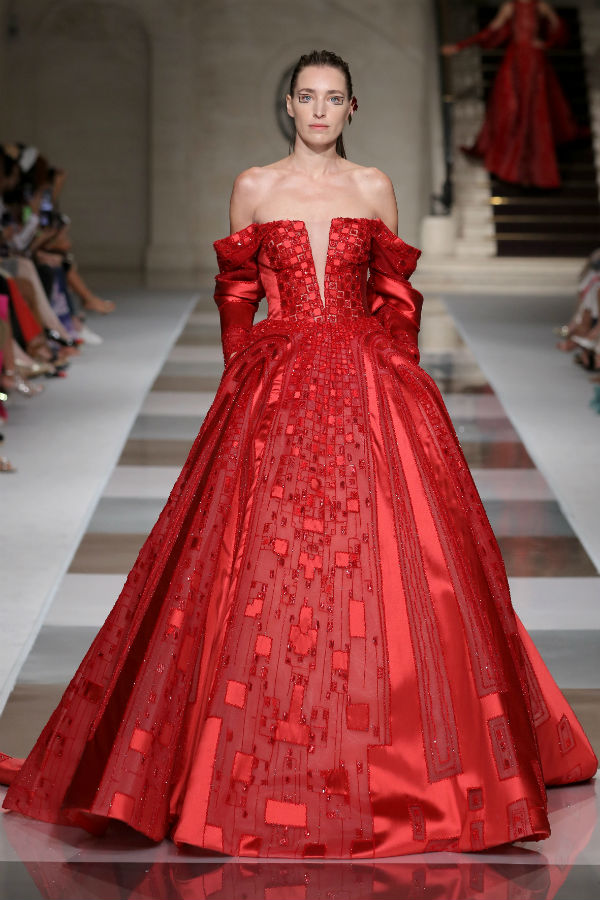 Final Thoughts
Nakad is no stranger to the world of fashion and his experience shines through with his latest Fall 2019/Winter 2020 collection. His classic angular sleeves, asymmetric slit skirts, and dazzling gems make these dresses stand out on the runway, and they are sure to help wearers stand out at any social event.
Learn more about Ziad Nakad and his collection at his website.