This fall,  fall for these Fashion and Style Trends
Autumn brings noteworthy trends and these are the seasons must have's. From bold colors, textures, shapes and a change from the traditional to a sexy sophistication, Fall Trends will not let you down. Some trends are fresh, others have been re-done, re-processed and some just begun to see the light.
Oxblood
That's right! This year's fashion week favorite color is the incredibly beautiful Oxblood, which is very similar to burgundy. You" love this burgundy dress by Tory Burch. It's so cute and can be worn with heels or boots.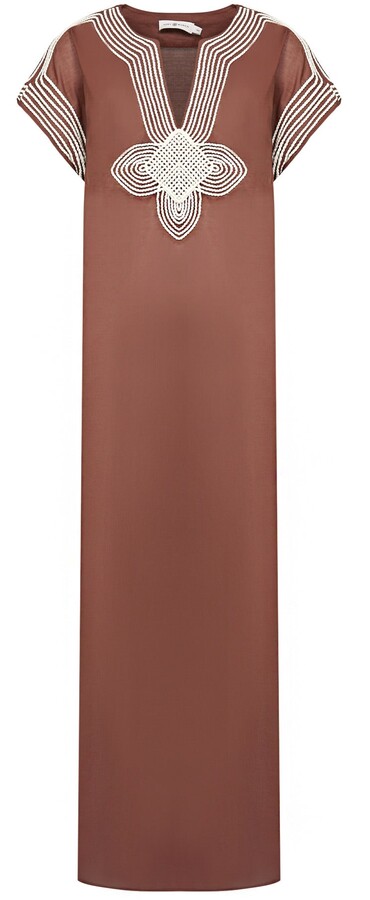 It's the color of blood, it represents passion, desire, yet provokes an elegant appeal. It's not brown, it's not purple, not even red, but a mix of several colors. Oxblood is a hue, full, rich and unforgettable. This color goes with everything; it can be a bag, a coat, a dress or pumps. You can even wear it head to toe, as seen in any fashion magazine this season. Another alternative is to pair Oxblood with neutrals. This is a more subtle approach, but not any less alluring. Oxblood is perfect for fall, its warm, and mysterious and is the perfect match to other fall favorites.
Baroque
The dramatic style trend that Baroque brings will be the perfect accent to any outfit this season. Dolce & Gabbana's fashion on the runway shows you how to channel Old World Europe, the 17th century and the elegant fashion and style of royalty. Think opulent prints, gold accents, bold detailing, ornate and elaborate textures, prints and jacquards.

With this trend a little goes a long way. Start by complementing a baroque inspired piece by Versace and simply pair it with pants or skirt. You can also utilize the ornate jewels and swirling motives used as accessory pieces seen on most fashion blogs; for example a Byzantine style necklace, earrings, cuff or bracelet.
Leather
Guess what, leather jackets is not what you should think of when you hear leather, instead think of a full skirt, a t-shirt, a cocktail dress and even a work blazer. Leather is now a delicate fabric and wears as such.

You heard right, it's not the hard and uncomfortable material with a harsh feel. This season it's feminine and can even be romantic when paired with soft shades of pink or purple. Its newfound suppleness makes it easy to wear in both a neutral or bold colors. Free leather from its typical stereotype interpretation and let it show its versatility in an array of colors. Get inspired by this fabulous Prada leather jacket.
 70's Print 
Yes its' back, but really it never left. This 70's fashion and style trend is everywhere, from printed jeans, blouses, dresses, and boots to accessories. My favorite is 70's style jeans by Stella McCartney, in the traditional blue, brown, or shades of green and purple. It matches beautifully with solid t-shirts, blouses and even other printed tops.

Also implement the cropped top in the 70's motif, try it in a boxy silhouette and don't forget a 70's inspired silky trouser and the sheath dress. All are full of personality and yesterday's psychedelic disco-infused party scene.
Colorful Scarves
Fall in love with colorful scarves this season. Winter fashion and you finally become one. It is fall after all, so scarves cannot be left out. Let's leave the bulky, heavy and traditional scarves behind. Instead loop or drape a light gauzy scarf. Cashmere silk and light cotton scarves, with bold pops of sheen and color will be the perfect complement to any jacket. You can also transform it into a beautiful necklace accessory due to its delicate fabric and flexibility.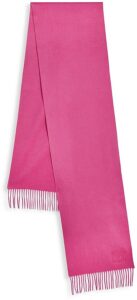 At the office, a whisper of color keeps you cool and collected while looking poised. Do it differently this season and tie on a scarf, and don't be afraid to go bold with the color selections. Try this pink cashmere scarf by Brooks brothers. You will adore it!
Day Clutch
Additionally, the clutch is no longer a night staple fashion accessory; it can now see the light. Large and over sized is this season's trend. Carry a traditional patent leather, metallic shimmer, an embossed faux  and you will not miss a beat. Let's not leave out suede, gun metal, sequined tweed and the popular chain details some designers have implemented into the oversized day clutch.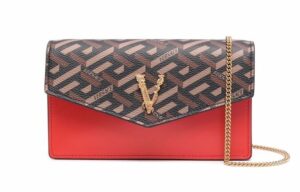 It does not matter what style, color, pattern or texture combination you choose, this trend for nighttime and also during the day. We love this red daytime clutch by Versace. It's chic and bold. You will love it!
Multi-Color Pumps
Pumps do not have to be traditional or boring anymore, pump it up with digitized prints of every shape, color, variation and height. Don't forget to look for the fierce metallic heel surely to mark your step. Yes! This fall the streets will parade with every assortment of this fashion today you can imagine.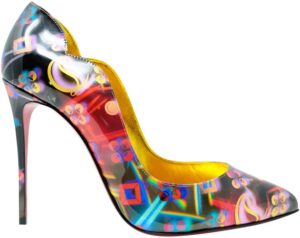 Finally, be the one walking in them and don't be left behind without this fashion and style fun trend. We selected these multi-colored pumps by Christian Louboutin with purple, white and blue. These are absolutely fabulous and can be worn with jeans, dresses, shorts, or skirts.
~Annie Maciel