Fashion and Style Must Have' s still have shine and sparkle, but we will tone it down with a selection that references tradition with a kick of holiday color, versatility, new heights and seduction. From the latest fashion blogs to the fashion on the runway, we highlight this season's go to fashion and style…Bringing fashion and you together! We will begin our journey in London and end in Romantic Venice, but will make stops closest to home on the way. Let the journey begin… 
Leith Easy Cardigan
Lola & Sophie caters all the body parts that a woman finds themselves fretting over. Every woman has a part of their body that they feel less than confident with. Especially with clothing that draws attention to those parts. The above winter cardigan is a great fashion piece that can be worn for all occasions. Leith Easy makes it possible to think about something other than ​the ​body, by solving the things that make a woman lack confidence in the first place. Broad shoulders? There's a blouse for that. Upper arm stress? Get this comfortable and stylish cardigan for every season.
Winter Coat
Watch the temperature drop and be excited, it's time to embrace winter style and go coat shopping! Leather is hot, wool is never out and cotton and fur are fair game. If you ask me, wool, collared double-breasted, knee length and made to complement any shape and style is golden this season. My personal pick is this fabulous GUCCI winter coat. It complements any outfit; it can be casual for daytime or classy and sassy in the evening. Worn open and layered underneath with your favorite cashmere sweater with a metallic silver skirt is perfect for all classy winter seasons fashion and style.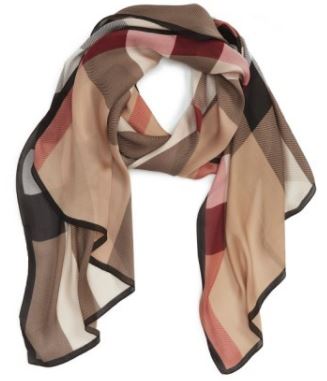 Silk Scarves
Loose, simple tie, double loop or layered knot looks are a few of the simple ways to wear my fashion favorite the Burberry scarf. Its accents of cream and light brown earth tones keeps me calm and collected, while its silk material reminds me to embrace this fashion season for all it has to offer. Dressed in all black, head to toe is my easy throwback go to style, but I rev it up by layering over my favorite evening sweater dress and throw on a vamp lip stain.
Sweater Dress
You heard right…the hot item on every fashion blog this season is the versatile sweater dress. Can it be simpler or more versatile than a sweater dress? Absolutely not. The colors, textures, patterns and lengths are endless, therefore regardless of which one your personal favorite is, the sweater dress is a must have every fall and winter season. It will keep you cozy, long sleeves or short sleeves. It can be loose or skin tight. It can be long or short, casual or dressed up; the choice is yours. As my fashion and style favorite, just add a pop of color, a belt, ankle boots or full-length boots to change its presentation and make it all your own.
Studded Stiletto Ankle Boots
You'll reach new heights in these Valentino Garavani studded stiletto heels. How about the suede, black suede; it transforms into the perfect canvas to further accentuate the showstopper ankle boot. Now add studs, rows of studs carefully placed and set to create the perfect finish. Forget ordinary and think extraordinary. A popular pick on luxury fashion blogs this season! Step, turn, twist, run and walk, every move is possible, and it makes you feel unstoppable. Gianvito Rossi ankle boots pair beautifully with an array of party dresses and suit ensembles for any evening. They will be your "go to" statement makers.
Kate Spade, Neutral Handbags
From French fashion, to Italian fashion, to all luxury fashion…This season the "au natural" earth tones of your most prized accessory will be the finishing touch to any ensemble. Seek one with inside double side pockets and an interior zip to keep your most valuables in place, while making you stand out. Light or dark hues of cream or beige will compliment any outfit. You'll love this Kate Spade purse in black and beige. Change it up with a clutch, short or long straps, or duo tone for the perfect style accessory. Pair it with a warm sweater dress, thick belt, matching ankle camel boots, and Voila! You'll be just like the fashion models and ready for the runway
~ Annie Maciel