ABOUT ARIEL TAUB
Ariel Taub, is the designer and brand behind the luxurious bridal collection of jewelry, clutches, veils and other accessories. The brand is for the elegant, modern and unique woman. Furthermore, their pieces are intricate as well as of premium quality. Handcrafted, custom made, brilliant crystals are what sets Ariel Taub apart from other bridal jewelry brands. What's better, is that clients and customers can opt to customize their pieces. Taub finished her school in Parson's New School of Design; and that's when her interest and specialty in accessories started.
This includes of course incorporating the finest gems and meticulous detailing in her designs, making it one of the most glamorous jewelry brand up to date. On top of that, her career has skyrocketed. Vogue, Forbes, Grace Ormonde and Bridal Guide have featured Ariel Taub. Celebrities such as Carmen Electra and Megan Trainor have worn her pieces as well.
LACEY EARRINGS (Pictured Above)
The first modern, unique and elegant earrings that have a snake like shape is this gold Lacey earrings. It comes in another color namely trendy silver. Made of nickel free metal and crystals, it features a pear shaped crystal with a lace design hanging on a crystal twist snake shape. Moreover, its closure is a push back, so it makes it so much easier to place in the ear. It also comes with a butterfly backing to stay securely in place. The earrings measure up to approximately 2 inches in length. Just imagine this paired with a gold and white wedding gown! It can even be worn with a champagne colored dress to a ball gala or any formal event. These earrings sure enhance the beauty of any outfit!
ELLA HOT PINK CLUTCH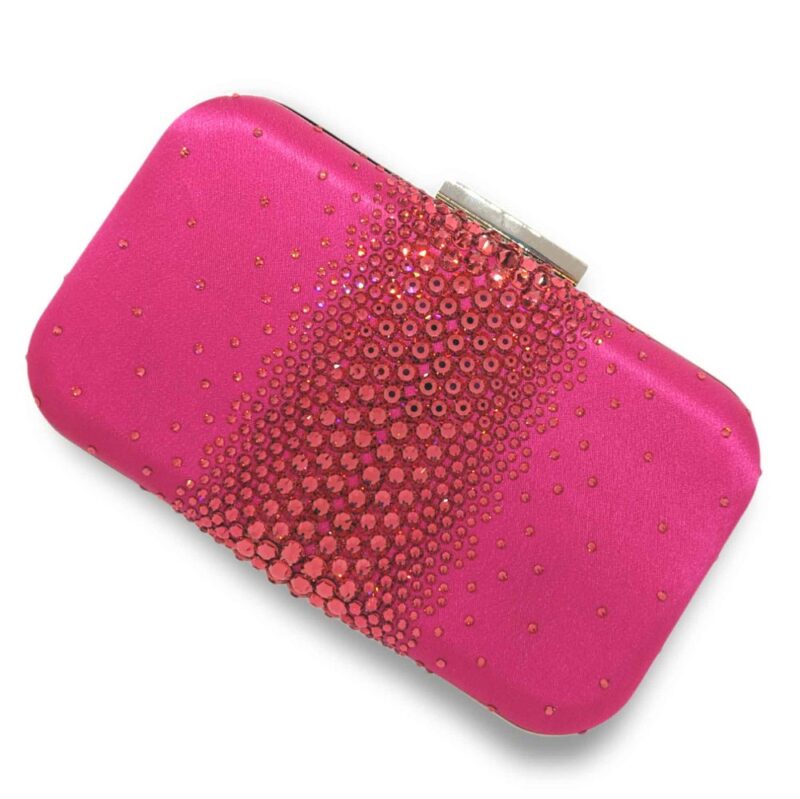 The second extravagant and meticulously made piece we feature, is this Ella hot pink clutch. It comes in 7 other colors, namely aqua, yellow, lime green, green, navy, silver and gold. Made of polyester satin and lined with black fabric, the texture of this clutch is surely lovely. It is adorned with brilliant, sparkling and vibrant high quality crystals. Furthermore, as you can see, the detailing is of such precision. There is heavier concentration of the larger gems in the middle, slowly spreading out to the smaller ones onto the sides, until it goes on the outer areas.
This adds to a very unique and visual appeal. Another feature is a silver metal frame around the edges and a closure on the top, which adds an extra layer of style to the already sophisticated clutch. Its size is ideal for your necessities and will not feel bulky as you carry it. Pair this with a white or black gown to bring out a spark of color, personality and sophistication.
DASH NECKLACE
The third authentic and one of a kind piece we have here is this edgy yet classy blue Dash necklace. It comes in 5 other colors, namely gold, gold patina, black patina and clear; being made of nickel free metal and brilliant crystals that have an elegant blue spike pendant. Additionally, the delicate chain is 24 meters long, which is attached and pulls through a gorgeous diamond circle that allows you to adjust the length of the necklace to your preference. Furthermore, to lock the necklace in place, loop the pearl pendant through the circle a second time. This fashion accessory is available in modern silver or bright gold. Backward or forward worn, it will be just as perfect! Ideal for backless dresses or plunging necklines, this accessory is definitely an eye catcher.
CASSIDY BIRDCAGE
The forth bridal accessory we present to you here is this dramatic, timeless and modern Cassidy birdcage veil in gold. It comes in 4 other colors, namely silver, white, ivory and black. Made of premium Russian netting and one of a kind crystals; wearing this veil for your wedding will make you look so unforgettable. It features miniscule brilliant cut crystals delicately placed along the bottom of the cage veil, then lightly scattered at the top. Perfect for either a minimalistic dress or an extravagant one! This simple and short, yet luxurious veil will make a signature statement to your memorable wedding day!
LUZ CRYSTAL BRACELET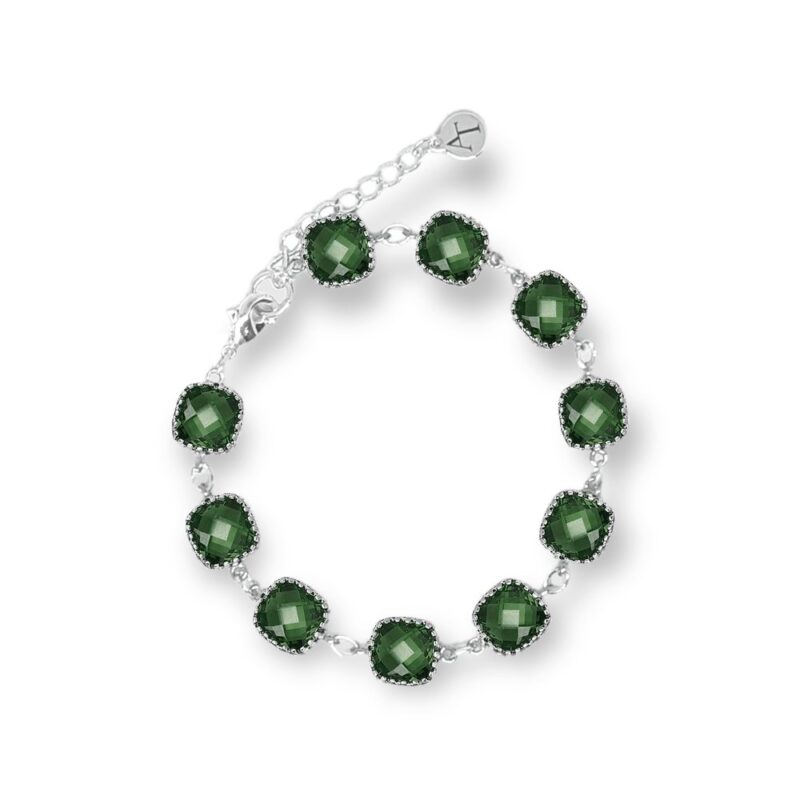 The last piece of fabulous and amazing jewelry we show you here is this Luz crystal bracelet in Emerald. It comes in 6 other colors, namely aquamarine, black diamond, fuchsia, gold, sapphire and silver. Made of nickel free metal and vibrant hued crystals, it also features a lobster claw for its closure and is adjustable for up to 7 inches. Furthermore it is all plated with a gorgeous silver finishing. These bracelets add a pop of spice, spark and oomph to any attire, whether it be with skinny denim jeans and a silk blouse, or for a black dress on a formal night or even most especially for your wedding day! This bracelet accessory is a definitely must have in your collection of bracelets!
Your wedding accessories and needs will not be as cool and fabulous if you do not take a look at Ariel Taub's creations. Have a wedding coming up soon? Visit their website now! For more wedding essentials and dresses we have written before click here.