The electric dream car that you have been waiting for is finally here! After years of anticipation, the electric vehicle company Lucid has released the Lucid Air, a fully electric luxury sport sedan. The Lucid Air boasts some impressive features that make it well worth the wait. 
This electric dream car is not just for show-off millionaires: Lucid estimates they can offer this model at a price tag comparable to gasoline-powered cars. This electric sports car will be available from 2021 and will take the electric automobile industry to a whole new level. 
If you are an EV enthusiast, worry no more- Lucid Air has got you covered! Apart from being affordable, it has a sleek design, futuristic features, and a performance that will have you dreaming about taking it for a spin every night before bed. This electric luxury car is not one to miss out on. For more details, read on.
Interior and Exterior Features of Lucid Air
The Lucid Air interior features include the steering wheel, dashboard, adjustable front seats, and reclining rear seats. All the seats have high-quality leather, and have a display for rear passenger entertainment, and are entirely customizable.
The Lucid Air seats four people in two rows but offers enough room for five if necessary. It also features comfortable seats with heating and cooling functionality. Also, it comes with a center console made from machined aluminum with an added anodized platinum finish for durability and style. There are also two display screens behind the steering wheel to provide you with all your infotainment needs. Likewise, the screens show you the power status of the electric batteries.
This electric luxury car also features in-car voice commands, meaning everything from navigation to phone calls can be done hands-free within this electric vehicle. This feature comes in handy for drivers who want to keep their eyes on the road and not have to worry about any distractions.
The exterior body design of the Lucid Air provides both efficiency and style that makes it appealing to drivers who are looking for performance in their electric vehicles. Its streamlined, aerodynamically optimized shape minimizes wind resistance and enhances propulsion.
This electric fast car is beautiful. Its futuristic design sets the heights of luxury and performance for today's electric vehicle market. The Lucid Air features an ultra-high-quality paint finish in four colors: pearl white, electric blue, deep black, or ice silver.
It also comes with LED headlights that turn themselves on and electric blue tail lights for safety. They also styled the side mirrors to look like wings and adhere to the curvy body to create a sleek, streamlined effect.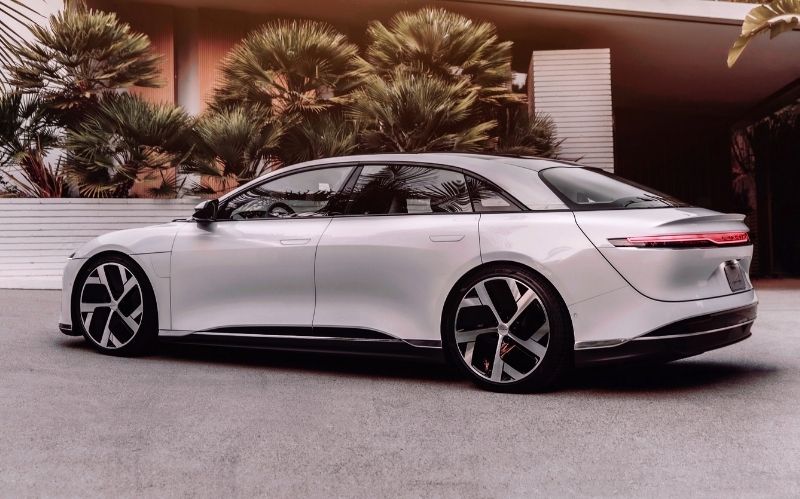 Performance of this Electric Dream Car-Lucid Air Lineup
The fastest version of this electric sedan has a top speed of 168mph. Lucid claims this version can complete a quarter-mile in less than ten seconds at 144 mph. But what's more interesting is that it takes 2.5 seconds to speed up from zero to 60 mph. This is double what an average electric sports car does and more than what most renowned non-electric fast cars achieve. 
In addition, the manufacturer says, the entry-level model rides on a single rear wheel electric motor that generates 480 hp. Others in the lineup use dual electric motors and have all-wheel drive, unlike the entrant Lucid Air. They also post different horsepower ratings; for example, the touring model and grand touring produce 650 hp and 800 hp, respectively. However, the fastest electric sports car in the lineup develops a whopping 1080 hp and guarantees a range of 500 miles on a single charge.
Overall, Lucid Air has excellent handling and stability at high speeds. Plus, it has torque vectoring that optimizes traction in corners by distributing power to individual wheels as needed.
Selling Price
The Lucid Air electric dream car will be available for purchase before the fall of 2020. The fastest and powerful version will have a starting price of $169,000, while the rest will be available for less, with the entry-level costing as low as $ 77,500.
Closing Remarks
The LUCID Air is an amazing electric dream car. Not only does it perform well, but it also has a compelling design and features to make sure you stay connected on the go with family and friends. The 2021 Lucid Air will be one of the most desirable cars in its class for years to come.