Who could deny the Lamborghini Aventador is one of the coolest cars of all time? In fact, the way this sexy automobile blends style with speed simply exemplifies the modern dream car. And this year, The Italian carmaker is at it again with the Lamborghini Aventador S Roadster! So if you ever wanted to make your cool supercar a convertible, now's the time to do that. So let's take a closer look to see what this roadster Lamborghini has to offer!
Signature Lamborghini Performance
With this dream car, you're getting a Lamborghini engine. So you already know to expect some crazy things here! To be exact, you're getting a naturally aspirated 6.5-liter V12. And this motor is every bit as powerful as it sounds with 740 horsepower and 509 lb-ft torque. To give you an idea of how fast this car is, this roadster will rush from 0-60 in less than 3 seconds! Plus, it's packing a top speed of 217 mph. So with that said, the Lamborghini Aventador S Roadster isn't lacking in speed by any stretch.
Same Cool Aventador Design But with More Aero
One look at this dream car and you'll instantly recognize it's an Aventador. But this time around, Lamborghini added a few new aerodynamic stylings. The most notable includes a new front fascia with 130% increased downforce. So each of these beautiful design choices only helps the Aventador drive even faster!
As far as other design choices go, you'll get those shark fangs on the front grille for a powerful and aggressive look. You'll also get side air vents to help with cooling and turbulence.
Moving on, the back is where you'll find the engine. You can even opt for a transparent rear option to show off that amazing V12. And while you're back here, you'll also find a spine that runs down the middle of the car. This tiny detail is what separates the exterior of the coupe from the roadster (aside from the convertible feature, of course).

Speaking of the convertible functions, keep in mind that you can store the top of the roadster in the front of the car. Plus, it's super lightweight weighing in around 13 lbs. So it's easy enough to put on and off depending on how you feel like driving.
Open those scissor doors on the side, and you'll find an interior customized to your liking. So whether you want red quilted-diamond-stitched leather or black Alcantara is up to you! Or choose from the other options available! You have plenty of choices here! Even opt for heated seats if you want them!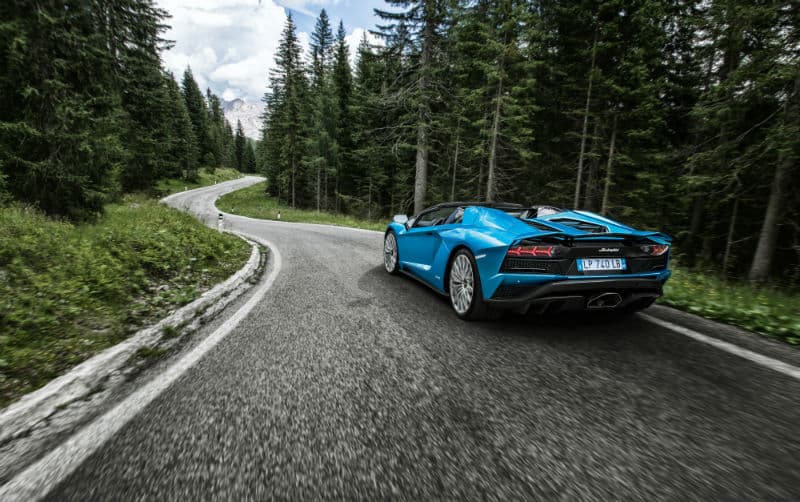 What's also cool on the inside of the Lamborghini Aventador S Roadster is the back window. Lower this, and you'll really hear the powerful roars of that V12!
Also, don't miss the Corsa display on the instrument panel. The digital gauges and displays of this fast car definitely make for a cool overall design!
What's the Price of the Lamborghini Aventador S Roadster?
If you're looking to get behind the wheel of this cool car, note that the MSRP starts at $460,000. And you can pick up this fast car now if you're ready to be the owner of a brand new Aventador!
Final Thoughts
It's almost impossible to find anything to dislike about the Lamborghini Aventador S Roadster. After all, how many other cars pack such a cool design with race car speeds? In short, not many pull it off quite as well as Lamborghini. So if you're looking to buy a supercar, this is hands down one of the best you'll find this year!