The sun is shining and the weather is bright, which means it's time to get the perfect outfit for this scorching summer heat. We are a huge fan of Dolce & Gabbana and their floral collection, so we created this Dolce & Gabbana beach style just for you. Enjoy summer in style.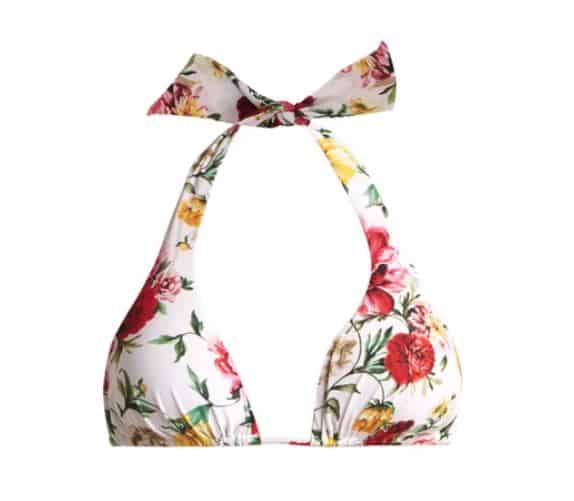 First,  to get this fabulous beach style you'll want to get this must have floral bikini set. Dolce & Gabbana's signature feminine style is showcased through the romantic pink yellow and green floral print. This design decorates this white bikini floral top. It's crafted in Italy with subtly gathered soft cups and a self-fastening halterneck. Team it with the matching briefs for lounging by the pool.
Next, Dolce & Gabbana is known for its resplendent florals. Romantic pink yellow and red rose print that adorns these white floral bikini briefs is a nostalgic nod to the sweet scent of fresh roses. This high-rise pair is made in Italy in flattering three-panel construction. This classic bikini style creates a timeless look perfect for hours spent poolside.
Moreover, you'll need the perfect white summer dress to cover up, so we selected this long sleeve short dress by Khaite. Refresh your new season with this fashionable and feminine style. This one of a kind dress offers a upscale vibe, while still remaining effortless chic.
Additionally, step into these fully leather sandals that will stand the test of time. A front bow adds cutesy detail to the simple silhouette. They are inspired by the word Reina, the Spanish word for queen. This is a queen bee shoe brand that will surely capture your heart. They offer an extensive assortment of silhouettes from heels to boots and sandals to flats. Raye has that perfect something for everyone.
That being said, the Welcome bag is a new addition to Dolce & Gabbana's coveted fashion accessories collection.Defined by the gold-tone metal doorbell plaque set into the front – a nod to the 'open door' policy of Italian family values. It's crafted with protective metal feel and a detachable shoulder strap. It opens up to reveal two internal compartments and two pockets. Offset the pink red and purple floral pattern with sugar-hue tailored separates.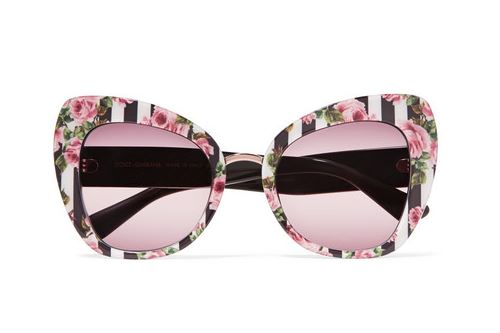 In conclusion, to complete any style you'll want the ideal sunglasses that brings all the elements together. Dolce & Gabbana's sunglasses are printed with painterly roses, butterflies and monochrome stripes. This signature pattern matches the swimsuit, too. Made in Italy from glossy acetate, this pair has flattering cat-eye frames and pink-tinted lenses that provide 100% UV protection.
SHOP MORE FASHION AND STYLE NOW!!!