The Falcon 10, also known as Dassault Mystere, is among the corporate jets developed by Dassault Aviation. Its design began after the French manufacturer saw a need for a small aircraft in the market. This was a few years after producing the larger Falcon 20. For this reason, this aircraft is mostly considered a smaller version of Falcon 20. However, that is not true because this private jet features a non-circular fuselage, a split passenger door, among other redesigns that are different from those in Falcon 20.
Production of this aircraft began in 1971, and three years later, the first Falcon jet was ready to grace the market. But for unknown reasons, Dassault Aviation ceased production of this corporate jet in 1989. Nevertheless, the private aircraft remains popular and is one of the most sought-after jets in the second-hand market because of its performance and minimal operational cost.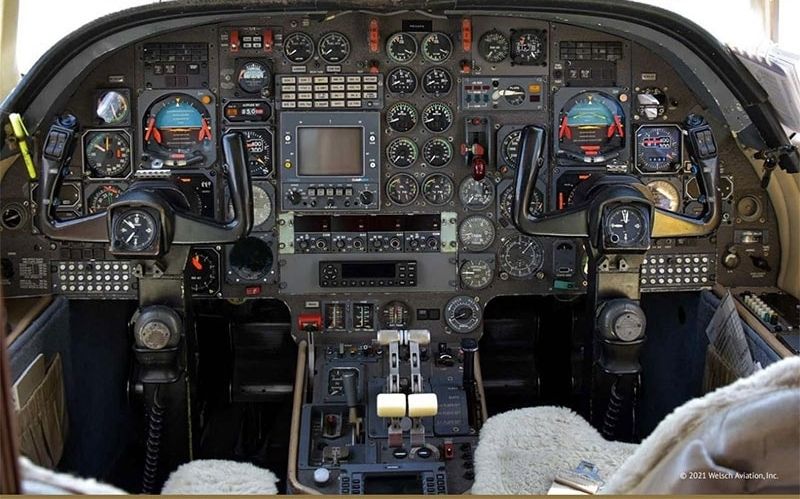 The Cockpit and Cabin Layout of Falcon 10
Falcon 10 features a glass cockpit integrated with a wide range of avionic systems, including dual collins FGC-80 flight director, dual collins VHF-22 comms, dual collins VIR-32 NAVS, and dual collins ADF-60. Others are Collins DME-42 with IND-40, universal UNS-1K FMS with GPS and 12 channels, allied signal TCAS II, standby altimeter, and skywatch TCAD, not forgetting the Wulfsberg VI flight phone, which has a remote handset, and Sperry primus 400 radar with NAV data. 
The cabin measures 4.7 ft in height, 4.8 ft in width, and a length of 12.9 ft. Its volume equals 224 cubic feet, while the internal baggage compartment has a capacity of 13 cubic feet. And from the executive club layout, the cabin can carry eight passengers, including two crew members. Surprisingly, the lavatory location is near the front end of the cabin instead of being at the back, like in most jets. It also comes with a separate refreshment area and an external luggage space, which has a capacity of 28 cubic feet.
Engine Output and Performance of Falcon 10 
The Falcon 10 gets flying power from two Garrett TFE731-2 turbofan engines. Each engine produces an output power of 3230 lb, and together, they take the corporate jet to a certified ceiling of 45,000 ft. While the maximum range is about 1,620 nm, and its normal range is 1,520 nm. Also, the inspection intervals of the engine stand at 4,200 hours. 
Falcon boasts a high cruising speed of 490 knots in terms of performance, and the normal cruise speed is 452 knots. The jet's climb rate is 4,600 feet per minute and requires a runway of about 4,339 feet to take off and a landing distance of 2,578 feet. Also, the private jet has a maximum takeoff weight of 8,500 kg, which makes Falcon a force to reckon with in its division. 
Selling Price of Business Jet
Even though production of this corporate jet ceased a few decades ago, Falcon 10 is still available in the second-hand market. Its selling price ranges from $219000 to $600,000, depending on the year of manufacture.
To Sum Up
The Falcon 10 boasts incredible upgrades compared to its predecessor. Despite being an old model, the aircraft design and performance make it one of the few sought-after medium-range light jets. Whether traveling for a business errand or luxury, the jet will take you there swiftly. Again, the cabin is comfortable, and its layout is superb, and on top of it all, the cockpit features upgraded avionics.