Zefhir Ultra Light is a unique turbine helicopter, developed by Curti Aerospace, which is a division of CURTI Costruzioni Meccaniche. Moreover, it's the world's first lightweight helicopter, installed with a ballistic parachute rescue system. Zefhir was unveiled at the AERO Friedrichshafen expo, held in May 2018. 
The helicopter's name comes from the word "zephyr", which means a gentle breeze. In the skies, this helicopter lives up to its name. Moreover, makers have designed its airframe and components to meet the requirements of EASA CS-27. Moreover, the light and durable rotor blades and elegant interior add to its beauty. 
Engine and Performance
This luxury helicopter is powered by a PBS TS100 turboshaft engine equipped with a brushless DC, an electric starter generator, and a digital engine control unit (ECU). Moreover, the engine can generate a maximum continuous power of 105kW. It has a shaft speed of around 2,158rpm and you can start it in extreme weather, with temperatures below -30 degrees. Moreover, Zefhir has a standard fuel capacity of 121 liters and can be fitted with an auxiliary fuel tank. 
The maximum cruise speed of the helicopter is 161km/h and top level speed is 185km/h. Moreover, it can stay airborne for two hours and 15 minutes, at a speed of 75km/h. It also offers a great flight experience as a whole.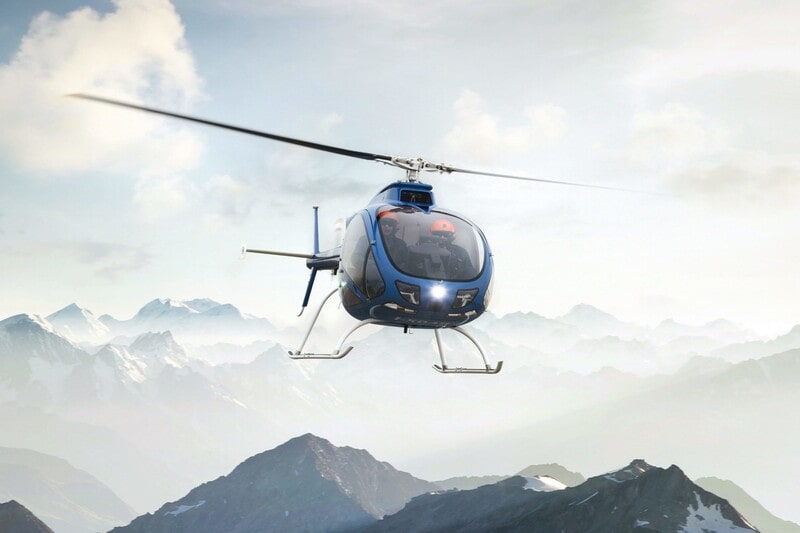 Interior
On the inside, Zefhir has luxurious, yet crashworthy seats, and the visibility is amazing. The comfort of the cabin is top-notch and is the result of careful ergonomics and design. Moreover, the helicopter has a spacious cabin. Pilots who are sick of narrow interior space in other helicopters, greatly appreciate this aspect.
Regarding the space present in the luggage rack, it is noteworthy at 320 liters. So, Zefhir has more luggage space as compared to its competitors. 

Infotainment
This luxury helicopter has a glass cockpit, developed specifically for the management of the engine. Moreover, there are specific sensors, in addition to the analog backup instruments required by CS-27. Regarding safety, there are chip detectors in the two transmission boxes, speed sensors, and the tail rotor speed sensor. Double controls are also available for the co-pilot. 
Zefhir also offers a unique option, a ballistic parachute. It is a new safety feature, in which the parachute, deploys automatically, in the case of an engine failure. So, this makes it the first and the only helicopter in the world with a tried and tested ballistic parachute system. 

Price
The price of the Zefhir Ultra Light is around $500,000. For more information, visit the Savback website. 
Zefhir Ultra Light has certainly raised the bar in performance and safety. Moreover, the spacious interior and the ballistic parachute system have made this helicopter one-of-a-kind. So, if you want a high-performance helicopter with a comfortable interior, you should choose the Zefhir Ultra Light.