Ferrari needs no introduction and is one of the most recognized brands around the world. Ferrari cars offer the ultimate in styling, performance and luxury making it one of the prominent sports cool cars manufacturers in the world.
The latest offering from the stables of the prancing horse is the exclusive LaFerrari. LaFerrari is an exclusive hybrid car on offer from Ferrari and only 499 models of this exotic beauty is being manufactured making it a rare and exclusive collector's car.
LaFerrari, as per the company chairman Luca Di Montezendo, is the highest expression of excellence of the company: technological innovation, performance, futuristic styling and driving pleasure.
EXTERIOR BEAUTY
Undoubtedly one of the best cars to come out of the Ferrari stable. The design of these cool cars is futuristic, sophisticated, striking, innovative and sleek. It has taken design cues from its predecessors the 330P4 and 312P. The design is aerodynamic and sculpted lending it a powerful and aggressive look. Four different types of carbon fiber are used to meet the functional requirements of different areas of body.
It features prominent wheel arches and fluidly flowing rear word cabin design lending the car a futuristic and unmistakably Ferrari look. In the front it features low front wing appearing to be suspended from the center pylon. In the rear it features a muscular design with two deep grooves emerging from the surfaces of the wheel arches which aides in engine cooling. It features a large adjustable spoiler which deploys automatically. The lower tail section features bare carbon fiber along with huge diffuser equipped with movable flaps.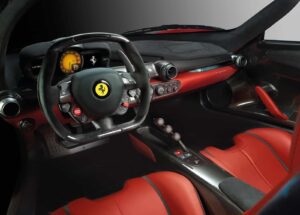 INTERIOR PERFECTION
LaFerrari features a sports oriented cabin. The driving position is designed entirely taking cues from F1 cars. Fernando Alonso and Felipe Massa are directly involved in the design and development resulting in a functional and track inspired cock pit. It features fixed seats along with adjustable steering wheel and Pedal Box. The door panels are made of carbon fiber and are an integrated part of the cabin space offering occupants freedom of movement. The steering wheel is inspired from F1 cars and various functions are integrated in it along with ergonomic gear-shift paddles. The dash-board features reconfigurable instrument panel with choices for a traditional layout or a competitive track styled display.
LaFerrari is really a technological wonder on offer from Ferrari. It is powered by a 6262cc V12 engine producing 800 HP @ 9250 rpm and combined with a 163 HP motor produces maximum power of 963 HP and a peak torque of amazing 900 Nm. It features state of art HY-KERS system offering seamless integration between the V12 engine and electric motor. The engine is mated to a F1 Dual Clutch gear box coupled with electric motor.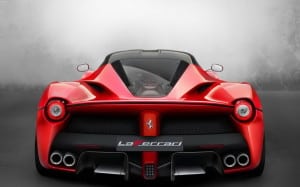 POWER OF THE ENGINE
It is capable of accelerating from 0 to 62 mph in less than 3 sec and has a top speed of 230 mph. other prominent performance features include Hybrid Power unit which controls the power delivery from both V12 engine and electric motor via two inverters and two DC-DC converters, Regenerative braking with active ABS, 265/30 R 19 Pirelli PZero tires on front and 345/20 R 20 tires on the rear, Dynamic Control System, Active Aero Dynamics and other mechanical set-ups.
With this car Ferrari has showcased what's in store for its future cool cars. Coupled with breathtaking beauty, incredible performance and futuristic technology it is sure to set hearts racing for car enthusiasts. The fact that only 499 pieces of this gorgeous beauty are being manufactured makes it an ultimate collector's item. At $ 1.3 million it is one of the most expensive cars on offer on this planet but the performance, futuristic styling and unmatched vehicle dynamics that these dream cars offers makes it worth the money spent and a must have car among other exquisite cars in the garages of the rich and famous.