ABOUT VIVIENNE HU
Vivienne Hu, is not just an iconic name in fashion and several endeavors, but is a brand of designer shoes, handbags and clothing. Before she delved into the world of the fashion industry, Hu was an investment banker in New York. Additionally, she has many accolades from different parts of the world, studying in Germany; as well as getting a fashion degree in Parson's school of Design. Being in the corporate world for over 3 years, her vision was to not sacrifice personal style with professional style. In effect, her career change and creativity made her establish 2 stores in Soho and has good press. Lastly, her designs cater to women who have a strong sense of independence and a desire for displaying their femininity and personality in a unique way. Let us now look at 5 unique designs with a touch of exotic Asian concept from Vivienne Hu.
THE SLEEVELESS LACE INSERT WRAP DRESS (Pictured Above)
The very first, unique, feminine and irresistible dress is this two toned sleeveless lace insert wrap dress. Made of cotton blend jersey and lace, the contrast of the two textures are one of a kind. The lace area if the dress is in Lilac and the cotton part of the dress is in apricot or a light orange color. Furthermore, it features, a body wrap while two inserts of lace show on one side. The cut out on one side of the upper stomach gives such a sexy and stylish appeal. It is also knee length and has a matching lilac lace cropped cardigan you can purchase separately.
Pair this with pointed nude pumps for cocktail dinner or with lavender strappy stilettos for a romantic date at a fancy restaurant in the city. This is such a cool and one of a kind dress you wouldn't wanna miss out on.
STUDDED BLOCK HEEL BOOT BLACK

The second designer piece we present to you is this super edgy and cool Studded block heel boot in black. It comes in other colors namely apricot, brown, burgundy, ivory and olive. Made from fine leather this pair is sure to last long. Moreover it is made from 100% calfskin on the upper part and lining and 100% rubber on the outsole. In addition to that it has a 3 inch heel and has a zipper closure at the side and doubled line golden studs that form to one as it goes upwards.
Just imagine wearing this super funky boots with a short plaid dress or skirt and crop top for a rock concert. Wearing it with a feminine and flirty colorful dress also gives it a good contrast and eye catching look.
FUR HOBO PURSE LEMON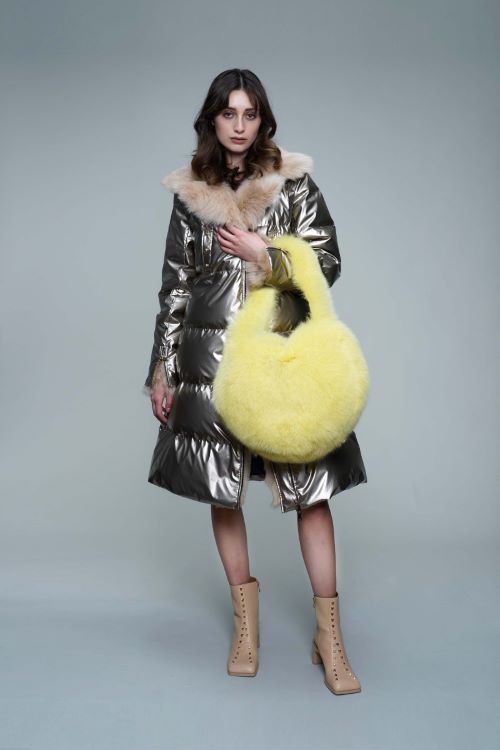 The third lovely and chic collection from Vivienne Hu we feature is this super cute and luxurious Fur hobo purse in lemon. It comes in another color namely cobalt. Made of fox fur, this handbag is definitely soft and smooth to the touch and will turn heads. Additionally, its bright lemon color gives you a very pleasant vibe. It features shoulder length and adjustable golden snaps, which is not just stylish but is also easy to carry. This bag is perfect for the fall or winter season, keeping you warm and comfortable.
Pair it with a fur trench coat and the Apricot studded block heel boot and be the center of attention in the streets of New York or Paris.
FITTED MINI CRISS CROSS DRESS IN PINK ZEBRA PRINT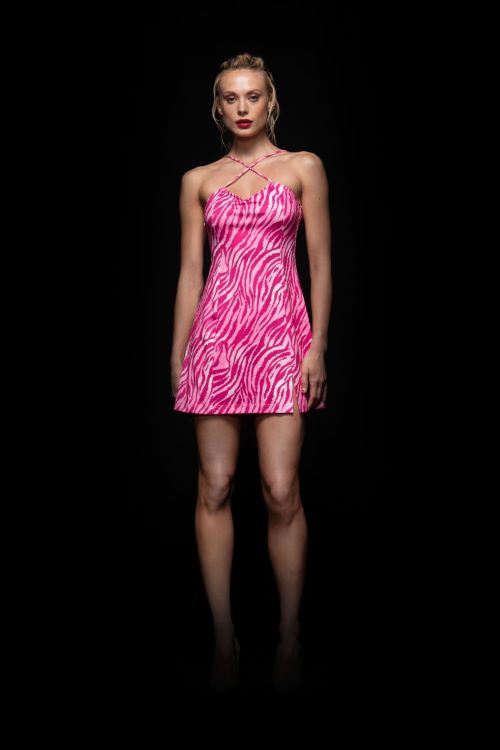 The fourth flirty dress and designer wear we have here is this girly fitted mini criss cross dress in pink zebra print. Made of cotton blend and jersey fabric, you sure will feel one with this dress as it hugs your body. So stylish yet comfortable. The features of this dress are an open back and minute leg slit. Furthermore, at the front area, there is a unique cross that flawlessly blends with the vibrancy of the hot pink zebra pattern. Truly a dress you can wear for almost any occasion.
Pair it with pearls and flip flops at the beach, or neon strappy stilettos with the girls for a party; and even with a blazer and flats for a more modest look to the office. The possibilities are endless with this dress as it is so versatile.
SQUARE TOE STRAPPED LEATHER CAGE SANDALS FUCHSIA

The fifth and last designer shoe or sandal we have here is this never before seen and ultimately authentic square toe strapped leather cage sandals in fuchsia. It comes in 4 other colors namely cobalt, lemon, olive and tangerine. Made of leather just like the studded boots, it is also 100% calfskin on the upper part and lining and 100% rubber outsole. It features short heels and square toes.
Additionally, it has gold studded hooks that bind pink leather strings together at the sides, giving it a fabulous look. Pair these bold beauties with equally colorful ensembles for the summer and you'll have an unforgettable look.
There you have it, a fusion of professional and personal style by Vivienne Hu that is sure to attract anyone who is an avid lover or icon of fashion. Check out her blazers, pants and other collections here now! For more one of a kind designer wear featured in our magazine, visit this link.