Introducing, Coco Cooper denim style, the new luxe denim line that's making waves with their premium stretch fabrics, versatile styles, precision flattering fit, and body positive messaging.  Created for the -in-betweeners, women sizes 6-16, the brand's introductory collection offers denim essentials in skinny, bootcut, straight, cropped and flared styles.
Today, the average woman wears a size 14 in jeans and sizes 8-12 are the top sellers. While traditional fashion and style companies don't promote to this size range, Coco Cooper believes in size diversity and wants women everywhere to embrace their curves not erase them. Made in Los Angeles, the brand aims to close the gap in the market while empowering women to look and feel their best. Focusing on the 5 F's: Fit, Form, Flatter, Fabric and Fashion, Coco Cooper has a unique sizing process where they use a size 8 model to take curves into account while crafting the perfect pattern and styles.
 Coco Cooper jeans are carefully designed to enhance the very best assets with their 360 performance and rebound stretch. With precise engineering, each one of their styles is developed to lift, sculpt and define natural curves. All styles have higher back rises, and strategically placed back details to ensure a most flattering fit.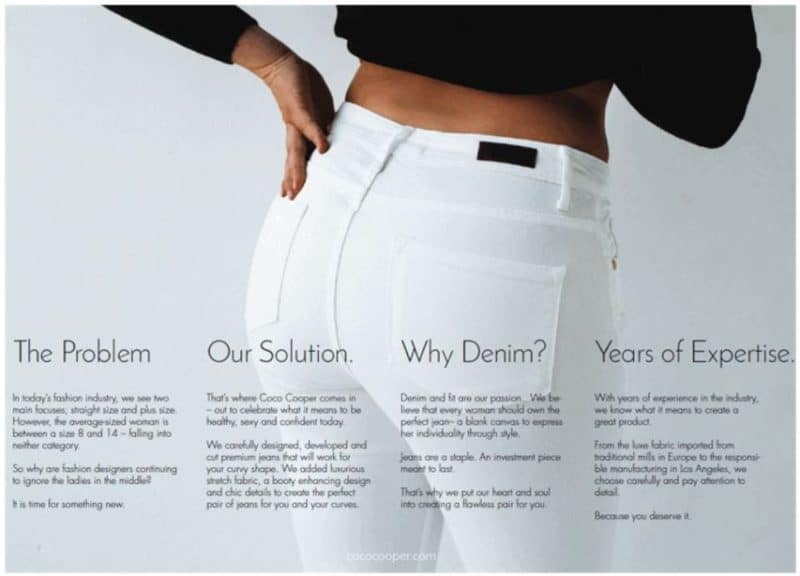 Coco Cooper launched with industry "plus-sized" models who actually fit into their "in-between" niche. Models such as Bree Warren are featured in the first line of Coco Cooper's luxe denim. Bree is often referred to as a "plus-sized" model in the fashion industry despite being a size 12.
 "We love Bree's free spirit and her sense of adventure. She's a wonderful role model and embodies everything we believe in"" say's Coco Cooper's Marketing Manager, Vanessa Wuergler. Laney Degrasse shot the most recent campaign. She's well known for appearing in the Aerie Real ads and is a self-professed "in betweenie" model at size 6. "Laney is a style inspiration to say the least.  She's proud of her body and embraces her curves. She looks incredible in our jeans!"
Coco Cooper was proud to sponsor the NYC NEDA (National Eating Disorders Association) walk. NEDA supports individuals and families struggling with eating disorders. They offer vital information, education, campaigning for prevention and funding. NEDA walks are organized all over the US. Coco Cooper hopes to be an ongoing supporter of NEDA. Event speaker, Iskra Lawrence is one of the most famous curvy models today in the fashion and style world, and a champion of body diversity.
Coco Cooper has been selected to exhibit at the Texas Conference for Women. The state's top career and professional development event for women. Speakers include Amal Clooney, Diane Von Furstenberg, Abby Wambach (2015 Women's World Champion), Nina Tassler (Highest ranking Latina in network television) and many more. The event is sold out.
 The Coco Cooper denim style brand is created for women by women, whose passion is denim, fit and body acceptance. The founders are experts with more than 20 years of experience in the fashion industry, which means they know a thing or two about making the highest quality and best fitting jeans out there. Coco Cooper denim retails for $180.00- $210.00.