Introducing Lisa Adams, an international and celebrity go-to luxury closet designer, she has also become a top design influencer in her field. In recent years, she created a carry-on luggage line LAMove Mobile Closet – a closet on the go – and launched popular lifestyle blog CLOSETPHILE. Her clients reside across the US, Europe, Dubai and Moscow and more. Name-drop worthy clients include Khloe Kardashian, Fergie, Christina Aguilera and Monique Lhuillier.
Wardrobe spaces have truly come a long way in the past decade and Lisa Adams' vision has been a driving force behind the reinvention of these underutilized spaces. Ten years ago, when Lisa started LA Closet Design, closets were mostly an afterthought in terms of maximizing a home's value and living potential. However, after watching how the kitchen was reinvented from a purely functional space into a vibrant, stylized, living and entertaining space, she knew that the closet had similar potential.
Let's find out more about how she creates her closet perfection…
Beverly Hills Magazine: What does it mean to be an entrepreneur?
Lisa Adams:  For me, being an entrepreneur is having ideas at 2AM and setting them to motion at 8AM!
Beverly Hills Magazine: When did you discover your passion for interior/closet design?
Lisa Adams: After I got my MBA, I was given an opportunity to work in a kitchen and bath design firm, and it was there that I discovered an untapped niche and underappreciated space—closet design.  At that moment, I knew that I wanted to do for closets what kitchens were becoming at the time, and to do it at the highest level of quality and design.
Beverly Hills Magazine: What is the most challenging thing about being an entrepreneur/business owner?
Lisa Adams: There is not enough time in the day!  The challenge is to stay focused while still unearthing various business opportunities—staying true to the brand and mission.
Beverly Hills Magazine: The most rewarding?
Lisa Adams: The most rewarding part of my business is going into people's homes/closets and creating functionally and aesthetically beautiful spaces.  Closets are very intimates spaces, and I take that as a privilege and honor to enter these spaces and work closely with homeowners.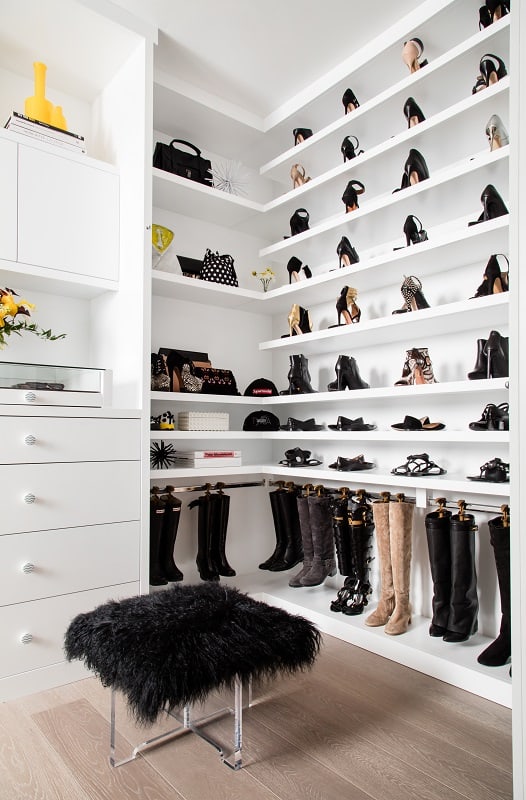 Beverly Hills Magazine: What is your business mission?
Lisa Adams: My mission is to create wardrobe and storage spaces that are balanced functionally and aesthetically.  As a designer, I see the potential in this under-utilized, and often out of control space to add value to your home and to calm the chaos of everyday life.  The closet is where we most often spend the first and last moments of a day and unfortunately at those times many of us deal with universal closet issues:  cluttered, overstuffed and unorganized spaces.  Instead, I look at both your room – and your life – and then I create a space of peace, beauty and even glamour.
Beverly Hills Magazine: What have been major obstacles/stepping stones that you overcame to achieve your success?
Lisa Adams: Starting my business in 2007, at the start of the recession, was certainly not ideal and not a time when people were talking about "luxury" and "luxury closets;" however, it taught me to be lean with overhead expenses and never lose sight with business development.  I always try to keep a diversified portfolio of clients so if one market loses traction, I am still able to focus on the others.  It was, at this time, that I also decided to work with the Dress for Success organization.  It was my way of giving back and staying fulfilled after leaving a career in research and development.  Today, I sit on the Advisory Coucil for the DFS organization, and have never looked back; it really completes the picture for me and comes full circle.
Beverly Hills Magazine: Who or what have been your inspirations?
Lisa Adams:  I have had so many inspirations to get me to this point—from selling Cutco knives in high school, to playing on the Varsity basketball team, to my first laboratory manager, to being a Board Member at On Assignment, a recruiting firm for scientists, to my perfectionist piano teacher for instilling discipline.  I am inspired from my travels and growing up in Hawaii, to fashion and luxury boutiques, and every mentor along the way.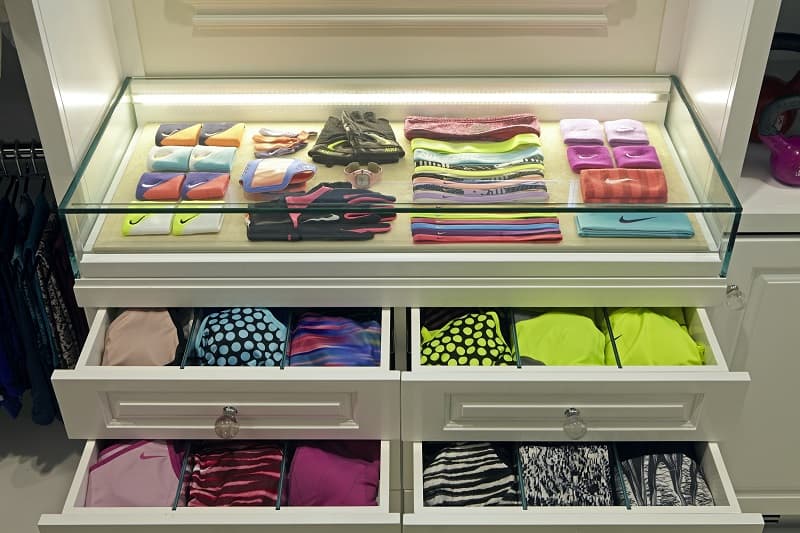 Beverly Hills Magazine: What are your current goals for your business?
Lisa Adams: I am working on a high-end line of closet accessories, a closet coffee table book, and looking to expand my business in the Middle East (Abu Dhabi and Dubai).  I recently collaborated with Max Mirani to create an LA Closet Design signature carry-on line, LAMove so check it out!)
Beverly Hills Magazine: What makes your business different from others of its kind?
Lisa Adams:  My business is different in that we focus on closet design, and create spaces and experiences that lend itself from my background (left and right brain), technical training and my knowledge of luxury and craftsmanship.
Beverly Hills Magazine: Where do you see your business development/growth within the next 5 years?
Lisa Adams:  I would like to keep doing what I am doing while having a product line of luxury closet accessories that more people can enjoy, and expanding in more countries.  I would love to bring back my show, Million Dollar Closets to continue to shine the light on CLOSETS.
Beverly Hills Magazine:  How do you balance your professional and personal life?
Lisa Adams:  I have a 13-year old son, so for me, the balance is a no-brainer:  you do what you have to do.  If that means going to a school event at 10AM, then you go to it, exercise at 6:15AM and work the second shift after dinner.  I rarely go a day without working out, which has helped me to become an expert scheduler and keep the mindset of "getting it all in in a day."
Beverly Hills Magazine: If you had to give a piece of advice to aspiring entrepreneurs out there, what would it be?
Lisa Adams: Find your passion, work hard, perfect your handshake, be an observer, and hire a millennial!
Beverly Hills Magazine:  What is "success" to you? DEFINE success.
Lisa Adams: For me, SUCCESS is figuring out the aim and purpose and accomplishing it; if you can be happy while doing so, then that's a bonus.
Beverly Hills Magazine:  Have you discovered a personal purpose in what you do?
Lisa Adams:  Absolutely.  I love what I do and love to learn, so the train keeps going!  I enjoy going into people's homes and HELPING.
Lisa combined her fashion, style and décor passions with her science major background to combine creative inspiration and disciplined details into this under-explored space. Lisa has led a design trend that has transformed the very idea of closets from simple, bland storage areas into unique, incredibly functional, multi-purposeful, ultra-organized and utterly beautiful living spaces.
(Images Courtesy of LA Closet Design)