Although she is one of the world's greatest stars, it is possible Cher has an even more successful career in luxury real estate. From Florida to California to Hawaii, Cher has had her hand in designing and decorating a number of luxury homes. This includes an impressive property on the Big Island of Hawaii at the exclusive, gated Hualālai Resort. She and architect-partner, William Long, designed a stunning ocean-view, Bali-style house best described as contemporary meets exotic. The current owner, billionaire businessman Bob Parsons, founder of GoDaddy and PXG/Parsons Xtreme Golf, has put the home on the market. Fully-furnished, the asking price for this dream home is $10.955 million. (Image credit: Hualālai Realty)
Love of Decor
Since she and first husband Sonny Bono bought their home in 1970, Cher has been fully engaged in the process. At first, she managed the decor with decorator Ron Wilson. As the story is told, she'd say what she wanted and he'd say it was impossible. But the superstar would not take no for an answer. In fact, her response was always "just do it!" He'd always come through. They worked together on her next five home purchases through 1991.
In 1996, she bought a property in Miami Beach and handled the decorating herself. By this time, Cher's style surrounded the use of large pieces and varied textures. Simple and uncluttered. She sold the Miami Beach mansion in 2002 and moved on to another luxury real estate project in Malibu. In 2008, with the help of Mr. Long, she advanced from merely decorating to designing a dream home in Hawaii.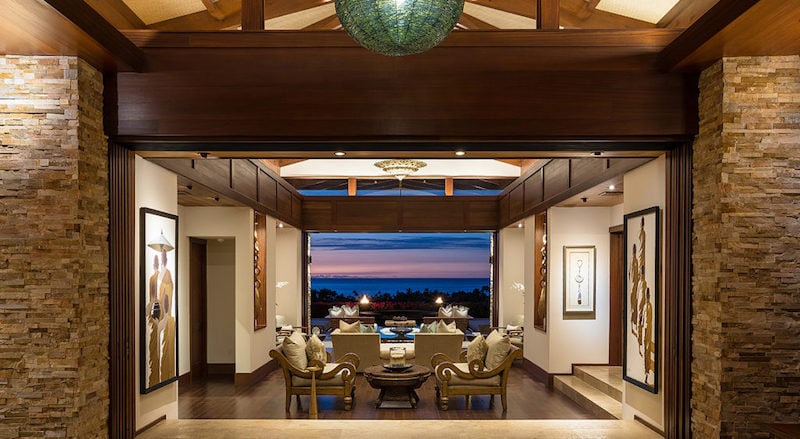 Cher-Designed Luxury Real Estate
This breathtaking piece of celebrity real estate takes full advantage of Hawaii's perfect weather and gentle trade winds. In fact, Cher's design maximizes these climate elements by emulating the Balinese open-pod architectural style. Great expanses of movable glass walls create a vanishing threshold for indoor-outdoor living. Air conditioning is rarely necessary in Hawaii and overhangs prevent rain showers from coming inside. Therefore, this design element is not only refreshing, it's a practical approach to year-round living.
Contact Maddison Estates To Buy, Sell, Or Build Your Dream Home!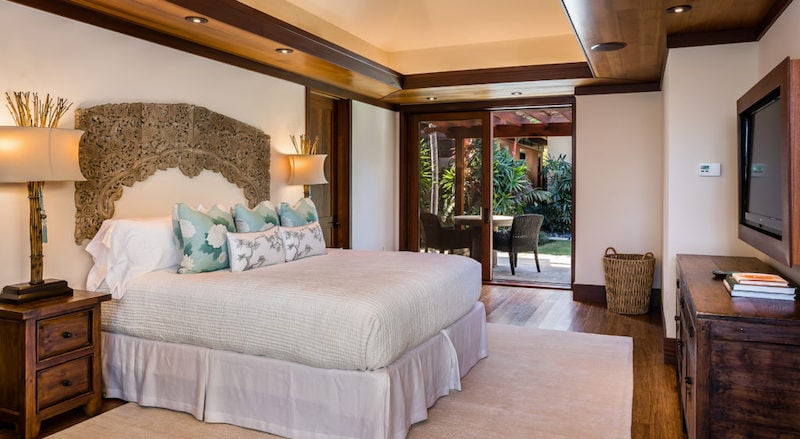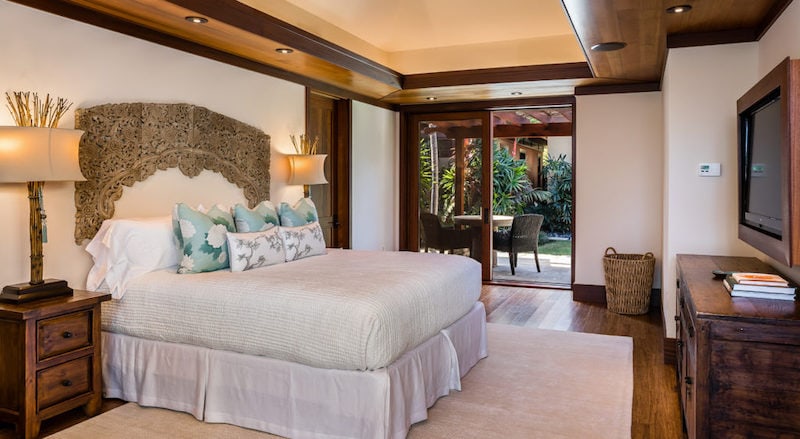 Spread across just over three-quarters of an acre, this 9,446 square foot house is made up of a series of pods. The owner's quarters occupy the central pod which also contains the main living and dining rooms, kitchen and casual dining area on the lanai.  The master suite faces the ocean and has a private office. In addition, the private deck includes a magnificent wrap-around water feature. The master bath, which opens to a private garden, has custom stone sinks and a free-standing soaking tub.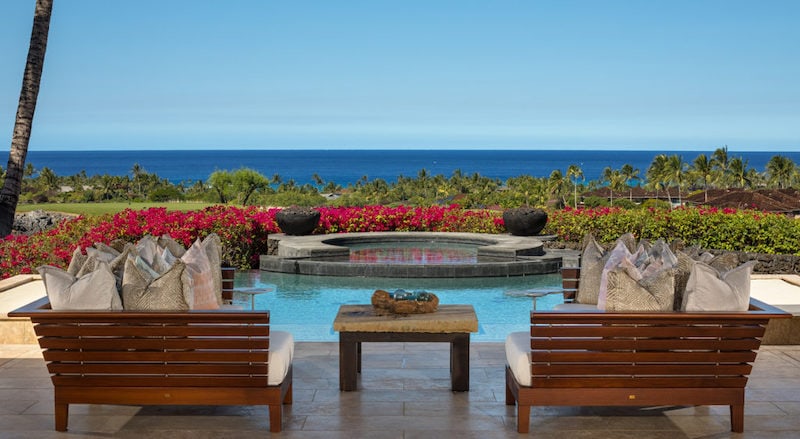 Guests have separate individual pods near the courtyard entrance. Not only does this provide privacy for them, it also keeps the main pod secluded for homeowners. Overall, this luxury property includes six bedrooms, six full baths and two half baths. Some of the baths open to private gardens for outdoor showering.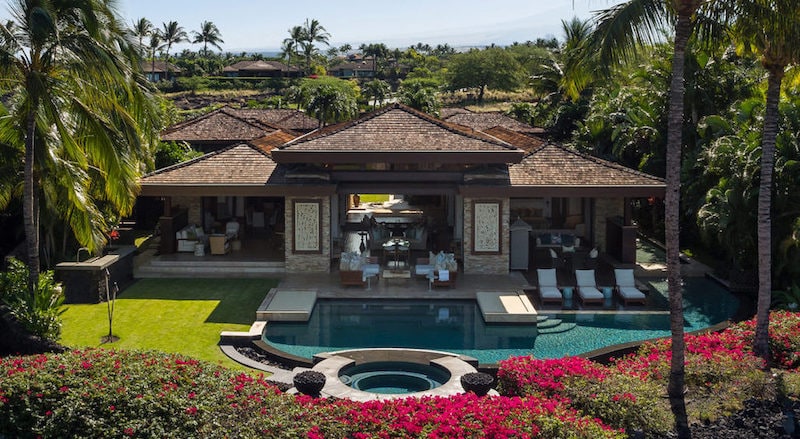 Outside, an infinity-edge pool and spa with wide panoramic views of the ocean beckons. The house also overlooks the members-only Ke'olu Golf Course. Buyers will also have access to the resort's shared amenities, which include tennis, golf, a swimming pool, private beach club, six restaurants and access to the Four Seasons Resort Hualālai.
This Cher-designed and decorated Bali-style house in the gated Hualālai Resort is now for sale, priced at $10.995 million. The listing agent is Rob Kildow, director of residential sales at Hualālai Realty, Kona-Kohala Coast.
Courtesy of TopTenRealEstateDeals.com