(Photographed by Jason Bush)
Have ever picked up a copy of Elle, Esquire, GQ, Vogue or Harper's Bazaar, but had no idea who was the genius behind those iconic covers??? It's time to meet celebrity photographer John Russo, one of the most sought-after editorial photographers in the world. He has photographed nearly every A-lister for covers of nearly every major publication. Celebrities the likes of Brad Pitt, Leonardo DiCaprio, Angelina Jolie, Julia Roberts and much more. John has shot campaigns for major brands around the world including Dolce & Gabbana, Hugo Boss, Gucci – just to name a few.
Let's get behind the lens with this visual artist who has a special gift for bringing beauty to life, with the right lighting of course.
Beverly Hills Magazine: When did you discover your talent/passion as a photographer?
John Russo: When I was a teenager I was always photographing things with my Kodak. I was obsessed with beautiful things from a very young age, and I always wanted to be a photographer.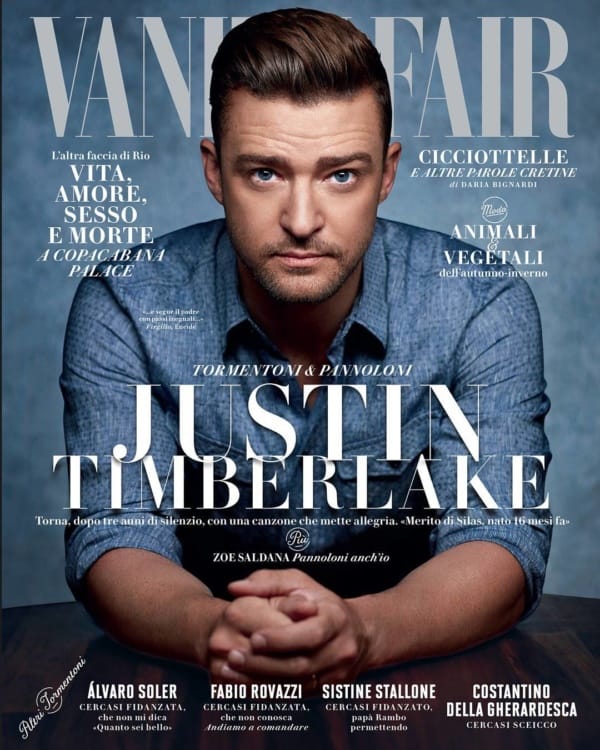 Beverly Hills Magazine: How did you get started as a professional?
John Russo: When I lived in New Jersey, I was doing little odd jobs, trying to find my way. Then when I got to LA, after I graduated from college, I started shooting soap opera stars. That afforded me a lot of experiences dealing with agents and publicists. That's how I built my career. I realized I wanted to take it to another level. So I started targeting the publicists and sending them my work. They saw my work, thought it was great, and started trusting me with their clients. Then I decided I really wanted to shoot big movie stars. I switched my website, and put my energy into targeting VOGUE and other brand magazines, so I could photograph the Brad Pitts and Angelina's Jolie of the world. I put that energy out there and it manifested. Getting to this point was always what I wanted and where I wanted to be. It's been an AMAZING journey. It's all about the journey, enjoying yourself and having a great time. It motivates me to do more fun things and to keep striving to get better at my craft.
Beverly Hills Magazine: What is the most rewarding aspect of what you do?
John Russo: The bottom line is you never know who you're inspiring. On social media, other photographers and students, direct message me, and say, "I did my project about you"…and I think, I was that kid once, looking up to the successful photographs of that time. It is humbling and it makes me so happy. We are so lucky, people who are successful and happy in success. Inspiring others is an amazing thing and one of the greatest rewards of what I do.

Beverly Hills Magazine: What is the most challenging aspect of what you do?
John Russo: I love it and it's great. Sometimes it gets overwhelming with scheduling because I want to do everything. I'll get 2 big jobs, and then I have to reschedule one of them. Missed opportunities can be a bummer. The other thing is to always be evolving as an artist. What is going to set me apart? I have to keep up with setting, technique, style, and pose trends but also stay true to who I am.
Beverly Hills Magazine: What is your signature?
John Russo: I have a specific light quality and I keep it very clean and very simple. The subject is the most important element in any shot. Herb Ritts inspired me, and I aspired to create the quality of work like his. I definitely suggest emulating the masters in the industry. Look at their lighting and techniques, and get inspired by them!
Beverly Hills Magazine: What is BEAUTY? Define it.
John Russo: Beauty is something that enlightens the senses.

Beverly Hills Magazine: If there is one person in the past you could have photographed, who would it be?
John Russo: Princess Diana. She was such an angel and so iconic. She had this beautiful quality about her.
Beverly Hills Magazine: You have photographed so many famous faces! Who has been your favorite and why?
John Russo: I love photographing all of them. Everyone is fun in their own unique way. A big milestone for me was Leonardo Dicaprio. He's such an icon. I did all the photos for The Revenant. My photos were all over the world. That was amazing! Each celebrity I photograph has been a great milestone for me in my career. When I was a young boy I used to look at celebrities and they seemed to exist in a world so far from me. But I declared it, I said, "One day I'm going to photograph Brad Pitt…." And I did.

Beverly Hills Magazine: Do you have a Life Motto or quote you live by?
John Russo: "You can have anything you want, you just can't have everything."
Beverly Hills Magazine: What advice would you give to aspiring photographers?
John Russo: Follow your dream and never, ever give up. Anything is attainable. It won't come to you, you have to keep pushing and go to them. If you are willing to pursue your dreams with all your heart and mind, the door will open. It's inevitable.
Beverly Hills Magazine: Have you discovered a personal purpose in what you?
John Russo: I think it's to create social immortality in my work. In 100 years, someone can pick up my images and people will look at it and say, "John Russo did that." Images live on forever, and I have faith in humanity that my images will have a long life far beyond my lifetime.
He's also responsible for his charity book, 100 Making a Difference, which features one hundred remarkable people who have founded charities or launched projects that are truly making a difference in our society and the world. The list includes Maria Shriver, Gwyneth Paltrow, Mark Wahlberg, Dwayne "The Rock" Johnson, Maria Sharapova and Eva Longoria.