Whistler, British Columbia tops the bucket list of nearly every skier in North America. In fact, the travel magazines, websites, and organizations frequently recognize Whistler as being among the best ski resorts in the world. However, this scenic town in the Coast Mountains of Canada offers much more than skiing. In addition to being the host city for the 2010 Olympic and Paralympic Games, Whistler has an active festival calendar. Nearly each month of the year has a special event to entertain and engage residents and visitors. So whether you are planning a vacation to Whistler to hit the slopes or coming to enjoy the Beer Festival or Ironman Competition, be sure to treat yourself to the best hotel in Whistler: the exclusive getaway of Fairmont Chateau Whistler. 

A Luxury Mountain Resort
This exclusive getaway is impressive upon first glance. The dramatic alpine castle exudes a rustic yet luxurious feel. And its location at the base of Blackcomb makes Fairmont Chateau Whistler one of the best luxury hotels for skiers. A ski-in/ski-out facility, it is close to the slopes in the morning yet a quiet place to relax and recover in the evening. And if you want a bustling nightlife beyond the choices at the hotel, it is only a short trip to Whistler Village. 

Welcoming Guest Quarters
Fairmont Chateau Whistler has 528 cozy and luxurious rooms and suites from which to choose. No matter the size, all of these guest quarters have beautiful views of the mountains, valley, or the gardens. Furthermore, many of these rooms have undergone renovations in 2018. 
The Alpine Suites are the newest addition to this exclusive getaway. These 600 square foot rooms have a king-sized bed, fireplace, and modern bathroom. Their location on the highest floors of the luxury hotel provide for some of the best views of the mountaintops on the property. And the cozy atmosphere makes the Alpine Suites a wonderful place for a romantic vacation.
Sign Up For The Free GOD Foundation Travel Portal for 60% Off Travel Deals Today & A Portion Goes To Charity!!!

An Exclusive Getaway with Fairmont
Fairmont Gold allows guests to experience extra privileges and a higher degree of luxury during their exclusive getaway in Whistler. At Fairmont Chateau Whistler, Fairmont Gold guests are whisked away to a private reception area on the 8th floor. A dedicated team is always available to assist guests in arranging special touches during their vacation. Guests are also treated to a complimentary continental breakfast, an honor bar, cocktail canapés, afternoon tea with snacks, and sweet treats for a late night snack. 
In addition, the Fairmont Gold has a variety of exclusive rooms and suites. But the Fairmont Gold Penthouse Suites offer the highest degree of luxury and hospitality for a Whistler vacation. A semi-private elevator transports guests to the only rooms on the 12th floor. These two penthouse suites each have 1,130 square feet of living space. Floor to ceilings windows provide an exquisite view of the mountains. While these luxury guest retreats only have one king bedroom, they are able to accommodate 4 guests. It is also important to note, Fairmont Gold is available at every Fairmont luxury hotel.  
Distinctive Dining
Fairmont Chateau Whistler has many dining options to serve every occasion and palate. The Wildflower Restaurant, which is open for breakfast and dinner, offers a variety of classic dishes made with local ingredients. In addition, the restaurant serves a scrumptious Sunday brunch on holiday weekends. For dinner, meat-lovers will adore Grill Room. This fine dining establishment specializes in the expert preparation of chops and steaks. The menu also features delectable seafood and vegetarian options. Throughout the day, Portobello is available with a variety of smokehouse options as well as a fantastic selection of craft beers.
Guests seeking lunch or a light evening meal should look no further than The Mallard Lounge. In addition, this cozy space has flights of port and whisky and a menu of finely-crafted cocktails. And those with a sweet tooth will find paradise at the decadent Chocolate Bar. During the winter season, The Chalet serves alpine cuisine and a fun fondue menu. And if you're visiting in summer, enjoy all three meals at The Clubhouse.
Furthermore, for guests on vacation with children, rest assured, Fairmont Chateau Whistler can accommodate young tastes. In addition to in-room dining, The Wildflower, Portobello, and The Chalet have children's menus. Or, if your child has a more adult palate, they are welcome to choose child-sized portions from the regular menus.

Seasonal and Year-Round Activities
Regardless the season, Fairmont Chateau Whistler has an abundance of activities for a vacation at the luxury destination. Of course, skiing is first on the list! Whistler Blackcomb is ranked as the best ski resort in North America by a variety of ski and travel magazines. Combined, the side-by-side mountains of Blackcomb and Whistler offer over 8,100 acres perfect for winter sport. Whistler has a vertical rise of 5,020 feet and Blackcomb is 5,280 feet and both have a wide variety of easy, intermediate, and advanced trails. The resort is also home to one of the largest ski and snowboard schools, able to assist all ages and skill levels. Moreover, there are 17.5 miles of cross-country trails. Also, Blackcomb has five terrain parks.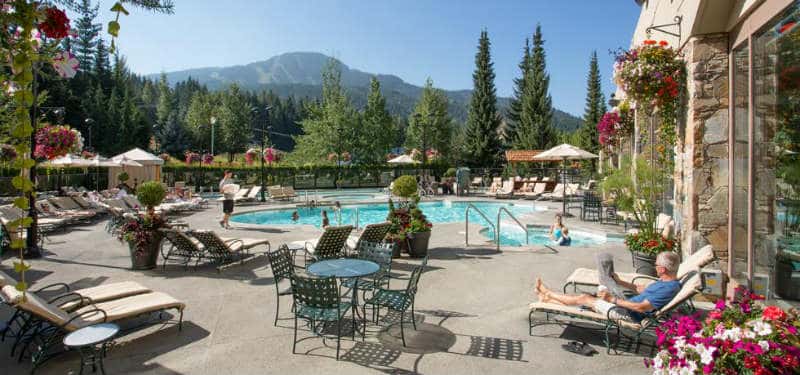 In the summer season, a Fairmont Chateau Whistler vacation can focus on golf. Another area of excellence, the golf course at this luxury hotel has received accolades from golf and travel magazines. Designed by Robert Trent Jones, Jr., the par 72 course is carved in the Coast Mountains. The spectacular course seamlessly intermingles with the natural topography of the area. Additionally, Fairmont's Whistler Practice Facility provides expert advice to improve your game. 
And if wellness is you're goal, Fairmont Chateau Whistler's Fitness Centre, along with Vida Spa,  offers a multitude of activities and services. Swimmers will enjoy the outdoor, 60-foot lap pool with underwater music. Or spend the day in a cabana by the indoor/outdoor leisure pool. The property also has four whirlpools, a dry sauna, two eucalyptus steam rooms, and two tennis courts. The fully-equipped gym has state of the art machinery and personal training. And those seeking the balance of body and mind can take one of the many yoga classes. 

Unforgettable Weddings and Meetings
As expected, this luxury destination is a stunning exclusive getaway for the perfect wedding. Each wedding at the Fairmont Chateau Whistler has the benefit of access to the experienced Wedding Team to help them plan every facet of a dream wedding. And of course, this exquisite luxury hotel has a number of venues for fairytale nuptials. The Grand Fireplace of The Grill is a beautiful backdrop for a small wedding of up to 50 people. However, for a larger gathering, the Rooftop Wedding Chapel is beyond compare.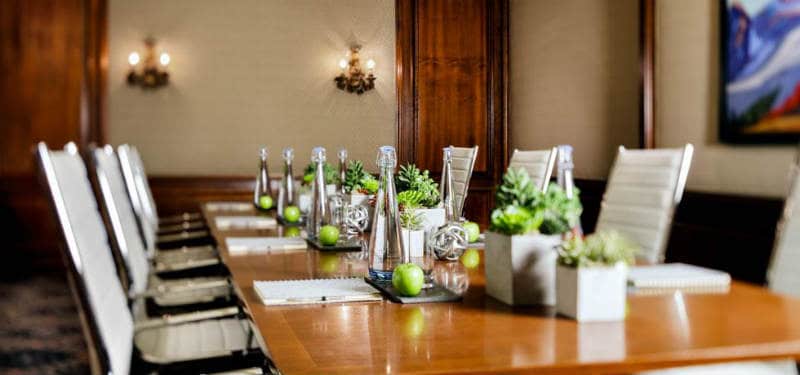 In addition to spectacular wedding venues, Fairmont Chateau Whistler is an excellent choice for corporate events. A dedicated Conference Service Team will assist in planning meetings, conferences, or corporate celebrations from as small as 12 people to as many as 1,000. Furthermore, the luxury hotel has four unique signature events to pump up the energy and "rally the troops" at the beginning of your gathering. The hotel also has a variety of service and philanthropic endeavors available for company enrichment.
Whether you are a skier, golfer, or just looking for some fun in one of the most beautiful luxury destinations in North America, Whistler, British Columbia should be at the top of your bucket list. And when in Whistler, be sure to say at the exclusive getaway of Fairmont Chateau Whistler.