A beauty born in Russia and raised in Queens New York, who worked as an executive assistant in corporate America found herself unfulfilled and unhappy. She went seeking a new opportunity, and took a leap of faith by studying Electrolysis, a subject she knew nothing about. Years later, we connect with her to learn more about her path to success and how with determination and hard work she has found herself in the heart of the City of Angels offering a hair free lifestyle to all.  Beverly Hills Hair Free is recognized worldwide for their one of kind approach to permanent body & facial hair removal and exclusive skin care treatments.
Beverly Hills Magazine: What inspired you to start your business?
Alana Dzurek: The survivor within me, I wanted be an independent, strong, successful, empowered woman. It was like, I had to prove to myself that I can do this.
Beverly Hills Magazine: What challenges have you faced and learned from as a business owner?
Alana Dzurek: At 25 I was probably one of the youngest Electrologists to enter the profession. The Industry operates using intimidation tactics, and refuses to think or look outside the box at anything new. Well, I don't subscribe to this belief, and devoted my entire career to finding more efficient and effective ways to administer faster, pain-free hair removal. It paid off in so many ways as my business grew and I developed a system that is now sought after by clients all over the world. The most difficult challenge has been reviving an industry that is older than time, (LOL) but is so effective, and the only FDA approved method of permanent hair removal! I learned several things: First, You can have an amazing product/service but without the proper marketing, it will be obsolete.  And second, don't ever give up on a dream, a vision or a purpose because somehow if it's destined, you will defy all odds.
Beverly Hills Magazine: What is the mission of your business?
Alana Dzurek: Empowerment! To change lives through hair removal and exclusive skincare. Confidence comes from feeling and looking our best.
Beverly Hills Magazine: What services and products do you offer?
Alana Dzurek: Permanent Hair Removal and Exclusive skincare, wax, and LED red light therapy.
Beverly Hills Magazine: How is your business different from others of its kind?
Alana Dzurek: Our hair removal system is so unique and superior, our clientele come from all over the world to experience rapid, pain free, permanent hair removal. Our treatment plans are designed around individual lifestyles, so that you can continue to live your normal life. Another unique feature of BHHF is that we get to the root cause of the problem, not everyone who walks through our door is treated. Some patients need medical treatment prior to or in conjunction with Electrolysis. Because unless hormones are properly regulated, the client will be right back to where they started with 1-3 years.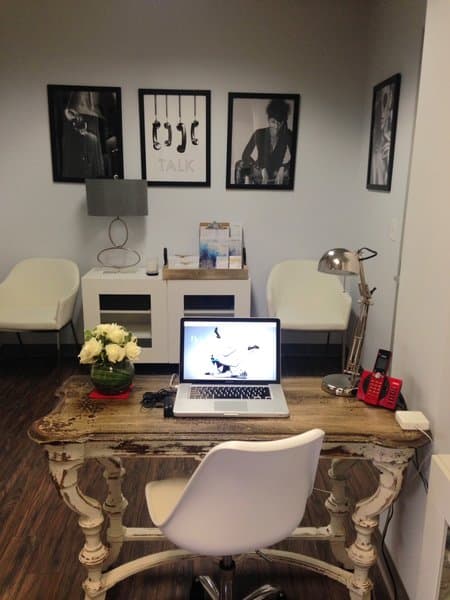 Beverly Hills Magazine: What is the best part of your career?
Alana Dzurek: The ability to change peoples' lives. Being told I've changed someone's life is the most rewarding feeling.
Beverly Hills Magazine: Do you have a Life Motto or Quote that you live by?
Alana Dzurek: My favorite quote is by John Lennon. When given an assignment at school, the teacher asks Lennon, "What do you want to be in life?" He answered "happy", the teacher said, "You don't understand the assignment," Lennon answered… "You don't understand life".  I live my life by the Motto…. "If your dreams don't scare you….they're not big enough".
Beverly Hills Magazine: Where would you like your business to be in 5 years?
Alana Dzurek: I want to impact the Electrology industry, and make the Beverly Hills Hair Free system available to everyone in every city and Country. This would benefit the profession, and consumers all over the world. I receive calls and emails every day asking where people can find my system, or how their Electrologist can get this method. The more people I can help, the greater the reward.
Beverly Hills Magazine: Have you discovered your own personal purpose in the world, with all that you do?
Alana Dzurek: Absolutely, my purpose is to help others by utilizing my talent in this way. I am incredibly fortunate that I get to share my gifts with so many others, in so many different ways, whether I'm teaching, or working, or giving a talk and inspiring others.
Her story shows you that even when you don't know where the path will lead you, God knows what He is doing. He will always lead you right where you belong. All it takes is that first leap of faith. Follow your dreams!
Visit Beverly Hills Hair Free Today!
9301 Wilshire Boulevard
Suite 310
Beverly Hills California 90210
424.335.0025
Photo credit:
Robyn Balliet: @Robynballiet
Enrique Bautista: @riquemb