The Cayman Islands offer a unique economic stability unseen anywhere else in the world. As such, this tropical paradise is an outstanding location to own a luxury home that serves as a savvy real estate investment as well. And while some worry that island living can be an isolating experience with few available amenities, that is not the case on Grand Cayman. In fact, most residents want for nothing on this posh island. Even Amazon delivers! 

Prime Prospect Point Location
George Town is the epicenter of Grand Cayman. Shops and restaurants fill the lively city. For many, living within bustling George Town is a dream. However, for those with the financial means who desire privacy and peace, Prospect Point is the perfect neighborhood. 
Just a mere 10 minutes from George Town, Prospect Point has an upscale, peaceful quality. A modest selection of luxury properties stretch upon the shoreline in this small, prestigious community. Located on the southern side of the island, Prospect Point boasts impressive views of the South Sound neighborhood and the vast Caribbean Sea.     

A Waterfront Luxury Home
This luxury home, aptly named Casa Coyaba or heavenly home, truly is paradise. Built in 2002, this elegant 18,000 square foot home boasts nine bedrooms and nine bathrooms. Nestled on nearly 3/4 of an acre of waterfront property, Casa Coyaba has 210 feet of sandy beach and an unobstructed view of South Sound. Also, a small breakwater in front of the property makes the beach more family friendly. Notably, this luxury home neighbors Prospect Fort, widely considered to be the first settlement on Grand Cayman. 
Contact Maddison Estates To Buy, Sell, Or Build Your Dream Home!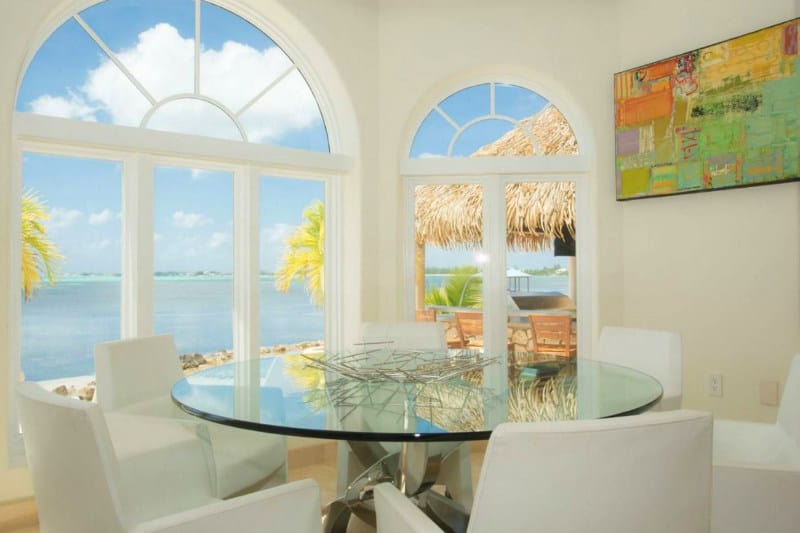 With such a magnificent view, it is no wonder that Casa Coyaba has many features inviting homeowners to spend time outdoors. Numerous patios and porches surround the house. Even the tennis court offers a view of the Caribbean. Tucked under a thatched roof, the outdoor kitchen makes entertaining an easy prospect. But the most impressive outdoor feature of this dream home is its infinity pool. With crystal blue water that rivals the sea before it, the large pool sits above the beach. And from within, it seems as though you are swimming right into the Caribbean. A jetted tub also connects to the pool. 
Interior Amenities
Within, this fully-furnished luxury home has a sleek, modern feel. A neutral color palette flows throughout, as do the exquisite marble floors. Every room offers a stunning view through oversized windows. And many rooms have direct access to private porches.
This luxury home has not one but two chef's kitchens. Both feature custom cabinetry and top-of-the-line stainless steel appliances. The main kitchen has a generous central island of natural stone and a wood prep area. A glass breakfast bar seamlessly connects to provide extra space.  
Comparable to the outdoor amenities of this luxury home, the inside has a wealth of features. Fitness fanatics will adore the well-appointed home gym. Relax post-workout in the steam room. Two bars with lounges are perfect for entertaining. And the home theater will take movie night to the next level. And as this dream home will have friends and family clambering for an invitation to visit, the two bedroom guest suite provides a lovely place for them to stay while assuring the host's privacy.      
So whether you are looking for the ultimate waterfront luxury home or a savvy real estate investment in the Cayman Islands, look no further than Casa Coyaba.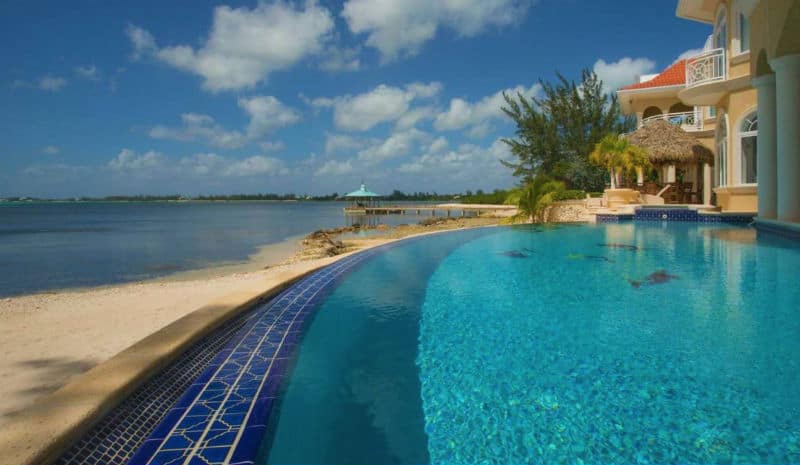 Address: 222 Prospect Point Road South Sound, Grand Cayman, KY1 Cayman Islands
Cayman Islands Sotheby's International Realty lists this impressive luxury home with an asking price of $8,995,000.