Just a few square miles larger than Chicago, exotic Singapore sits on Malaysia's southern tip bordering the South China Sea. This thriving city-state has a wealth of sites and activities for those looking for an exotic vacation packed with luxury and adventure. And when traveling to this intriguing locale, experience the best it has to offer with Fairmont Singapore. 
Raffles City Complex
In the heart of Singapore, we find Raffles City, named for the man who founded the city-state in 1819, Sir Stamford Raffles. Contained within one city block, this impressive group of buildings contains two luxury hotels, an office tower, a convention center and a shopping center with more than 200 stores. On its own merit, this complex is monumental. However, it is made even more grand when you learn the iconic architect I.M. Pei was the man behind its design and construction. 
Raffles City's two luxury hotels are Fairmont Singapore and its sister hotel, Swissôtel The Stamford.  

Elegant Accommodations
Fairmont Singapore consists of two towers, the North and South. Rooms in the South Tower are decorated with natural woods and dark leather creating a sleek, modern ambiance. However, decor in the North Tower pays homage to Singapore's roots. The Peranakans are descendants of the Chinese settlers who made their homes in Malaysia and Singapore between the 15th and 17th centuries. The unique art and style of the Peranakans are reflected in the room accents of the North Tower.  
As with all Fairmont properties, this luxury hotel has a wealth of room sizes and styles from which to choose. One of the most spacious is the top-floor Penthouse Suite. Decorated with contemporary furnishings, the master bedroom and its private balcony provide panoramic views of the city and its harbor. A spacious bath beckons guests to relax with the raindrop shower and stand-alone soaking tub. Common living areas consists of a fully-stocked kitchenette, living room and dining room.
Furthermore, membership in Fairmont Gold assures an extra degree of luxury on your vacation. Observe the harbor and skyline from the Fairmont Gold Lounge on the 25th floor. Tuck into the continental breakfast served each morning and cocktails and canapes in the evening. And at the end of a long day, enjoy the small perks like turn down service.  

Wide Variety of Dining Options
As Fairmont Singapore connects to its sister hotel, guests have a plethora of in-house dining options available for their vacation. In fact, between both of these luxury hotels, there are 13 restaurants and bars. 
Mikuni is a favorite within Fairmont Singapore. Explore Japanese cuisine with traditional kaiseki dishes prepared at live stations with teppanyaki, sushi and robatayaki techniques. For a convivial Italian meal, dine at Prego. Newly reimagined, the menu features Italian specialities prepared with ingredients sourced from Italy. The open kitchen also provides a source of entertainment throughout the meal. But for the best Szechuan and Cantonese cuisine in Singapore, don't forget to enjoy at least one meal at Szechuan Court. 
And at the neighboring Swissôtel The Stamford, try JAAN. Quite exclusive, this intimate, Michelin-starred restaurant only seats 40. Helmed by Chef Kirk Westaway, expect an elegant meal of elevated British cuisine. And on the other end of the spectrum, stop by Bar Rouge Singapore. This nightclub is the best place in Singapore to see and be seen!
Sign Up For The Free GOD Foundation Travel Portal for 60% Off Travel Deals Today & A Portion Goes To Charity!!!

Extensive Spa
For many, Willow Tree Spa is the highlight of a Fairmont Singapore stay. One of the largest spas in Asia, Willow Tree offers 23 treatment rooms, couples suites with private jacuzzis, relaxation lounges, whirlpools, hot and cold plunge pools, and steam and sauna rooms. In addition, the two outdoor pools areas are expertly landscaped to extend the relaxation outside.
Moreover, the menu of this luxurious spa is just as extensive as its actual space. Choose from signature treatments, massages, body services, facials, beauty treatments and services designed just for men. The Pearls & Caviar Signature is especially popular. Indulge in a full body polish followed by a bamboo and ginger massage. An anti-aging facial completes the service.
But if you have the time, pamper yourself with a Detoxifying Spa Day. This 4.5 hour treatment begins with a one hour personal training session. After releasing those endorphins, relax your muscles in a thermal mineral bath. Next, a spirulina detox body wrap draws out the body's impurities. Then relax with an aromatherapy relaxation massage and an express facial. Cap off this day of relaxation with a healthy lunch or snack. 
In addition to Willow Tree Spa, Fairmont Singapore also has fitness services available for guests. A hearty collection of strength training equipment and cardio machines can keep you moving toward your wellness goals even on an exotic vacation. Classes are also offered in yoga, pilates and barre. And personal and group training sessions are available.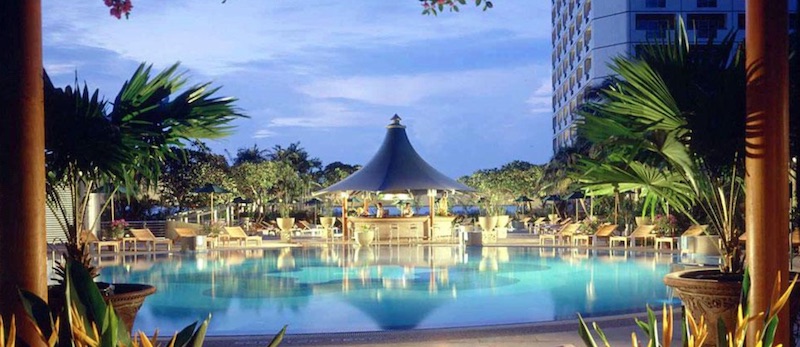 Extraordinary Events
Fairmont Singapore is home to 108,000 square feet of function space that can transform to accommodate any event needs. With 34 meeting and ballrooms, finding the perfect space to compliment your gathering is easy. 
State-of-the-art audio-visual equipment, AV support and satellite conferencing make hosting business meetings at this luxury hotel seamless. Moreover, Fairmont Singapore can add an extra dimension to any event. With ECO-Meet, minimize your meeting's footprint. Better yet, build organization unity with a hands-on volunteer experience that benefits your host city. 
As for weddings, Fairmont Singapore excels at romance. There are three different ballrooms from which to choose. The Fairmont Ballroom, home to one of the world's largest chandeliers, can host an elegant gathering of up to 3,200 people. The Stamford accommodates 1,000 guests and can easily be separated into two different rooms. And the Atrium provides a contemporary ambiance for a more intimate affair. Moreover, the dedicated Special Wedding Team will arrange every facet of your dream luxury destination wedding.  
Don't just take our word for it. Make the most of your exotic vacation to Singapore with Fairmont Singapore.