The Balearic Islands off of Spain's eastern coast are a popular luxury destination for the world's elite. The four largest islands, Mallorca, Menorca, Formentera and Ibiza each offer something different to travelers. Ibiza is surely the most lively of the islands, best known for its vibrant nightlife. But when you want a respite from the hustle and bustle of Ibiza, there is no better place to stay than Aguas de Ibiza Grand Luxe, an eco-luxury hotel in Santa Eulalia.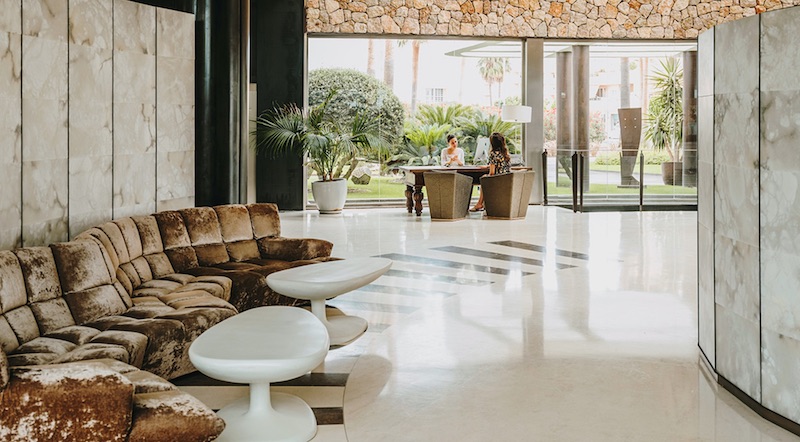 An Eco-luxury Hotel
Just a short walk from the marina, Aguas de Ibiza sits in the quiet town of Santa Eulalia. Built in 2009, this sustainable five-star hotel goes through great lengths to maintain its status as the most environmentally-friendly hotel on the island. Smart building automation reduces energy and energy consumption. Moreover, solar panels further lessen energy usage. In addition, this eco-luxury hotel works only with environmentally-conscious suppliers.
However, while Aguas de Ibiza is gentle on the environment, guests will not experience a decrease in luxury. Beautifully appointment rooms, decadent food, a pampering spa and expert concierge service combine to make your vacation unforgettable. 

Peaceful Guest Quarters
With the recent addition of new rooms, this eco-luxury hotel now has 145 guest accommodations, each with stunning views of the Mediterranean. While Aguas de Ibiza has numerous suites from which to choose, the Presidential Suite is the most luxurious. 
This two-bedroom penthouse suite offers over 500 square feet of living space. An abundance of glass within the space provides a view of the water from nearly every corner. Enjoy your in-room breakfast on the private terrace overlooking Formentera. But above all, guests staying in the Presidential Suite have unlimited spa access!
Moreover, each room and suite is decorated and arranged using the Asian method of Feng Shui. Laid out to improve the flow of energy, in keeping with the ancient practice, bedrooms have a seashell on the ceiling above each bed to eliminate negative energy.  
Sign Up For The Free GOD Foundation Travel Portal for 60% Off Travel Deals Today & A Portion Goes To Charity!!!

Inviting Restaurants
Aguas de Ibiza Grand Luxe has tempting restaurants. The newest restaurant at the eco-luxury hotel is Maymanta. Here, Chef Omar Malpartida shares his Peruvian roots with his authentic and elegant dishes. From the tasting menu designed for sharing to the succulent desserts, every plate will be a gastronomic delight!
Indeed, the ambiance at Maymanta is not to be denied. Located on the rooftop terrace, the restaurant has outstanding views and lovely sea breezes. Also, be sure to visit Maymanta's Pisco Bar with their carefully curated selection of Pisco, the amber-colored brandy developed by 16th century Spanish settlers in Peru.  
Alabastro is the place to dine for lighter fare. This refined menu features healthy dishes made with local ingredients. And for breakfast, be sure to enjoy the buffet at Oligo Madeinterranean. As the name suggests, expect a bounty of local ingredients and products. 

Pampering Spa Services
The spa at this sustainable five-star hotel has everything a guest could hope for. In addition to the treatment rooms, within the nearly 5,000 square foot spa, be sure to visit the spa lounges for some fresh fruit and juices. And the thermal area offers a wealth of different experiences: a jet pool, waterbeds, Feng Shui pool, Roman bath, Finnish sauna, hammam, cold pool, ice fountain, rain showers and a Scottish shower. 
As for spa services, all treatments use Clarin's top-of-the-line products. The extensive menu includes facials, body treatments, wraps, massages and more. The Massage from the World collection is a favorite among guests. Choose from Thai Tradition, Abyhanga (an Ayurvedic massage), Lomi Lomi (a Hawaiin technique), or Balinese.  
Looking to maintain your fitness regimen even while on your amazing vacation? The fitness center is just what's needed. In addition to a fully-equipped gym, personal training, yoga and pilates are also available. With the help of fitness center staff, you could even take a mountain bike excursion through the countryside.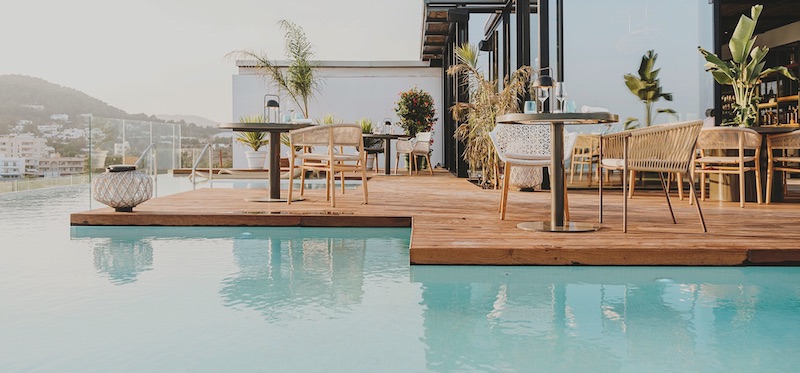 Health and Wellness
Aside from the services of the spa, guests at this eco-luxury hotel can improve their health and wellness. Aguas de Ibiza offers three distinct wellness retreats designed to help guests achieve their health goals. Each of the programs involve medical assessment and personalized diets and activity. 
The Detox Program helps cleanse the body from toxins due to stress, inactivity or poor diet. Spend the week doing yoga, kayaking and trekking through the countryside. The Fitness Program offers personal training sessions and will develop a routine to maintain your progress following your vacation. And the Weight Loss Program helps you design a balanced diet and fitness regime to continue toward your goals. 
Moreover, these health and wellness retreats are available with both full board and half board.  
Romantic Weddings
Firstly, the chic luxury destination of Ibiza provides the perfect backdrop for any wedding. And Aguas de Ibiza is a stellar venue. Secondly, experienced staff will help plan every facet of the big day from the in-house florist to the civil ceremony on the terrace to the reception. Furthermore, a wedding at this eco-luxury hotel doesn't end on the wedding day! The happy couple even get to indulge in spa services to relax on the day after!
Seeking an environmentally-friendly vacation that doesn't skimp on the grandeur? Look no further than Aguas de Ibiza, a stunning eco-luxury hotel in the Mediterranean.