Let your trip to New York City start and end at Hotel 48LEX. Hotel 48LEX is a vibrant Midtown Manhattan luxury boutique hotel. It offers everything you could want and more during your visit to New York City. It is situated on Lexington Ave and 48th Street, within walking distance to the Empire State Building, Central Park, Rockefeller Plaza and Fifth Avenue. There is truly enough to keep you busy within walking distance that you'll never have to hail a cab when staying at Hotel 48LEX. Upon arrival, guests are immediately met by a helpful and courteous bellman that will take their luggage while escorting them to the front desk for check-in. The hotel is a modern-contemporary hotel that exudes class and sophistication with its chic décor and innovative amenities. Guests are pleasantly greeted by the front-desk staff and given an overview of the hotel amenities before being escorted to their suite.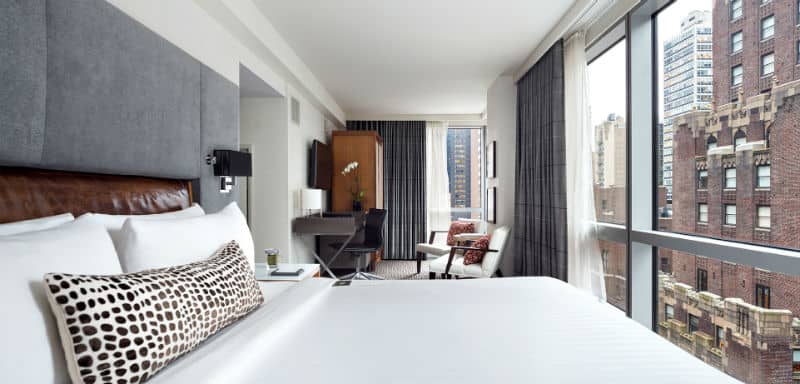 There are 116-suites, each with lovely floor-to-ceiling windows overlooking the busy and bustling Lexington Avenue. With more than a dozen room options to choose from, the biggest problem you may experience is determining which one to book. It is the total level of luxury that is clearly seen in the design of the suites that leaves a lasting impression on hotel guests. However, the marble bathrooms, with full Maline+Goetz luxury bath amenities, also tend to make a good first impression on hotel guests. Suites feature, a butler pantry stocked with Dean & DeLuca snacks and select wines, complimentary WIFI, 37" flat screen television, robes and slippers, complimentary press reader, Tivoli radio, and other useful amenities. Select suites come with separate seating areas, which includes a dining table and sofa, perfect for extended stay travelers, as it feels like a home away from home.  If you enjoy being outdoors, you're sure to appreciate the hotel's terrace suite, complete with your very own private landscaped terrace, ideal for morning coffee.
As if the hotel suites were not enough, there is still much more to enjoy during your stay at Hotel 48LEX. If you are looking for a great dining option close to the hotel, you're in luck because one of the areas most popular dining choices is located on the ground level of the hotel, Lexington Brass. Lexington Brass is an American brasserie offering guests an intimate dining experience in their 100-seat dining room. Patrons indulge in delectable and artfully prepared American food fare made from the freshest ingredients available in a warm and inviting bistro setting. The restaurant is open for breakfast, brunch, lunch, and dinner. Guests of the hotel are offered a special three-course $30 Prix Fixe Dinner Menu. So go ahead and indulge yourself!
Guests staying at Hotel 48LEX have the option of receiving access to standard amenities or receiving additional amenities offered through The House Privileges Program, for $30 per day (including taxes). These added amenities include a light European-style breakfast; freshly brewed coffees, evening wine and cheese reception, evening turndown service, 24-hour gym access, and more. With so much to offer, it is certainly worth inquiring about upon check-in.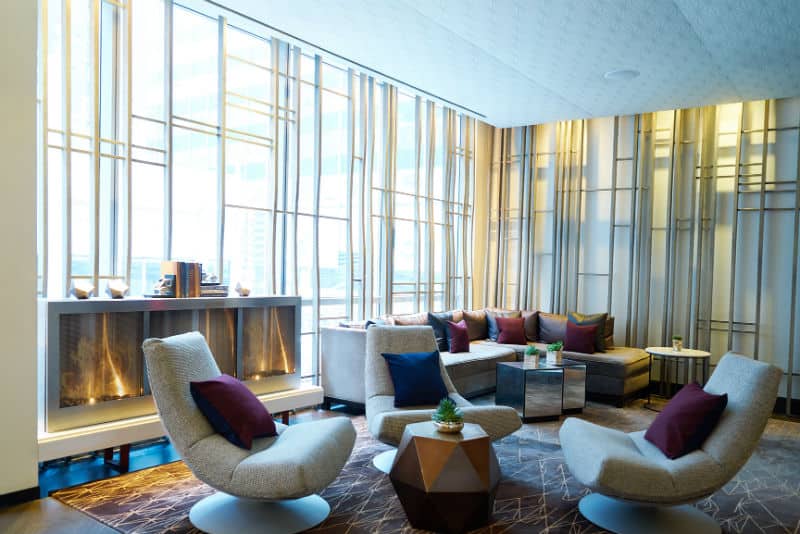 The Lounge is a welcome sight for anyone, as it is a nice nesting spot for guests who wish to relax in comfort and luxury. The Lounge, situated on the hotel's second floor, is often where many of the hotel's activities take places, such as morning breakfast, afternoon drinks and snacks, and the evening cocktail reception. It is clad with a warm color palette of furnishings with chrome and copper finishes that perfectly compliment the locally sourced artwork on display throughout the space. This is not only the perfect place to relax with a nice cocktail but it is also a great place to sit back, relax and to rejuvenate oneself before setting out to explore more of New York City.
There is no denying that Hotel 48LEX has everything that its guests could possibly need and so much more. This is truly a luxury hotel experience that is worthy of mentioning, from the courteous and accommodating front-desk to the hosts that take care of guests in The Lounge; everything is done seamlessly. This will truly be an NYC experience to remember.