Scott Disick, of Keeping Up With the Kardashian's fame, has a new E! spin-off, Flip it Like Disick, focusing on his new house flipping business. The celebrity real estate market seems to be a great fit for the star. This newly-completed project, a contemporary farmhouse in Hidden Hills, really shows off Disick's home-design talents. The luxury home is listed with an asking price of $6.89 million. (Images credit: The Agency)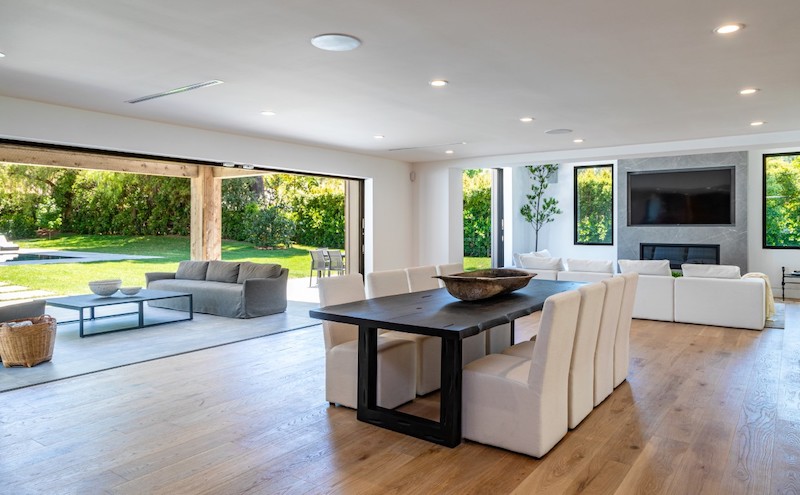 The celebrity has been one of the main characters in the Kardashian-Jenner reality show since its beginning in 2007. It's now in its 17th season and one of the longest running reality shows in the country.  Marketing-genius Chris Jenner, who propelled her children into fame and incredible wealth, is also the co-producer of Flip It Like Disick. Scheduled for eight episodes, each hour-long show includes his team of singer Willa Ford, business partner Benny Luciano, contractor Miki Moor and assistant Lindsay Diamond.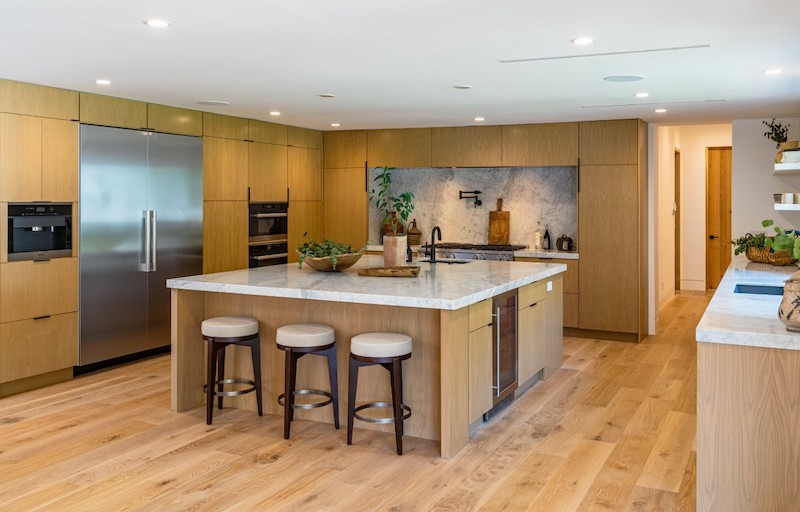 A Los Angeles Luxury Home
Built in 1973, this luxury home underwent a major remodel in 2007. However, Scott Disick did an update that brought the two-story house into the 21st century. For instance, in keeping with the signature style he enjoys in his own home, the star used white marble on counters and walls. Disick also uses glass pocket doors that recede into the walls, making a seamless transition to outdoor living areas.  Moreover, two other hallmark-design ideas recess the large televisions flush with the wall and make use of the under-stair space for wine storage. 
Contact Maddison Estates To Buy, Sell, Or Build Your Dream Home!

This 5,663-square-foot, five-bedroom, six-bath contemporary farmhouse uses reclaimed wood in the pool pavilion as an entertainment lounge area for the infinity-edge pool, spa and outdoor cooking area.  Taking full advantage of its 1.33-acre site, the luxury home has an abundance of windows, light and views of lush greenery. Special features include the large open chef's kitchen and two large master suites. The attached garage houses six vehicles with plenty of guest parking.

The Hidden Hills Community
An unusual number of celebrities live in the gated enclave of Hidden Hills-Calabasas including Drake, Will Smith, Katie Holmes, LeAnn Rimes, Miley Cyrus, Britney Spears and, of course, all the Kardashians, Jenners and Disick.  The list of celebrity residents for this community is long. In fact, one wonders if there are any residents not in show biz!  The popular star haven was also featured in the sitcom Hidden Hills that ran for the 2002-2003 season.

After his involvement in many varied business ventures, Scott found his niche in the housing industry. Indeed, his own new television series, Flip it Like Disick, seems a perfect fit. One of his newest projects, this luxury home in Hidden Hills, just hit the real estate market. Priced at $6.89 million, the listing agents are Kozet Luciano and Andre Manoukian of The Agency, Beverly Hills.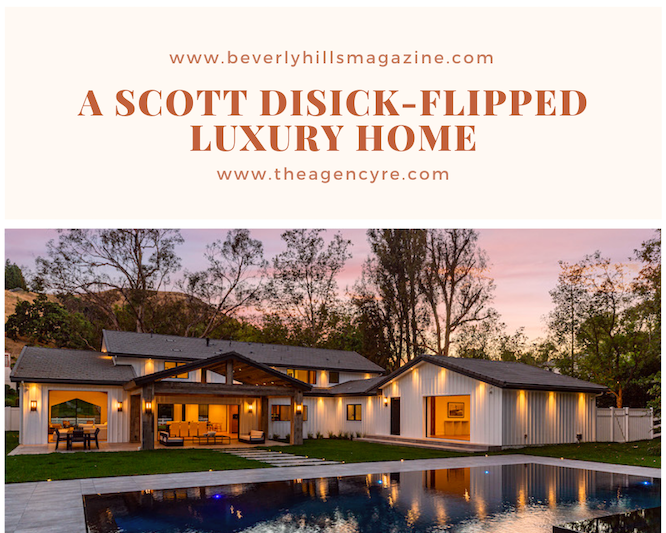 Courtesy of TopTenRealEstateDeals.com