The bustling city of Naples has long been described as the soul of Italy. In truth, it is also known as a city of contradictions. Architectural ruins abound near the ancient city that sits in the shadow of Mt. Vesuvius. Yet, the city is now a hub for some of the world's leading technology companies and tech start-ups. Indeed, there are a number of Michelin-starred restaurants and fine dining options in the city.

But, of course, Naples is the birthplace of the quintessential peasant food: pizza. And while the seaside region is one of the poorest in the European Union, lavish neighborhoods filled with luxury residences hug the coastline. Simply put, while Naples can, at times, seem unrefined, it may be the most vibrant and authentic city in the country.

A Neighborhood for the Well-Heeled
Some of the most luxury neighborhoods in Italy call Naples home. Chiaia is one such neighborhood. Known for its upscale boutiques, fine tailors, antiques, and art dealers, Chiaia is a shopper's paradise. One of the most famous parks in Naples, Villa Comunale, is in the heart of Chiaia. The beautiful Museum D'Aragona Pignatelli Cortes, like so much of the architecture in Naples, is just as lovely from the outside as it is inside. The trendy neighborhood is also home to countless cafes and gelaterias. Combined with its proximity to the sea, this is one of the most desirable neighborhoods in Italy. And it is here that you'll find this impressive luxury apartment.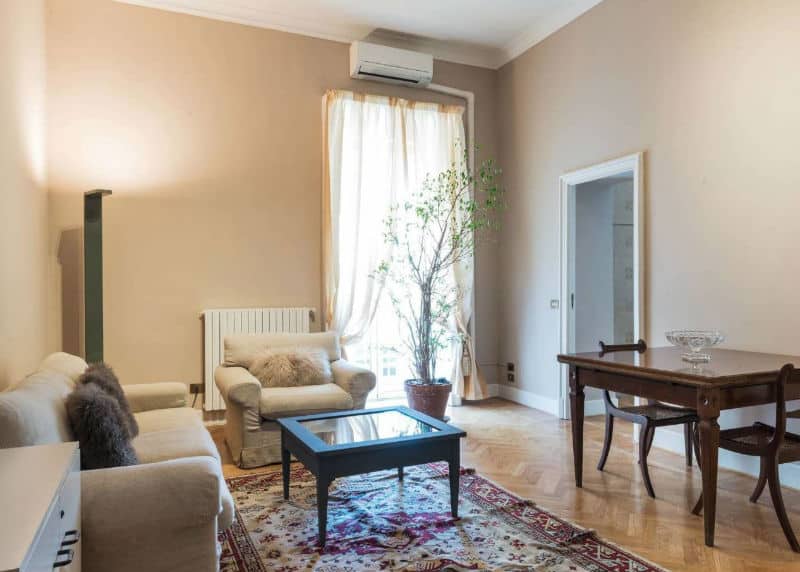 A Classic Luxury Naples Home
This luxury apartment sits two blocks from the bustling Riviera di Chiaia that runs through the prestigious neighborhood. Located in a stunning period building, this Naples home is currently divided into two separate but connected units. In fact, the apartment can easily become one residence again. Indeed, when combined, this property has 4844 square feet of luxury living space. 
Contact Maddison Estates To Buy, Sell, Or Build Your Dream Home!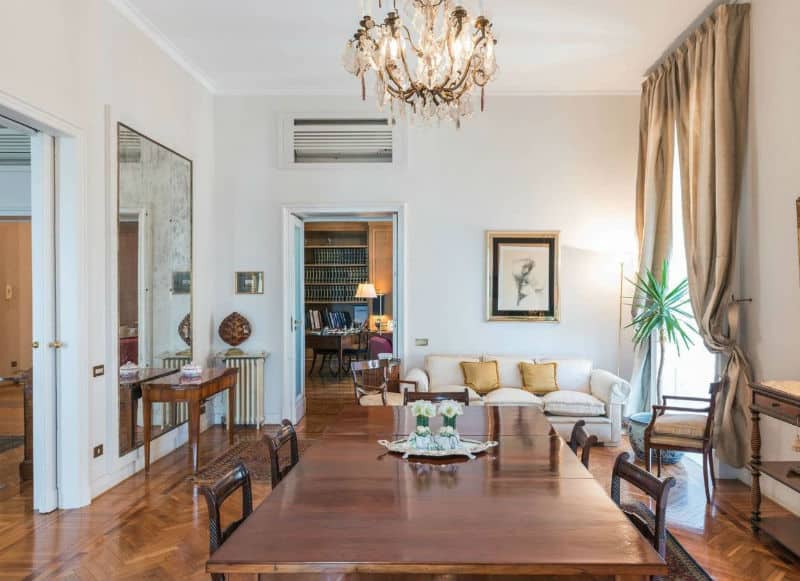 The main unit offers incredible views of Riviera di Chiaia, Villa Comunale, and the Gulf of Naples. Oversized, sliding pocket doors separate the large living and dining rooms. Both boast dramatic high ceilings and unobstructed water views. A connected study has ample cabinetry and a fireplace. Gleaming cabinets and a shiny stainless backsplash create a sleek kitchen. Furthermore, the spacious master suite features an ensuite bathroom accessed by a walk-through closet, complete with cabinetry. In addition to another bedroom with an ensuite bath, this elegant Naples home has a maid's room and bath.   

The second unit in this luxury apartment overlooks the building's courtyard. This smaller section of the residence has two bedrooms, two bathrooms, a kitchen, and a living room. With floor to ceiling windows and artisanal-quality parquet floor, every facet of this luxury apartment has character
The colorful city of Naples, Italy has so much to offer to the discerning buyer. And this Naples home would be a stunning addition to any real estate portfolio.

Address: Via del Rione Sirignano, Napoli, NA
Italy Sotheby's International Realty lists this luxury apartment with an asking price of €4.500.000.00 or approximately $5,200,000.