We are all guilty of picking favorites. We have our favorite lunch spots, cafes and we have our most loved jewelry pieces. You may have noticed that with daily wear, the gemstones of the rings tend to loosen and when we are expecting it the least, these gems fall off through the rabbit hole into Wonderland. Nonetheless, we decide to replace it, but the replacement does not stick around for long either. We hate to believe it, but it is a common problem. (Image Credits: Pixabay)
What causes gemstones to come loose?
Whether it is a fashion jewelry piece or a valuable statement piece from a luxury brand, gems can come loose with time. The only way to solve it is to find what the root of this problem is. Although baffling, the gemstone setting is to blame for these accidents. It is easy for gems to fall off costume jewelry and fine jewelry when they adhere to the metal with the help of glue. In the case of fine jewelry and luxury jewelry, multiple prongs hold the gemstone in place. Prongs tend to hold heavier gems more securely than special adhesives, but both designs are susceptible to damage over years of constant use.
Once you find out the leading cause of the loss of stones from your jewelry, you can take steps to prevent it. Firstly, if you are buying a new stone encrusted ring or earring, speak with the seller about its repair and return policies. You may find that your jewelry store repairs or replaces fallen gemstones at no added charge. Check out https://www.opulentjewelers.com/ to get an idea of the standard repair and replacement services.

7 things you can do to keep your encrusted jewelry safe:
Here are a few steps you must take in case you are buying a stone encrusted jewelry:
You can examine the prongs for strength or existing damage using a magnifying glass. Or, you can ask for expert assistance to find evidence of prong damage. Examine the condition of the prongs before you pay in full. Losing the center stone can take away the considerable value of a fine jewelry piece. When you are in doubt, take the piece to an expert jeweler or an insurer. You are likely to get honest opinions from both parties.
Evaluate gemstones set on glue
You can test the resilience of gems set with glue as well. Gently nudge the stone. Moving your finger back and forth should not unsettle the stone at all. In case, it does, do not buy it. Speak with the jeweler regarding repair or replacement. Never buy a ring, earring or pendant with a weak gemstone setting that might give away with a couple of months of occasional wear.
Do not expose encrusted jewelry to extreme conditions
It is wise not to cook or clean wearing gemstone encrusted jewelry. Try not to wear them to the pool or the ocean. Wearing them during a shower can also reduce their longevity. You should not get a cleaning solution, bleach, and grease on the gemstone. Additionally, be careful so as not to bang the pieces into hard surfaces like doors, glass, tabletops and granite islands. The impact can loosen the settings.
Get jewelry cleaning solution
When you are buying stone encrusted jewelry from a proper store, it makes sense to spend a couple of extra dollars to purchase a jewelry cleaning solution. These are gentle on the glue and the stones. They help preserve the integrity of the gemstone settings. Using detergent and homemade cleaning agents can damage the adhesive and the luster of the gemstone.
Inspect your ring regularly
Once you take your jewelry home and begin wearing it every day, you should check for loose prongs and damaged ones regularly. Find out if they are out of place. All the prongs should touch the gemstone. If the stone feels loose, do not attempt to fix it on your own. Take it off immediately, keep it securely and take it to a jeweler. You can also make it a biannual practice just to ensure that the stone is safe and the ring is secure. Regular wear can weaken prongs. It is a common problem with solitaire wedding rings and engagement rings in gold. Weak prongs require replacement.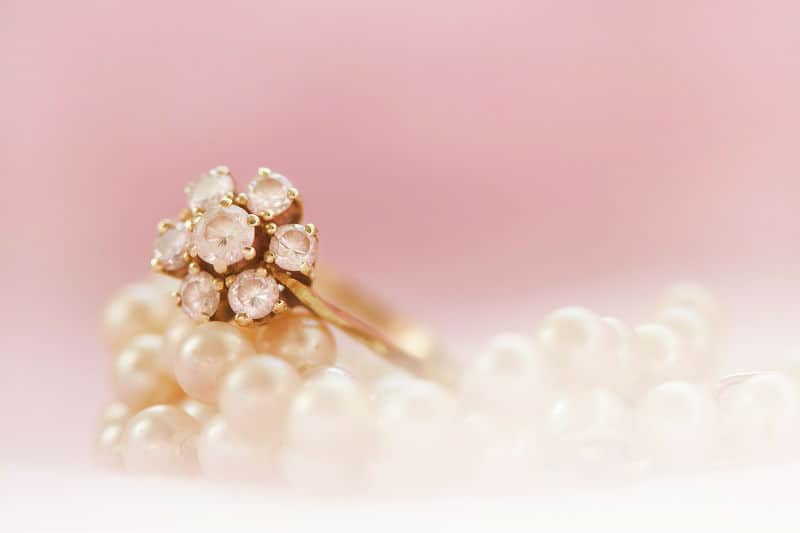 Does your jewelry store provide free repair and replacement services for store-bought items? Unless you find the details of after-sales services on a jewelry website, it is wise not to buy from them. Visit their brick-and-mortar stores to find out all about their after sales service policies. Sometimes, it is necessary to change the entire ring setting since multiple prongs become weak and loose with constant use. Save the receipt of purchase carefully, to avail of such services in the future.
Choose the base metal wisely
Many people want to insure their solitaire rings. However, multiple insurance companies only insure diamond rings with a platinum base. Depending on the size of the gemstone, the base metal can be highly relevant in determining the terms and cost of the insurance process. Gold is much softer than platinum, and large diamonds (bigger than 1 Karat) can come loose with regular wear. If you can, spend a little extra and get a platinum band that holds the gemstone more securely than gold or silver. If spending more just isn't in the budget, consider opting for a lab grown diamond that is just as beautiful and can be placed in platinum as well.
Resetting the stones without expert intervention is a risky decision. Jewelry store employees have the professional experience, training and the resources to reset the stones or repair the prongs correctly. In fact, if the problem is not the adhesive, but weakened prongs, you might have difficulty in fixing the piece at home. The only time you can think about skipping the jeweler for repairs is when the piece of jewelry is not of great value. You can attempt to fix costume jewelry at home, primarily if it was not a unique piece. However, when dealing with precious stones, always seek the best jeweler in town.