A wedding is always a special event. It is a celebration of two people, two families in a union bound by love and , what better place to celebrate this union than in San Francisco; a city popularly known as the city of love. The city has it all in term of landscapes which just scream romance. From lush parks to beaches to city lights, San Francisco has a venue that is well suitable for your mood.
Now, here are 5 reasons why you should consider San Francisco as your wedding venue
San Francisco Exudes Romance
Romance is literally everywhere in San Francisco. There are so many love-worthy spots in the city; you'd probably wish you had popped the question there in the first place. Peppered throughout the city are heart statues installed at different locations (Union Square alone has four heart statues). Like that isn't enough, there is a waterfront boasting of a statue of Cupid's bow down The Embarcadero. Everywhere you go; there are literal signs of love.

Love Is In The Air
San Francisco is a city that, though it's not Paris, it is still a very romantic city. There many beautiful monuments and unique locations you can host a private intimate wedding that will create a lasting memory for all who attend to celebrate your happily ever after.
Accessibility
San Francisco has another strong point in that it is easily accessible. Whether by ferry, plane or land, there is a way to travel from place to place in the best style. The city boasts of Cable Cars which run between Union Square and Fisherman Wharf, commuting passengers between these two landmarks. And these transport systems aren't just transport systems, they are a tourist's dream offering transportation with both style and a stunning view. Other than the accessibility, San Francisco event rentals are world class and can make sure you have a grand wedding.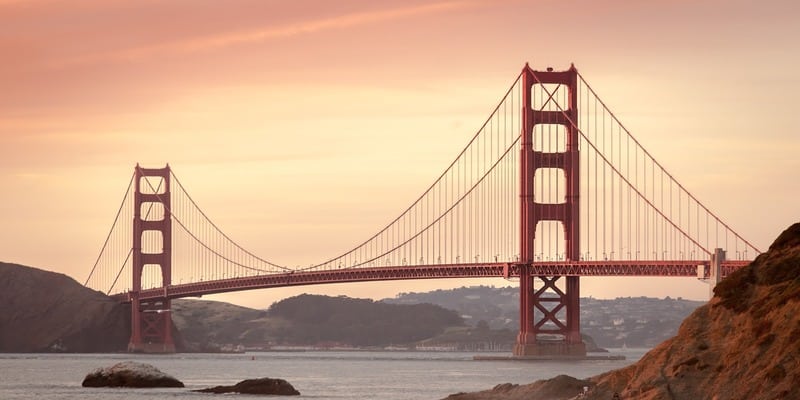 Culinary Capital
This city is an absolute foodie's dream! In fact, it is said that locals can hardly pick their favorite spot to eat; they have that many fantastic options! San Francisco chefs are world-renowned and are masters of the best cuisine available. Everything from an intimate small setting to a catered, posh event, San Francisco has services perfect for you. There is also the added benefit of having direct access to Wine Country, providing you and your guests with the best wine available.
Environmental Consciousness
The city of San Francisco is one of the few who have promoted the practice of going green, including green building practices and composting of mixed organic material. Since 2008, the city has embraced these environmentally conscious practices. Even with weddings, the city leans towards green. Companies like Locally Grown Weddings & Events are there to cater to your every green need, with everything from vegetable-based ink for your invitation papers to a menu made up of sustainable, healthy and locally grown ingredients.  Still unsure San Francisco is the perfect venue for your wedding? To further help you make your decision, here are 10 of San Francisco's most romantic wedding venues;
San Francisco City Hall
Bently Reserve
Swedenborgian Church
The Legion of Honor
Maritime Museum
Bluxome Street Winery
California Academy of Sciences
Farallon
Presidio Log Cabin
Foreign Cinema
These romantic and unique event centres offer guests everything from 1920's opulence to artwork class to stunning views to undersea fantasy and everything in between. With all of these option open to you in San Francisco, why would you not choose this beautiful city for your dream wedding?
If you are considering other locations around such as San Diego, wedding rentals San Diego can make your wedding special and romantic.