The yachting world expects to receive a new yacht, the multi-hull 80 Sunreef power hull #11. It features incredible designs, dynamic hull, luxurious living spaces that offer endless options for custom-made layout and decor, and still maintains the redefining authentic catamaran design. 
Yachters should lookout because this catamaran design yacht. It's coming to revolutionize the industry. In particular, the new 80 Sunreef power is taking luxury and yacht life to a whole new dimension. It's not only giving motor yachts of similar size a run for their money but also setting new standards in terms of sophistication and quality.
Besides, the model is propelling the polish builder, Sunreef Yachts, into the big leagues. Already the builder is receiving new orders courtesy of this luxury yacht. Let's check out the design layout and performance.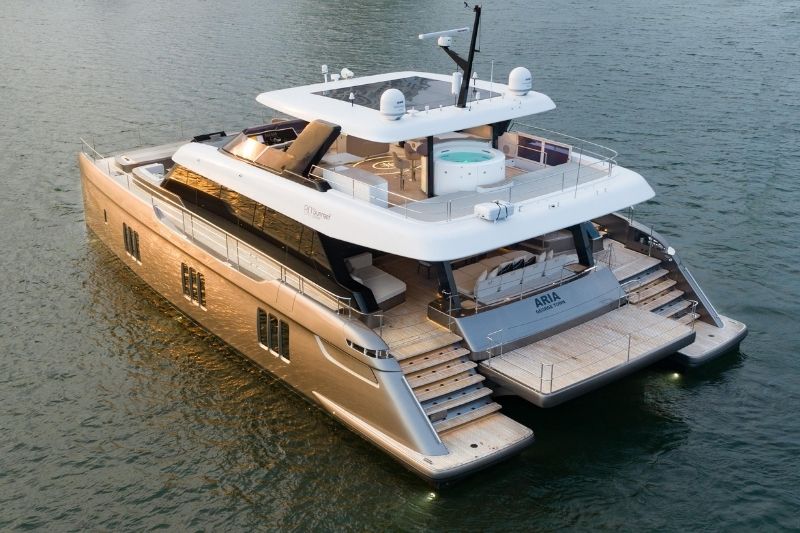 Catamaran Layout of 80 Sunreef Power Hull #11
All catamarans are beamy, and so is the new 80 Sunreef Power. It measures nearly 40 feet from hull to hull. This makes the main saloon open wide to the ample space in the aft deck, interior dining, and exterior relaxing. It further leads to the forward area, where you find settees, tables, and a wet bar over the hull. Also, there is additional alfresco space on the flybridge, where you can set up a hot tub if you wish. 
In addition, the saloon accommodates a galley, whose size depends on the layout chosen, and an interior navigation station. Thanks to the spacious hulls, there is plenty of space to change the layout design of each unit to your specific requirements. Again, crew quarters and crew mess along the galley are accessible from the aft cockpit. This creates more privacy while on board. Not to forget, you can take advantage of the multiple layouts and set up an exclusive, luxurious guest cabin with supreme yacht life comfort.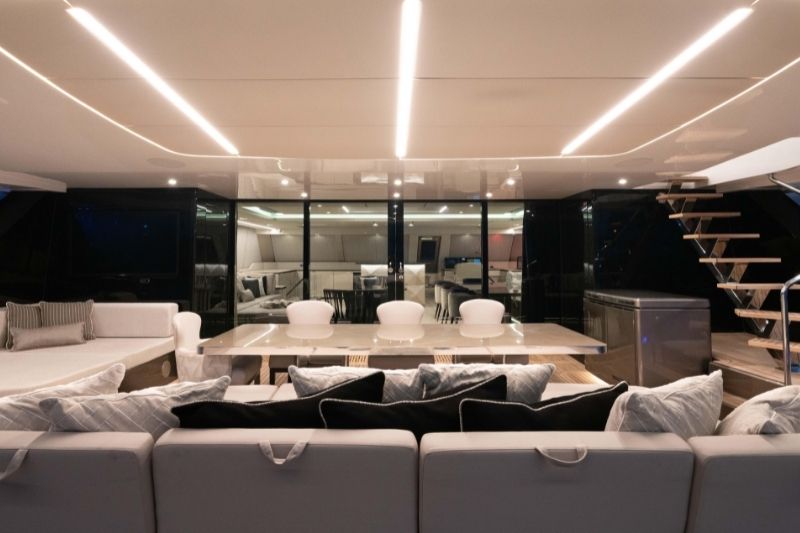 Between the main and lower deck, the luxury yacht features 12 choices of interior layouts. For example, if you buy this motor yacht, you can opt to have the master stateroom on the main deck. This layout can entice because it has direct access to the forward terrace. Plus, you can further opt to have three guest staterooms in the starboard hull below deck. You can also have an optional crew cabin on the forepeak of the starboard. This catamaran accommodates 12 passengers. 
The new 80 Sunreef Power integrates classic stainless steel portlights, teakwood decks, high bulwarks, and artful ambiance lighting. Also, the motor yacht features a massive garage, which includes an aft platform. The two are voluminous and can carry her dinghy, jet ski, and many water toys wherever this yachting catamaran goes. 
The Power Output of 80 Sunreef Power #11
The new 80 Sunreef power is not the fastest, but that does not mean she is slower. Two John Deere 6135AFM85 engines power the vessel, with a minimum output of 575hp and a maximum output of 1,200hp. These engines allow the luxury yacht to reach a top speed of 24 knots. 
This multi-hull yachting catamaran remains stable and comfortable while on top speed. It has the power to take you to long distances at a cruising speed of 15 knots, without the need of docking in crowded marinas. However, it can dock on shallow ports because of its low draft height.
Selling of Price
Though the first model of 80 Sunreef Power is not yet out officially, customers are already placing orders. Despite that, yacht dealers have put a price tag of $ 8,000,000 on the new catamaran. If that is something you can afford, place your order.
Conclusion
The new luxury yacht will definitely bring some excitement to the yachting world. It plays host to countless incredible features, multiple hulls, and the ability to configure layouts to your requirement. Likewise, the 80 Sunreef Power possesses excellent power. 
If yachting was your thing back in the day and you would like to make one more sea trip. This catamaran is the to-go for in the motor yacht division. Apart from the outstanding layout, it has plenty of indoor and outdoor spaces to relax and have a good yacht life.