Andiamo, formerly known as Lady Luck or Lady Lara, is a superyacht that is custom-built by the Italian shipyard, Benetti. The Andiamo motor yacht is 59.3 m and has a steel hull and as well as an aluminum superstructure. It was built in 2009 to comply with the MCA and Lloyds Register standard and was refitted in 2017 and also had its navigation electronics, AV, AC, and generators upgraded in 2018.
The motor yacht was designed by Stefan Natucci and responsible for her luxurious and well-detailed and special interior is Studio Massari Interior Architecture and Designs. The Andiamo after its refitting was fully redesigned by Patrick Knowles during an exclusive refit in 2020. In addition to the update made in the interior, the refit also included full repainting and the Andiamo sported a fresh dark blue hull, in contrast to its steel hull.
The superyacht offers plenty of spaces for entertainment purposes or just for relaxing. It also makes for taking in islands' breathtaking views.
Decor and Layout design
In the Andiamo motor yacht, the glamorous touch of its interior, which has been achieved by warm color, gold, silver, and the incorporation of the mother of pearls, are elements carefully chosen by the Fendi Fashion House. From the door handling to the flooring, cabinets, desk, luxurious lamps, and the Swarovski crystals in the vases of photo frames. The walls of the interiors and the corridors also have exotic materials like crocodile print leather.
If you are enthusiastic about water activities, you should know that the yacht has 13" Highland tenders, 2 paddleboards, 6 snorkeling gears, 3 pax Yamaha Jet skis, towable, and fishing gears.
Its aft deck tables make for enjoying your meals or the sunset. The yacht also has a salon, an open gallery, and every part of it has satellite TV. The yacht is designed to comfortably accommodate 12 guests. It has one master with a king-size bed, one VIP with a queen size, and one guest with a twin bed.
All the suites are equipped with satellite TV and have DVD access. They have private baths with showers and have luxurious finishes.
The Engine and Power
The luxurious and comfortable yacht, Andiamo, is powered by two MTU diesel engines, with each generating about 4000hp at 12V.
The MTU diesel engines are from the 996 GT motor yacht sport variety, and make this superyacht cruise comfortably at a speed of 12knots and can reach a top speed of 16knots.
It also comes with underway stabilizers which help in anchoring and ensuring comfort.
Asking Price
This almost 60-m superyacht has been sold in just over a year of being on the market. The last known asking price was $27,500,000.  
The yacht is also available for charter, and the price ranges from $395,000 to $420,000 per week.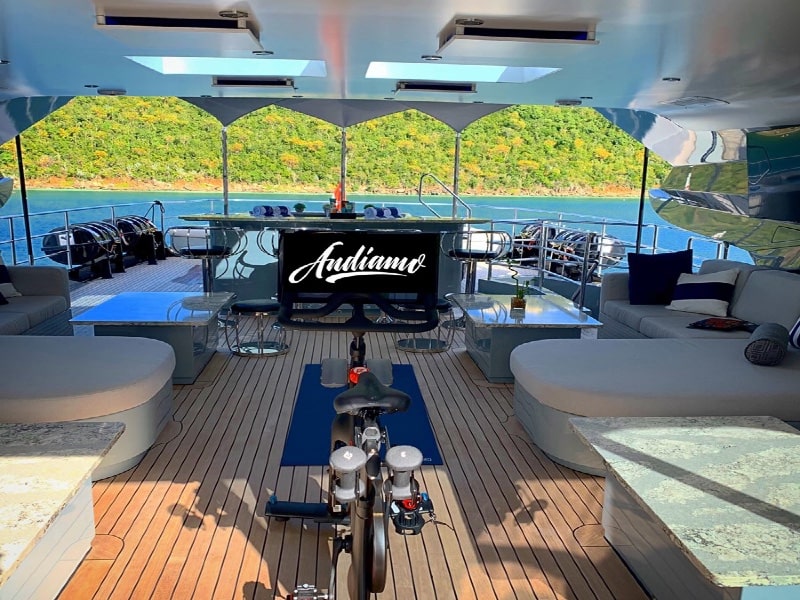 Last Take
The Andiamo motor yacht is a superyacht that offers luxury, comfort and is perfect for adventure for you, family, and friends. It boasts great performance, a good interior, and an exterior that doesn't limit its functionality. The word Andiamo is the Italian word for let's go. And it is exactly what you'll be doing with this yacht, seeing it's the perfect adventure yacht, good for snorkeling in the Bahamas or Keys or for fishing.