Viva la Mexico! Welcome to the wonderful world of luxury along the breathtaking beaches of Playa Mujeres, Mexico. Escape to The Beloved Hotel Playa Mujeres brought to life by the Excellence Group, just a few minutes north of Cancun next to a world class marina and pristine golf course. Here, you'll journey into a world unlike any other, where you'll enjoy an adults only comfortable boutique, all inclusive experience where you can relax, unwind, and indulge all your senses, all while creating a truly unforgettable getaway.
This 5 star contemporary luxury hotel offers modern architecture and décor, generous suites, impeccable service, deluxe facilities, and a soul soothing secluded setting on 2 miles of white sand beach.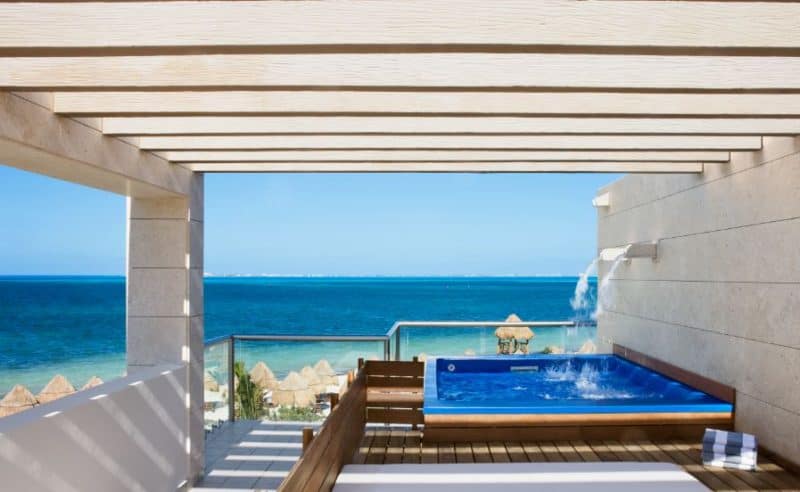 At Beloved Playa Mujeres, luxury is standard and a philosophy of wellness informs every detail. It all starts with your accommodations where the latest amenities and entertainment put you in the lap of luxury. Eight suite categories are designed to ensure the utmost of comfort during your exclusive escape. Choose from a junior suite with balcony or ocean view, or opt for the swim up poolside suite making early morning dips all the more convenient.  Or for a more private experience enjoy the casita suites with 1 or 2 story options with rooftop terrace and private plunge pool. Of course, the penthouse and owner's suites with added square footage are also available for an ultra luxury experience.
Recharge and revitalize in pure relaxation at the Beloved Spa with a one of a kind European hydrotherapy circuit with a guide that leads you through an aquatic experience that will completely renew and transform you. Of course, the spa offers a wide array of rejuvenating beauty treatments and fitness classes with a daily schedule.
From fine dining to fresh spirits, the food and drinks are prepared to perfection. From fish, to the choicest of meats, the French inspired menus throughout the property will dazzle you with the spectacular presentation and please your palate with every bite.
Discover the true meaning of romance only at Beloved Playa Mujeres, with amazing natural backdrops that create the perfect scenery for a destination wedding, honeymoon, anniversary, or just because. No matter the reason, no matter the season, you'll always remember what it feels like to be loved only at Beloved Hotel.
For a more family friendly experience, visit the sister property next door at Finest Playa Mujeres offering a unique experience yet with the same level of luxury and care that Beloved gives.
True to their name, Excellence Group has created an adult getaway with 10 swimming pools and over 450 rooms complete with 12 restaurants, and 16 different bars that will give you opportunity to play and discover night after night. A truly tropical beach side destination with life done beautifully.
Whether you're traveling for rest and relaxation, or adventure with friends and family, from Beloved Hotel or Finest Playa Mujeres, you'll know you've finally found paradise.
Happy Travels!