This is the perfect outfit for any career woman who wants to show off her fashion and style with pizzazz. You will adore this tri-tone ensemble with a white, green, and pink color combo. It's a business appropriate style that offers a flirty and feminine vibe because of the bright, bold, summer colors. We are big fans of incorporating bright colors into your wardrobe. Color can brighten the mood in any room, so always be willing to add a pop of color to your outfit.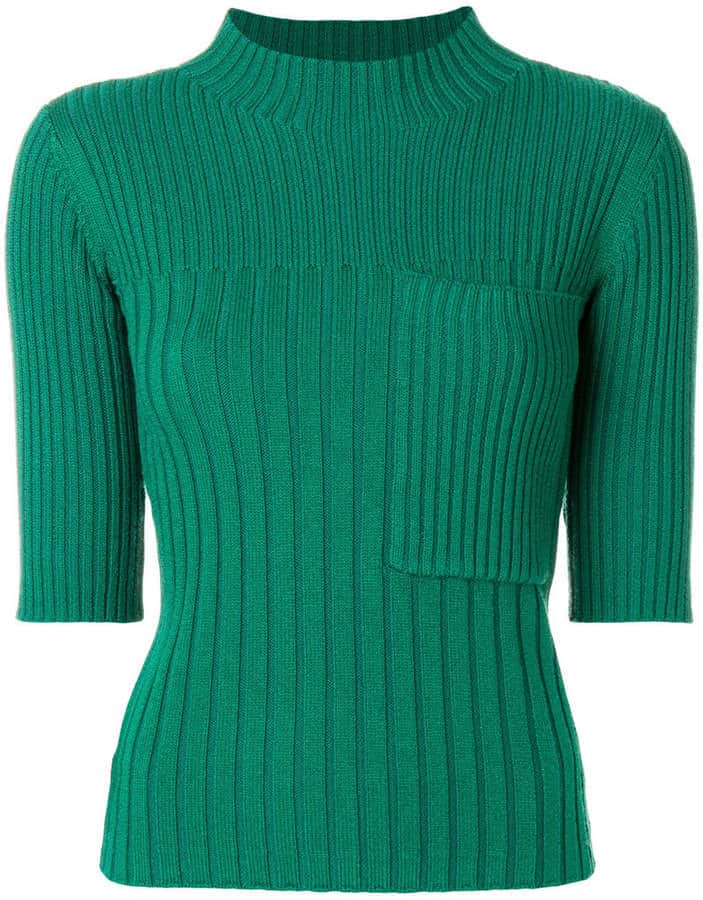 For the office, we recommend this Joseph ribbed knit top in emerald green. With a classy design and form fitted style, all your colleagues will admire your work, as well as this fashion and you.
Next, pair this blouse with this pencil skirt by Alexander McQueen which drapes elegantly for a flattering yet luxurious feel. Featured in a gorgeous white hue, this skirt can also be perfectly paired with a simple tee and a statement necklace for more casual fashion and style occasions. Remember ladies, when dressing for the office your skirt line should fall below the knee or just above it. It's all about being stylish and classy, especially if you're looking for a promotion or want to be taken seriously as a professional.
Your office style should represent your personality, and still let everyone know you mean business. M2Malletier strikes the balance between minimalism and innovation with this suede 'Indre' bag. This fabulous pink handbag by M2Malletier is the perfect addition to this already lovely office style.
For the finishing touch, luxurious French footwear label Givenchy is renowned for its show-stopping, glamorous designs, as showcased through these stunning fuchsia Givenchy high heels. Characterized by its polished silver-tone lock to the chunky ankle strap, get reacquainted with Givenchy's most coveted silhouette this season with these Shark Lock sandals, re-imagined with delicate cut-outs to the vamp. Rendered in soft suede, the sophisticated profiles elegantly balance atop a sumptuous stiletto heel. Perfect for lending a touch of contemporary femininity to your office ensemble.
Now you can be the best dressed at the office or for any professional occasion you might have; this look says confident, cool, and chic. Now get to work and get this lovely office style today!
SHOP MORE LOVELY OFFICE STYLE NOW!!!