Hello ladies! Want a beautiful feminine style that shows your lovely curves and unique fashion sense? Well here it is. Get this stylish celebrity style and be beautiful in style! We've selected a few style items that makes teh perfect ensemble when worn together. This style is casual and is best worn to lighthearted social occasions.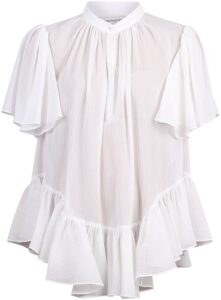 First of all, you'll want a white sleeveless blouse from Alexander McQueen which is a perfect style item that can be worn day or night, with pants, skirts or shirts. So add this fashion must have to your closet today. This beautiful blouse features an over-sized stretch satin with a mock neck detail that turns into a long necktie and a long slit at the CB for entry.

As always we are big fans of color all year long, so we selected these fabulous 100% silk Orchid Roberto Cavalli drawstring pants. Bold colors are always in style because they are fun and fashionably fierce. They look absolutely amazing in this beautiful style with white, but can also be worn with black tops too. Either way, the pants will get all of the positive attention.
In the fashion world, being bold with your color contrasting is a must do! We love these leather mules by Gianvito Rossi. They are sexy, fun, and edgy; the perfect addition to this classy beautiful celebrity style.
Then rock this 18K white gold and matte black ceramic pura ring with diamonds by Roberto Demeglio. It's a gorgeous style piece that will add that extra splash of sparkle to this already dazzling ensemble. What are you waiting for?! Shine today!
Finally, every ensemble is not truly complete until it has the perfect purse to complete it. You can choose a white, black, or pant matching piece for this look. We decided to add this absolutely fabulous studded velvet handbag by Valentino. The quilted texture adds additional dimension to this style that will turn heads everywhere you go.
SHOP MORE FASHION AND STYLE NOW!!!