As your trusted fashion magazine, we are here to show you what's in style so that you can get the hottest style that will make you shine. Let your beauty show with this elegant ensemble of soft colors and hues that will bring out your feminine flare.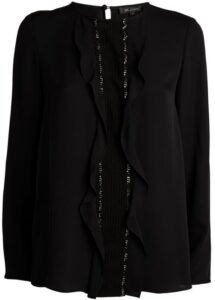 We love a Chanel vintage black silk blouse or this fabulous St. John silk blouse, both with long sleeves. Vintage items may have minor imperfections, but they are one of a kind piece that everyone in the fashion world adores. Pair this classy in style look with gorgeous nude accents, shoes and handbag by Valentino.
This lovely top is worn best with these mint Calvin Klein trousers. These mint-green cotton striped trousers have a mid-rise and a wide straight-leg with side and back pockets. Made of silk and soft viscose, these will become your signature fashion and style pants that can be worn daytime and evening with class.
One of our fashion blog favorites, we selected these patent leather pumps by Sergio Rossi in nude. Kalika is a new entree to the collection of shoes to love forever. It is a more "classic" shape in the sense that it does not have a platform, the outline is sinuously, slightly curved and the heels are 4 1/2″ covered stilettos. Complete this classy fashion and style with a Valentino Garavani gold rock stud leather tote. Both of these additions are made in Italy.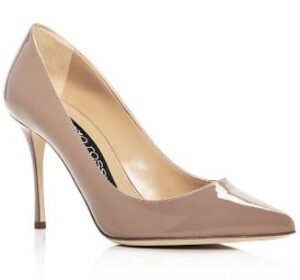 So step out into the world and let your beauty be the center of attention with this classy style time and time again.
SHOP MORE CLASSY STYLE NOW!!!