The Dassault Falcon 900 series of aircraft deliver efficient and reliable performance in the large business jet category. The Falcon 900 models have been popular in the market for nearly four decades because they are a reliable, efficient, and adaptable series that meets the modern business jet traveler's needs. The luxury business jet,  Dassault Falcon Jet, is no exception. 
The 900B model has minor changes in comparison to its predecessor, including newer avionics, improved engine thrust, an advanced cabin system, and a longer range. In fact, these changes have continued throughout the 900-line.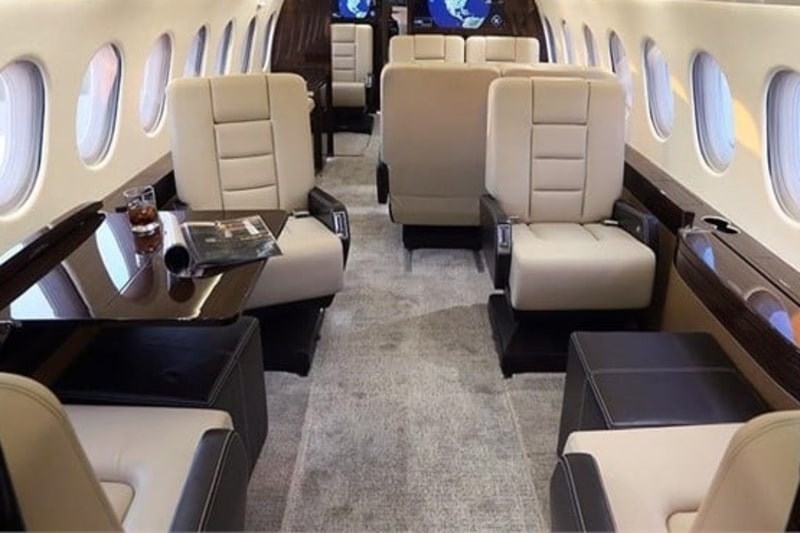 Engine and Performance
In comparison to the original 900, this luxury jet has Honeywell TFE731-5BR-1C engines that provide an extra 250 pounds of thrust each, which increases the 900B's range to 4,000 nautical miles. Moreover, compared with the 900A, the engine adds 5.5 more thrust on takeoff, cutting the time to climb for 39,000 feet at maximum takeoff weight from 29 to 26 minutes. 
You can improve these statistics with blended winglets from Aviation Partners. The winglets can take up to 4 weeks to install. However, they increase the range up to 5 percent at high-speed cruise and 7 percent at long-range cruise speeds. They also provide a faster climb to altitude, so you will burn less fuel in the process. The winglets have yet another great attribute which is that they improve the aesthetics of this luxury jet and make it look cool. 
Interior
The 1987 Dassault Falcon Jet Aircraft has a spacious cabin. The cabin is 6.2 feet high, 7.7 wide, and 39 feet long. Moreover, it features amenities, like a private lavatory, and 127 cubic feet of the internal baggage compartment. The seating configuration can accommodate 12 guests along with 2 crew members. 
The traditional cabin layout has a galley opposite the entryway, a small forward closet, and a club grouping of four large executive seats with folding sidewall tables. Behind these, there are four narrow seats around a conference table, across the aisle from the entertainment area. This luxury business jet also features a three-seat divan, which converts to a bed and an executive workstation. Behind that are the lavatory and a small wardrobe closet. This standard configuration allows three meetings to be held simultaneously. Moreover, it provides ample space for stretching and sleeping during long trips. 
Infotainment
The great thing about the Dassault Falcon Jet is that it features the Honeywell SPZ8000 flight director, dual Honeywell FMZ flight management system, AZ810 air data computers, and Collins Pro Line ARNIC 429-series communication and navigation receivers. The flight crew can access all the systems through centrally-located control. However, avionics will vary from jet to jet. 
Regarding maintenance, Dassault provides exceptional customer service to its customers. The company quickly ships the required parts to the 900B owners. That's why customers and other companies are satisfied with their services.
Price
The price of the 1987 Dassault Falcon 900B is around $6,495,000. For more information, visit the Controller website. 
Dassault Falcon Jet has a large cabin and a great short-runway performance. This winning formula has kept the Dassault Falcon 900B relevant for nearly 30 years in the aviation industry. So, if you want a luxury business jet with a large cabin that virtually does everything well, you should buy the 1987 Dassault Falcon 900B.