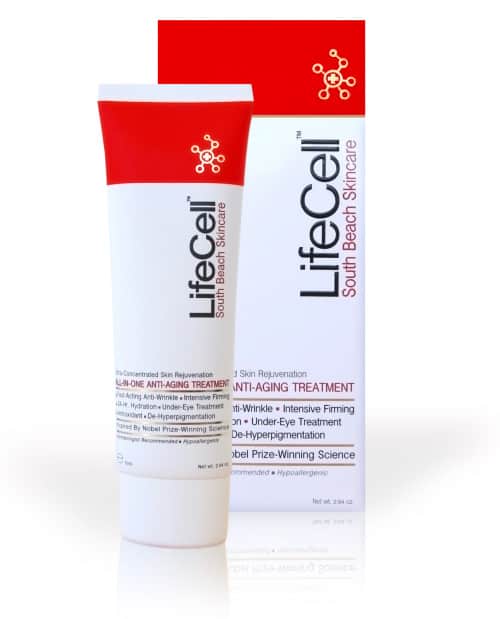 Fashion & Beauty Gift Guide
This fashion and beauty gift guide for her lists products that are perfect for every woman. So take your pick, she'll love you for it. With the Holiday season around the corner, we thought we'd share some great gift ideas for her so you can get a head start on your seasonal shopping and surprise her with something amazing. Each and every one of these products has been handpicked to ensure her ultimate satisfaction. Remember, it is more blessed to give than to receive. Happy holiday gift shopping! These also make for great gifts for any occasion too! Birthdays, Just Because, Anniversaries, you name it, she'll love it!
Start with this revolutionizing beauty regimen by LifeCell Skincare. LifeCell  beauty products are a celebrity-loved revolutionary anti-aging breakthrough in the skincare world that is loaded with antioxidants, water-binding agents and anti-irritants.
·         LifeCell All-In-One Anti-Aging Treatment
o   Dermatologist Tested Anti-Aging Treatment Proven To Reduce The Look of Wrinkles
·         LifeCell Cooling Under-Eye Treatment
o   Reduce the appearance of aging and fatigue with this cooling eye treatment designed to treat wrinkles and discoloration.
·         LifeCell pH Balanced Cleanser
o   A Refreshing and hydrating way to cleanse your skin of impurities.
·         Collagen Anti-Aging Supplements
o   LifeCell Anti­-Aging Supplements give your skincare treatment an added boost by providing essential skin health boosting ingredients.
·         Firming Body Butter
o   LifeCell Firming Body Butter contains essential ingredients to embrace and nourish your skin while helping the appearance of stubborn cellulite, and dry skin.
·         LifeCell BB Cream (Medium) 
o   This hydrating Beauty Balm provides all day moisture, SPF 30 protection and coverage to reduce the appearance of imperfections.
We all know contouring is the new beauty must do! So to highlight your face use this professional Contour Effects Palette ($29.99)  that allows you to sculpt your face effortlessly with its easy-to-follow instruction guide. It helps you achieve an ultra-defined look with its matte contour and bronzer shades. Simply spoiled' s newly enhanced formula is highly pigmented and allows you to blend easily for an ultra-flawless finish. This pallet is perfect for both beginners and professionals. Ideal for all skin types.
Jane Iredale's 2015 Holiday collection with you: In The Blink of a Smoky Eye! It's a new, gorgeous collection for the eyes and lips filled with rich, versatile color to complement any wardrobe and mood for the holiday season. Visit Jane Iredale for more must have beauty products for her.
The collection includes:
In the Blink of a Smoky Eye Smoky Eye Kit ($50): The limited edition smoky eye kit is a modern eye shadow palette developed to create quick and easy looks for every event of the season. With eight versatile shades, the possibilities are endless.
Forever Red Just Kissed® Lip and Cheek Stain ($25): A consumer favorite, this multipurpose lip and cheek stain now available in a classic red! It uses all natural ingredients to enhance the wearer's natural coloring.
Then she will absolutely adore the My Saint My hero blessing bracelets.  Worn by many Hollywood celebrities, she will love feeling blessed and beautiful while rocking these unique must have fashion accessories. My Saint My Hero is known for its line of colorful and fashionable wearable blessings.
Each Blessing Bracelet features 10 Benedictine medals and a signature "blessed" tag. Each comes with the powerful protection of the Benedictine medal.
My Saint My Hero was founded on the belief that God is real, prayer works and love heals. These one of a kind wearable blessings remind us we are loved. My Saint My Hero is more than a bracelet, more than a company, but a community, inspired by God to help transform lives and make the world a better place. Crafted in love and prayer, our wearable blessings empower women through meaningful work. The bracelet's sliding slipknot closure enables them to fit nearly everyone perfectly, making this an essential gift for every girl and woman.
Now get her something that she will use everyday…The new Ameribag backpack. It comes in an assortment of available colors making it a perfect fashion accessory for every casual occasion.
Gift her with a stylish, functional and revolutionary bag that makes it easier to carry all the essentials when on the go while maintaining a healthy pain-free back! She's love the simple style yet functionality of the Healthy Back bag, the super cool new backpack. It's curved designed fits perfectly on your shoulder or slung onto your bag if your hands are full. So no matter what your lifestyle, you can be fashionably cool and ever so comfortable too. She'll thank you for it.
Lastly, quality skincare can ensure your youthful glow and every woman will appreciate that, especially as a special gift.
You know what they say—diamonds are a girl's best friend. Now, gems are your skin's best friend. Diamonds, amber, black onyx, pearls and golden sapphires have a stunning power to make us feel beautiful, young and energized when we wear them as jewelry, and NEW skincare line Lionesse Gem is bringing these gems' healing properties to skincare.
Lionesse Gem is a collection of five lines of luxury skincare products each inspired by one of these five gemstones offering a unique benefit:
Diamond Collection – RESTORING / REJUVENATING