The Rimrock Resort Hotel In The Canadian Rockies
Banff National Park in Alberta, Canada is one of the oldest national parks in North America. This stunning region is home to awe-inspiring views, breathtaking mountains, and natural hot springs. In fact, Banff is even a fantastic place to observe the Northern Lights. In addition, its climate, rugged terrain, and champagne snow make it an ideal vacation locale for outdoor activities, especially winter sports. With three ski resorts and a vibrant arts and culture scene, this exclusive getaway is often considered Canada's most popular luxury destination.

A Mountainside Exclusive Getaway 
The Rimrock Resort Hotel sits like a modern castle nestled into the side of Sulphur Mountain. This luxury hotel first began with 100 rooms in the 1850's. Since its inception, it has grown to towering structure with 343 luxury guest quarters, outstanding restaurants, and a variety of large, and well-respected events venues.
Sign Up For The Free GOD Foundation Travel Portal for 60% Off Travel Deals Today & A Portion Goes To Charity!!!
The Signature Grandview rooms at this exclusive getaway exude streamlined luxury at its best! These rooms are available in two different styles: Classic and Modern. Each style offers a king-sized bed, lavish bathroom, and incomparable views of the Canadian Rockies within roughly 600 square feet of living space. But they differ in ambiance. The Classic room has a warm, romantic feel, whereas the Modern has clean lines and a contemporary aesthetic. Furthermore, as an extra treat, guests in the Signature Grandview rooms get a welcome gift!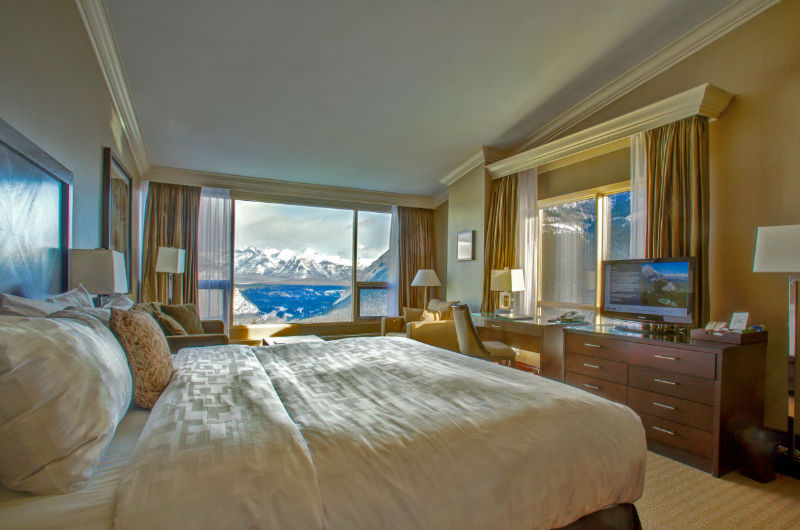 But for a luxury beyond these accommodations, reserve Suite Infinity 900. The newest part of the Signature Grandview Collection, this suite has 800 square feet of indoor living space and 1,100 square feet of balcony on the highest floor of the hotel. In addition to a king-sized bed, this suite also has a full sofa bed, fireplace, granite bath, soaker tub, and a glass shower. Also, guests can enjoy nightly turndown service, a Signature Grandview welcome gift, and breakfast in-room or at the Primrose Dining Room. 
Unparalleled Cuisine
This luxury hotel has many offerings for guest's repasts. However, Eden is the gem at this exclusive getaway. This exquisite restaurant is one of only four five diamond restaurants in Canada. Eden's menu is ever-changing but the cuisine always has a French influence. The Chef Tasting Menu features six sources of expertly-crafted haute cuisine. Guests can expect succulent meats and seafood to grace their plates. However, vegetarians should not be discouraged from imbibing in a meal at Eden as the restaurant also offers a Vegetarian Tasting Menu filled with luscious vegetables and ancient grains. In addition,  Eden has an unparalleled wine collection. Certified sommeliers execute expert wine pairings for each meal from the over 17,000 bottles within the collection.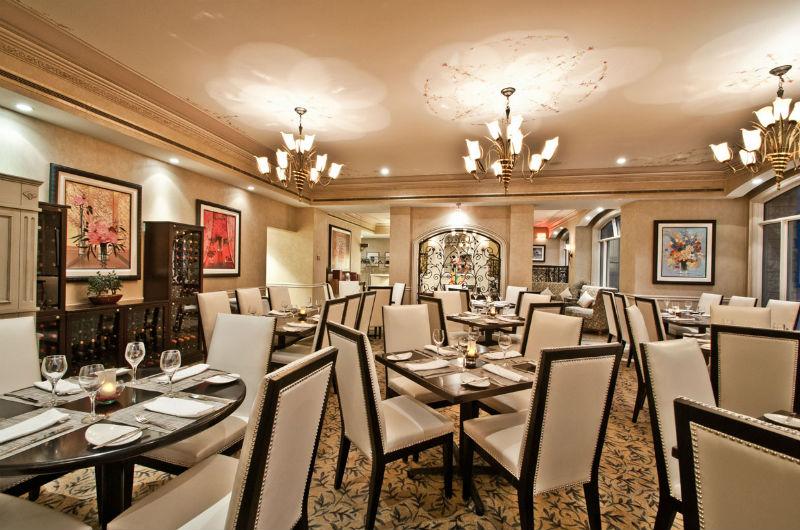 Beyond Eden, The Rimrock Resort Hotel is home to the Primrose Dining Room. This family-friendly restaurant has a breakfast buffet and features an Italian-influenced dinner. In addition, Primrose offers a stunning view of the mountains through the floor to ceiling windows. Larkspur Lounge sits in the main lobby. This relaxing space has a large fireplace and a gorgeous view through the two-story windows. With its light fare and extensive collection of whiskies and cognacs, Larkspur is a wonderful location to lounge at day's end. But if martinis are more your style, a visit to Divas is in order. Lastly, for a quick grab and go meal, the Rimrock Cafe is the perfect choice. Moreover, at this luxury hotel, a red maple leaf designates farm to table dishes made with local ingredients!
Wellness Amenities
The spa at this exclusive getaway is a cozy oasis. The spa offers a full menu of body work, facials, and beauty treatments. Upon arrival, relax with The Weary Traveler. This luxury treatment begins with an herbal foot soak followed by a foot scrub to revive travel-weary feet. The treatment concludes with a full body massage. What a wonderful way to shake off the remnants of everyday life and begin the ultimate vacation!
Furthermore, the spa at this luxury hotel pampers guests with [comfort zone] spa products. This luxury brand is manufactured in Italy. The company is dedicated to pure products that nourish the skin. As such, the line is free of silicones, parabens, animal derivatives, mineral oils, and artificial colors.
In addition to the spa services, The Rimrock Resort Hotel invites guests to use the sauna, steam room, indoor pool, whirlpool, fitness center, and squash court.
An Outstanding Event Venue
The Rimrock Resort Hotel is an exceptional venue for corporate events and conferences. The 18,000 square foot convention facility features an on-site audio-visual company to facilitate every technological requirement. It is also important to note that this luxury hotel consistently receives awards for excellence by event industry experts.  
And, of course, the dramatic location of The Rimrock Resort Hotel lends itself to weddings. While this luxury hotel excels at hosting corporate events, the staff is dedicated and skilled at creating romantic wedding celebrations. The happy couple can choose from a variety of rooms for their nuptials. Or plan a lovely al fresco event on the outdoor terrace.
So, whether a vacation or business draws you to the luxury destination of Banff, Canada, be sure to stay at The Rimrock Resort Hotel.