Cowboy boots are traditional footwear used for centuries. Aside from its ruggedness, cowboy boots now take on many forms and styles to this day. Many people like to use these boots because of their durability. Other folks like these pieces of footwear because it provides a fashion statement. Read on to know the best fashion accessories to pair with your cowboy boots.
1. Belts
The belt is a functional and fashionable accessory. It helps pull an ensemble together, and it can go well with the right cowboy boots. Still, it's essential not to casually throw in a belt just because you "think" it looks good.
A rule of thumb to follow is to match your leather pieces, and that includes your belts and boots.  For example, if you're wearing a pair of alligator skin cowboy boots from Tecovas, it's best to pair it with a belt with the same material. Aside from matching the elements, don't forget to match the tones.
These nuances might seem minuscule at first.  These small additions you use for your fashion ensemble with cowboy boots will go a long way.
2. Bags
Like matching your cowboy boots and belts, don't forget to match your footwear with a good bag. It might be challenging and expensive to search for a bag with the same material as your boots. You can get by this difficulty by matching the hues instead.
If you're shopping for a great bag to pair with your cowboy boots, you should bring your footwear with you. That is, if you're not planning to wear your shoes for the day. If you're shopping for a good bag online, it's best to hold the footwear near your computer monitor. Also, you can place your phone near your shoes if you're shopping on the mobile device.
A leather bag isn't only an excellent fashion accessory to go with your cowboy boots. It's also a functional piece for the whole ensemble. Pick a bag that should carry all your everyday carry items. For example, if you're a person who has to bring plenty of things, you may want to obtain a Large Weekender Duffle bag to go along with your classic cowboy roper boots.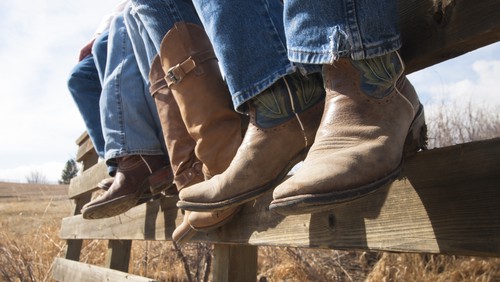 3. Printed Scarves
At first glance, printed scarves may look intimidating to wear. It may seem like the designs would clash with your cowboy boots and other pieces of your outfit of the day. A good tip is to wear the scarf the right way.
Start by picking a large square scarf. A vibrant print is an ideal choice to wear with your cowboy boots. Make sure the colors you choose for your scarf won't clash with your outfit. It's best to follow with complementary colors in this regard.
Next, fold the square scarf into a triangle. Hold the ends and pull them out to a taut. Grab the ends once more and bring them together as you tie them into a knot. You should have enough room for your head to slip through at this point. When you wear the scarf, make sure to put the pointed section facing down. Also, bring this segment forward and away from your body.
4. Boot Accessories
You can also put accessories on your cowboy boots to give it extra flair. One of the best fashion accessories to put on your shoes is a pair of boot blings. These "earrings" will go to the side the shoes to help make the footwear stand out more than before.
Many boot blings are easy to put on and take off. Once again, it's best to play with complementary or contrasting colors. If you're wearing blue cowboy boots, consider pairing it with a pair of red boot blings.
Cowboy boots come in different designs and sizes. It's critical to choose the right accessories to help make your fashion ensemble stand out from the rest of the crowd. Also, don't forget to pick the right boots for the season. For instance, consider wearing cowboy boots for spring during appropriate weather. These small items may not look like much, but these accessories are akin to the icing on the cake for your outfit of the day.