GUCCI has been a famous name-brand in fashion for decades. Today, GUCCI is easily recognizable by its classic GG monogram. No stylish closet is complete without at least one piece of GUCCI couture. So, if you've got to start with one, why not start with a statement piece? These are some of the best GUCCI belts online that you can buy right now. 
Pearly GG Buckle Wide Leather Belt
First up is this pearly GG buckle wide belt. The first thing that stands out about this belt has to be the pearl-inlaid gold-colored GG buckle. Both G's are the same too-large-to-go-unnoticed size. Of course, the double G's are not just fashionable, but functional as well. This is simply because they actually work to close the belt. There is also an additional small leather loop that helps to keep the end of the belt secure and close to the body.

Another thing that makes this belt so high-end is the fact that it's made out of fine Italian leather. The belt measures 2.75 in wide all around. It also comes in two lengths, ranging from 80 – 90 cm. It should be noted that this belt is meant for fashion, rather than to hold up pants. For this reason, it fits best when worn around the waist. This makes it the perfect accessory for high-waisted skirts and medium-to-long casual dresses.
Leather Belt With Double G Buckle
If you love the double G monogram style but want something a little less flashy than the pearl design, then this style is sure to be more fitting for your needs. This famous GUCCI belt still has the famous golden double Gs, but skips the added pearl adornments. As a bonus, this makes the gold-colored material look shinier than when it is covered.

Again, the belt material itself is made out of black  Italian leather. This style GUCCI belt is also thinner than the last pearled design, almost by half as much. It only measures 1.5 in wide. The sizes of this belt vary more than the last, ranging from 70 – 100 cm long. Even though there is a bigger range in lengths, this belt still works best as a fashion statement piece than as a way to hold up pants.
GG Leather & Crystal Belt
On the opposite end of things, if the pearl design wasn't attention-grabbing enough for your fashion sense, then this crystal GUCCI Belt option is sure to bring some extra sparkle to your wardrobe. Believe it or not, even though this belt has more sparkle than the pearl belt, it is also less expensive! 

The width of this belt comes between the two other sizes already mentioned, coming in at a 2 in width. It also ranges in length from 70 – 95cm in length. Again, GUCCI went the extra mile to make this belt out of fine black Italian leather. Like the other belts in this list, this belt also works best as a fashion, rather than a functional, piece.
Lizard Belt With Interlocking G Horsebit Buckle
The GUCCI with interlocking G horsebit buckle on this belt looks totally different from the double G clasps on the other belts GUCCI makes already reviewed. The Gs are still connected, like in the other designs, but they are not overlapping as much. Instead, the two Gs are facing each other, making for a unique design. The rest of the buckle is also sleek, shiny, and eye-catching.

The belt itself is also very different from the rest of the belts on this list. Instead of being made out of cow's leather, it is made from lizard skin leather. This gives the belt a snake-like texture. It also gives it a nice glossy look. The belt is the thinnest so far, coming in at only 1 in wide. It also comes in options from 65 – 95 cm long. Because of this variance in length, the belt works great when worn around the waist or hips.
Chain Belt With Torchon Double G
Perhaps the most metallic and shiny belt in this list is this fabulous GUCCI chain belt with stylish double G. Instead of the Gs clasping together, like on the other belts, the belt clasps with a large crystal drop and smaller chain. There may not be a classier or more elegant way to close a fashion belt like this.

Instead of the main body of the belt being made up of leather, it is made out of three parallel-lined gold-colored chains. On either end of the belt, there is a set of double Gs locked together. A golden circle surrounds the monogram. All of these things work together to make one golden masterpiece. This belt is available in an 85 or 95 cm length. This makes it the perfect size to be worn around the waist.
Elastic Belt With Crystal Double G Buckle
If you're a fan of the crystal embellishments but not a fan of leather, then this amazing crystal belt with an elastic band could be perfect for you. The double G clasp matches the other crystal G clasp already shown. The main difference is in the coloring. Instead of having a metallic gold coloring, the Gs are made from a jet-black colored metal. This helps the crystals to stand out even more than on the other belts.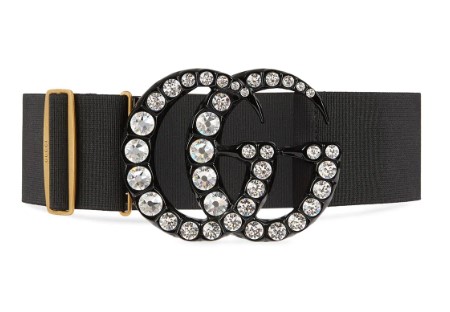 As mentioned, the belt material itself is made of elastic. It is 2 inches wide. It also comes in lengths of 70 – 100 cm. Of course, since it is made of elastic, the belt can stretch to fit slightly larger sizes as well. As with the rest of the belts in this list, this belt works best when worn around the waist.
GG Marmont Caiman Belt With Shiny Buckle
This shiny double G monogram buckle has been reintroduced for the 2020 spring/summer fashion season. The Gs are unadorned, so its gold coloring speaks for itself. The two Gs together are about 1.5 in wide and 1.2 inches high.

Part of the reason why the Gs stand out so much is because the belt itself is only .8 in wide. This belt has the widest range of lengths, from 65 – 120 cm. Because of this long length, it is possible to use the larger sizes as a pant's belt, rather than just a fashion belt. The smaller sizes do work best as fashion accessories, however. Unlike the other belts in this list, the belt is made from black crocodile leather. Similar to the lizard leather, it has a snake-like texture. Like the other belts, it's also made in Italy.

Final Thoughts
If you're looking to buy GUCCI belts, whether at the GUCCI outlet in Beverly Hills or online, you can count on these belts to improve the state of your wardrobe. We at Beverly Hills Magazine are positive that these belts can make any casual and semi-casual dress go from plain to extraordinary!