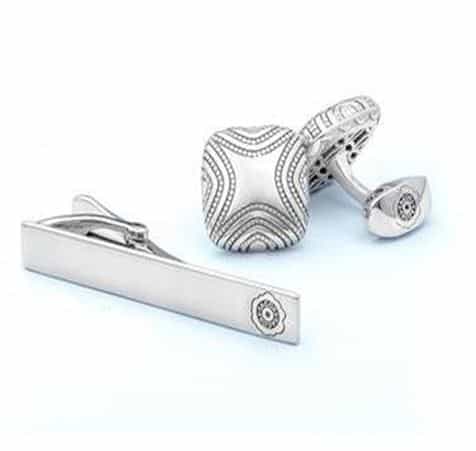 Tacori Gentlemen Collections
Tacori, renowned California based jewelry design house, is thrilled to announce the launch of their premiere Gentlemen's collections, Tacori Gentlemen: Legend Collection and Tacori Gentlemen: Retro Classic Collection. Both collections, offer the Tacori gentleman the opportunity to accessorize with bold rings, sophisticated cuff links and refined tie bars.  Staying true to their design aesthetic, each piece from the Legend Collection and the Retro Classic Collection are inspired by a definitive California lifestyle and heritage. Each piece is engraved with the brand's signature seal and crescent detailing.   
The Tacori Gentlemen: Legend Collection is inspired by the James Dean­-style man, cruising down the Pacific Coast Highway, shifting gears effortlessly with every turn while sporting a driving ring that complements his style. The Tacori gentleman is a legend in his own right: timeless and classic. The collection is comprised of sterling silver and yellow gold rings, in several shapes, featuring stone options including, Tiger Iron, Sky Blue Topaz over Hematite and pavé diamonds.
When it comes to a suit and tie, the Tacori gentleman knows how to perfect his look. The Tacori Gentlemen: Retro Classic Collection offers sleek pieces that complement any suit and adds a sophisticated touch for a night out on the town. With detailed French cuff links and tie bars, this collection comes in an array of shapes and styles with the same stone insets as the Tacori Gentlemen: Legend Collection. Tacori's Retro Classic Collection also offers certain pieces in sterling silver that feature engraved detailing that highlights the attention to detail the brand takes.
Both collections range in retail price from $240.00 – $6,020.00.  For further information, please visit www.tacori.com.
ABOUT TACORI:
California is TACORI's heritage and inspiration.  Since its inception, the family owned business has lived and worked in California, handcrafting designs that take inspiration from the west coast and which embody the spirit of limitless opportunity. TACORI designs have fused classic elegance with modern inspiration, creating some of the world's most highly regarded and exquisitely beautiful diamond rings, diamond engagement rings, wedding rings, men's wedding bands, diamond earrings, diamond bracelets, diamond necklaces, and men's and women's fashion jewelry. 
Spanning five decades, TACORI is famous for their internationally recognized signature crescent silhouette design and as an innovator in the iconic design, creation and marketing of jewelry.